With 105 rooms and suites, La Peer Hotel is a five-star sanctuary from its surrounding district's high-caliber design, art, fashion, dining, and cultural hotspots. Located between Melrose Avenue and Santa Monica Boulevard, the West Hollywood property is design-conscious enough to parallel its neighbours.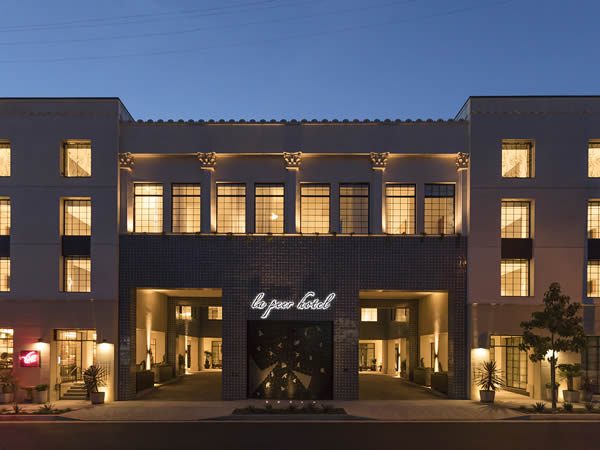 The first hotel in Los Angeles' expanding Design District, Kimpton La Peer's guest rooms showcase white oak herringbone floors, art installations, Juliette balconies with views over West Hollywood, and oodles of European glamour; a theme that follows out onto the pool area decked with Gaudí tiles, leafy olive trees, and a casual Mediterranean vibe. Contrasting these airy spaces, moody communal areas provide the sort of edge that sets La Peer apart.
"Imagine a space where art, music, fashion, poetry, film, and architecture intertwine to a cacophony of spatial harmony," says the hotel's award-winning Icelandic-born designer Gulla Jónsdóttir. "With this project, we're taking design cues from our neighbours—from fashion to high-end furniture, artists, and poets—in addition to the array of creative visitors who gather from all over the world. By collaborating with a number of artists, the space will be alive with their creative energies, arousing a sense of stylish curiosity for La Peer Hotel's guests."
Serving what are said to be the finest crudos in L.A., Casey Lane—of lauded restaurants such as The Tasting Kitchen and the newly-opened Breva—heads up Viale dei Romani, a 140-seat restaurant with indoor and alfresco dining options, where guests can enjoy an authentic trattoria experience; Lane's influence and expertise apparent across wood-fired seafood dishes combined with bold flavours.
"La Peer Hotel aims to bring a sense of 'unbuttoned luxury' to L.A.'s most walkable neighbourhood; the Design District of West Hollywood," says general manager Nick Rimedio. "As the first hotel to ever open in the Design District, our goal is to become a beacon for the community where our neighbours are proud to call us one of their own and visitors get a unique view of life in West Hollywood."
@lapeerhotel
@kimpton
@vialedeiromani