The Student Hotel have recently set up campus in Florence, a converted palace in the heart of the city representing the first property in Italy for the progressive Dutch chain that—since their freshers' week in 2012—counts cities such as Barcelona, Amsterdam, and Eindhoven as home.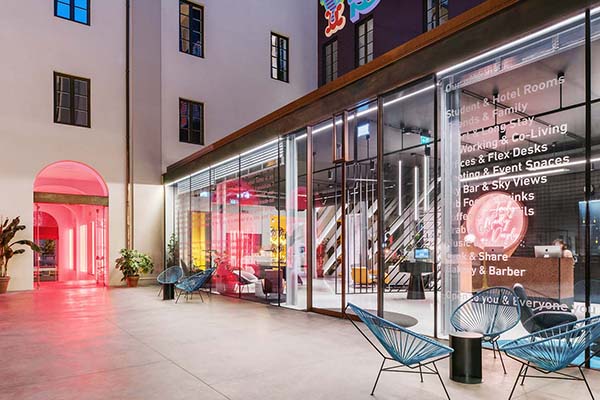 Opening up its doors to both students and travellers, The Student Hotel Florence boasts a whole host of design-minded features, including a rooftop pool with commanding views over the 'cradle of the Renaissance'; a panoramic fitness area; in-house coworking space with interiors that inspire creative digital nomads; communal areas with all from ping pong tables to musical instruments; its very own concept store; a variety of eating and drinking options (including the rooftop poolside bar); and a selection of rooms that will suit every need—from 'Basic' right up to 'Suite'. Fully-equipped and ensuite, they're modern, colourful, and comfortable with on-point design sensibilities.
Encouraging students and guests alike to interact, Rizoma Architetture—fresh from Milan's Berberè Pizzeria Navigli—designed the hotel as a hybrid space; a welcoming place for people to work, study, eat and drink in historical surroundings. Natural materials such as wood, cork, stone, and leather contrast against the more industrial metal mesh, ceramic tiles, and resin to create dynamic 'zones' for dwellers to come and go as they so wish.
Making us wish once again that their refreshing concept had been around in our days of university life, The Student Hotel continues its dominance in this sector with another fresh and exciting locale; whether you're slaving over art school coursework, working on a nursing research paper, or simply a curious traveller with creative spirit, this is a hotel for work and play.
With plans in the pipeline for further hotels in Florence, a full hotel concept to join the two campuses in Barcelona, properties across Europe, and the UK set in their sights, the Amsterdam-born studious design hotel titan looks set to continue marvelling international scholars, coworkers, and creative travellers for some time.
@thestudenthotel
@rizomarchitetture