São Paulo-based architecture and design studio, SuperLimão, have drawn inspiration from Portuguese aesthetic traditions, its evocative use of tiles and embroidery, to realise the latest restaurant for Brazilian Chicken chain, Chicko.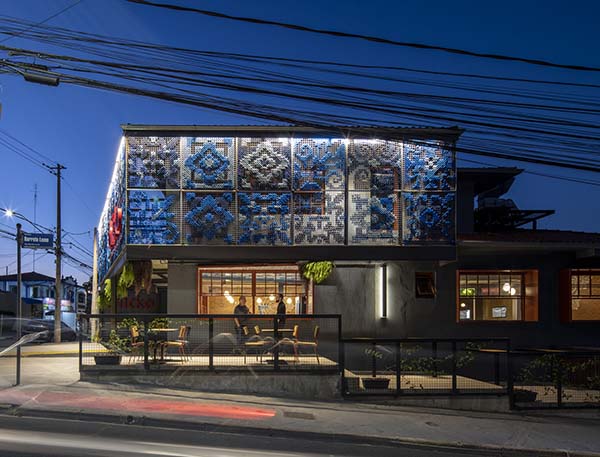 Established after a group friends decided to bring the finger-licking flavours of Portuguese cuisine to Brazil, Chicko's chooks are cooked on a fiery grill having been slathered in a secret sauce; the fast-but-healthy restaurant formulated to combine casual vibes and great food, along with a side order of convenience.
Located in the Campinas—a city in the Brazilian state of São Paulo—the new Chicko is certainly eye-catching, its façade featuring see-through embroidered screens in a variety of shades of blue that cast a different shadows of the panels upon the paving below. An outdoor seating area greets diners, shifting seamlessly into the interior of the restaurant; the integration of indoor and outdoor capitalising on the region's temperate climate.
A fire pit highlights exactly where the chicken is made, and can be reached by following a gigantic yellow stripe that ultimately guides customers around the main dining area on the lower floor and up to the first. Lighting combines the best of modern and tradition, as does the decor; a fusion of exposed brick walls and ceilings softened by pops of colour and stunning blue and white hand-drawn tiles, which were crafted especially for this project and inspired by the Casa da Música in Porto, Portugal. 
Old and new, industrial and edgy, the flavourful and the flashy combine in Campinas, as SuperLimão's Chicko sets the temperatures soaring.