Occupying a historic Haussmann building in the heart of the 8th district, at the corner of rues Washington and Chateaubriand, Monsieur George is all things elegant, chic and luxurious; a resplendent blast of pomp and ornateness that simply embodies the essence of flamboyant Paris.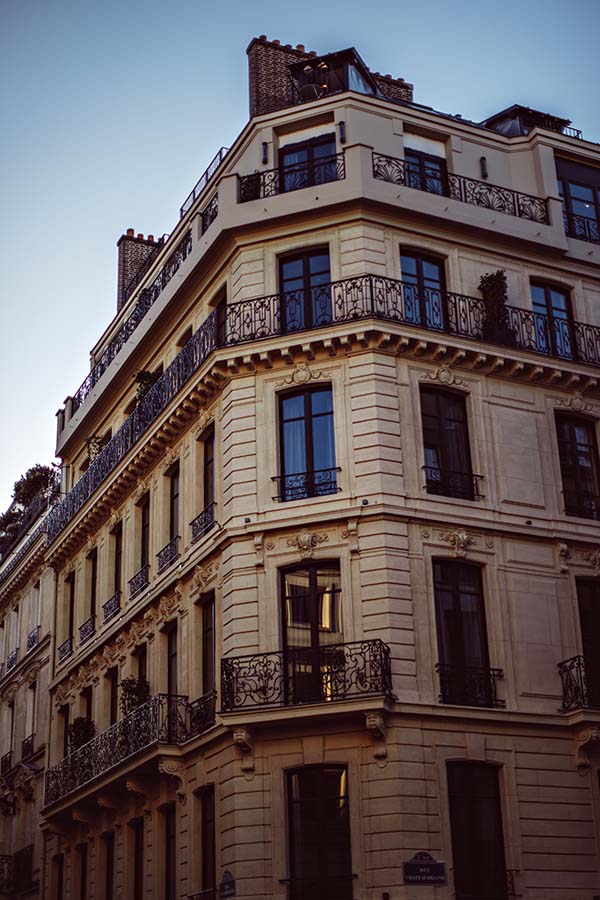 Step behind the quintessential Parisian stone façade, pass through stately art deco doors, and your grandiose place to call home in the city awaits. Designed by the celebrated and acclaimed interior designer, Anouska Hempel, Monsieur George combines all the comfort and splendour of the five-star hotel experience, attention to detail, and the inimitable refinement of Parisian hospitality.
Set over six floors, each with its own unique vibe, rooms are charming and impeccably kept, yet are filled with warmth. From the Chequer Rooms with black and soft brown tones, to the Windsor Rooms—an homage to the Duke of Windsor, decked out in greyhound-coloured velvet and silver taffeta from floor to ceiling—all at the George embraces glamour and romance; each room imbuing singular style and magnetism.
Adorning the higher floors, the Benjamin Franklin Rooms and Suites feature multi-tonal white, with touches of pale grey accentuated by gauzy curtains embossed with the flowers of Kerala, that billow in front of windows opening onto rooftop terraces. The duplex Garden Suite, meanwhile, is a 45 square-metre sanctuary inspired by Marly, neighbour to Versailles, where Louis 14th would take walks with his friends and courtesans. Lavish levels here are seriously high.
Timeless yet modern, luxurious yet welcoming, in Monsieur George, Anouska Hempel has created a family home within the busy milieu of Paris's 8th arrondissement; her vivid imagination reflected throughout the property. And, whether you're staying the night, dining at resto-bar Galanga, sipping a cocktail in the adjoining bar, or indulging in some self care in the hotel's spa (created by beloved yoga and wellness mecca Le Tigre), this new boutique offering provides an exquisite welcome that is so very, very Paris.
@monsieurgeorgeparis
@anouskahempeldesign