A 'coastal tavern and inn offering seasonal fare', a 'restaurant with rooms' … however one chooses to classify Post House, the seven bedroom property located in Mount Pleasant, South Carolina, is a bona fide head turner; its blend of old and new, welcoming ambience and thoughtful design, winning over locals and travellers alike with stylish accommodation and contemporary American cuisine.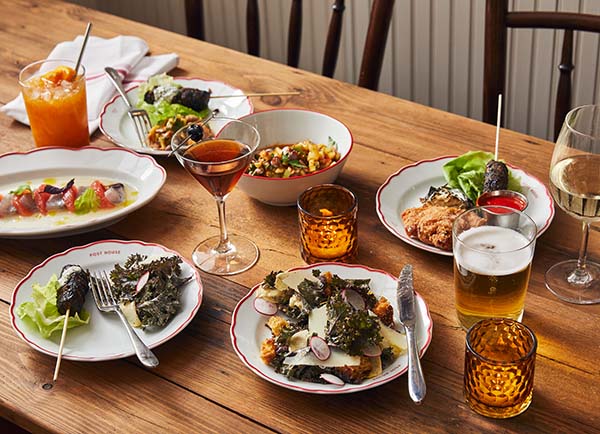 Once the Old Village Post House, the 1896-built edifice, with its classic Americana feels, was purchased recently by Kate and Ben Towill of Basic Projects, the duo carrying out a top-to-bottom renovation with Kate as lead designer, bringing a fresh whimsical air and hefty dose of charming character to the long-standing neighbourhood hub.
A home away from home, guest rooms offer a respite from the day-to-day banalities of life, and feature a mix of antiques and modern pieces, combined with much desired creature comforts like crisp white soft sheets and plush house robes. Asking how she'd describe the aesthetic, Kate explains: "authentic, patterned, and a little bit cheeky. When you travel to Charleston, you want something that feels classically Southern and historic, but not stale. This has all those elements. Simply put, it's a coastal tavern with rooms above."
Capable (pre-Covid) of seating 50 in the dining room, the same on the outdoor patio, and a further 50 in the bar room, the Towill's gutted the former restaurant, moving the bar to the front room to "pick up the glow and energy from Pitt Street," opening up the back room entirely, uncovering a fireplace in the process, and creating a bright and airy dining room that spills out onto the covered patio. The menu offers honest, delicious American cuisine that nods to the region's best produce, locally caught seafood and sustainably raised meats.
Stylish, laid-back and dripping in the sort of slightly kitsch historic Southern vibes that are simply irresistable, Post House is a winning combination of all it embraces.