With its striking façade and its cobalt blue and hot pink interiors, neighbourhood eatery Billie Buoy commands attention. And despite its size—a compact 60 square metres—every single centimetre is used to its full potential, this hip hangout serving both healthy fare and a healthy dose of feel-good 1980s vibes; think Saved by Bell takes Australia.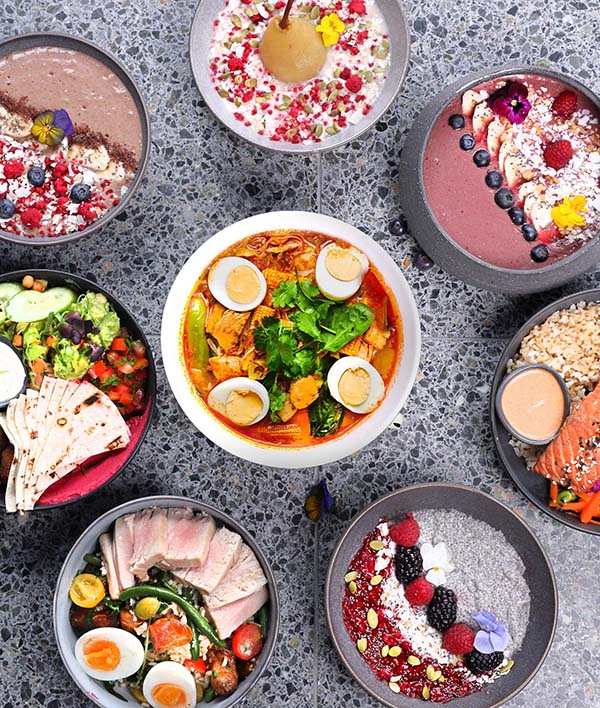 With interiors and branding by Biasol, the Melbourne-based design studio looked back to the heady days before the internet and smartphones, taking their aesthetic cues from Ataris, Walkmans, shoulder pads and hairspray, rather than the newest functions of the latest iPhone; creating a fun and retro-cool space that combines 1980s nostalgia with café culture of today.
Occupying a corner location in Essendon, Melbourne, glass windows provide a view into the front of the venue, while the side wall is embossed with "Wake Me Up When I'm Famous," white block letters and pink neon juxtaposing against eye-catching cobalt blue. Inside, the colour palette is dark and bold with textural materials including terrazzo, mosaic tiles, rendered walls and felt upholstery adding a depth and richness. Splashes of hot pink and neon 'pump up the palette' creating an even more Instagram-ready spot for hanging out; all the while retaining its sense of cool.
For dishes that burst with flavours and interiors that burst with nostalgic style, new kid on the block, Billie Buoy, hits all the right spots.