With summer finally upon us after the time-zapping lockdowns of a global pandemic, it's at last time to be outside and to relish all that the sunny season brings with it. From art installations to gargantuan public art projects, though, designers know the importance of seeking shade from the sun; canopy design an oft-overlooked feature that quietly dominates the summer months.
Even in cooler European cities, shelter from direct sunlight is a critical consideration for those designing for us to enjoy the outside, its importance something we take for granted. Unless its design is too show-stopping to ignore. To celebrate the beginning of a summer it was looking as though may never come, let us have a look through some of the most inspired canopy designs from around the world; as shelter doesn't always need to be utilitarian in appearance.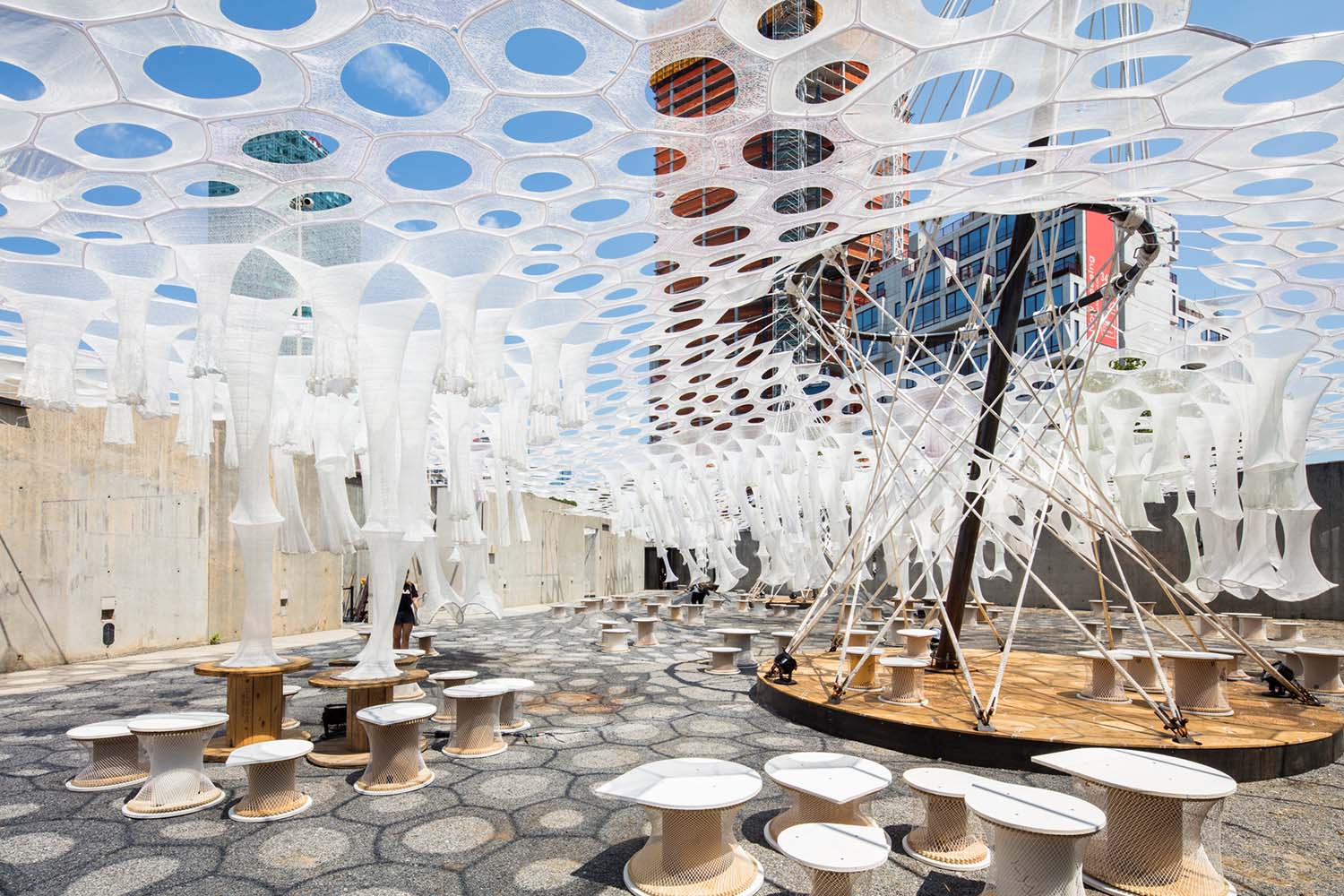 Lumen, Jenny Saben Studios
By day Lumen provided respite from the brutal summer heat dousing visitors in ground clouds of cooling mist, whilst come night the robotically knitted canopy—which covered the exterior spaces of MoMA PS1 throughout the summer of 2017—bathed the New York gallery's guests in a glow of photo-luminescence. A lightweight knitted fabric of responsive tubular structures and a canopy of cellular components, Jenny Saben Studios' Lumen is a socially and environmentally responsive structure adapting to the densities of bodies, heat, and sunlight.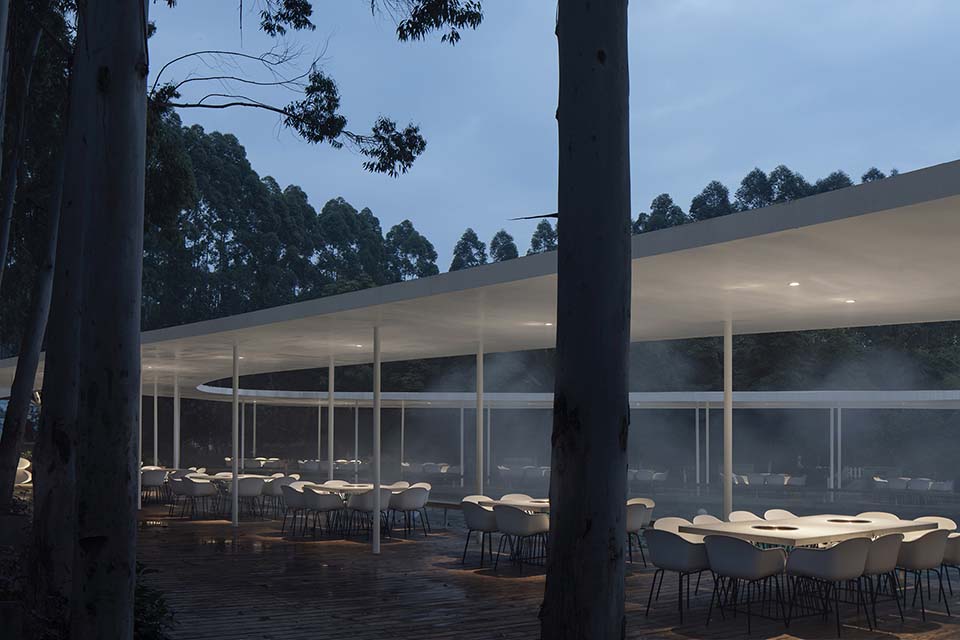 The Garden Hotpot Restaurant, MUDA Architects
Situated in a rural area of Chengdu, Garden Hotpot Restaurant offers traditional fare from a simmering pot served at the table. A place 'at one with nature', MUDA Architects designed the restaurant to have a minimal impact on the landscape, resulting in the the venue having no exterior or internal walls; its 'roof' a canopy supported by graceful white columns that snakes through the Chinese forest. A joy for all that get to witness it firsthand.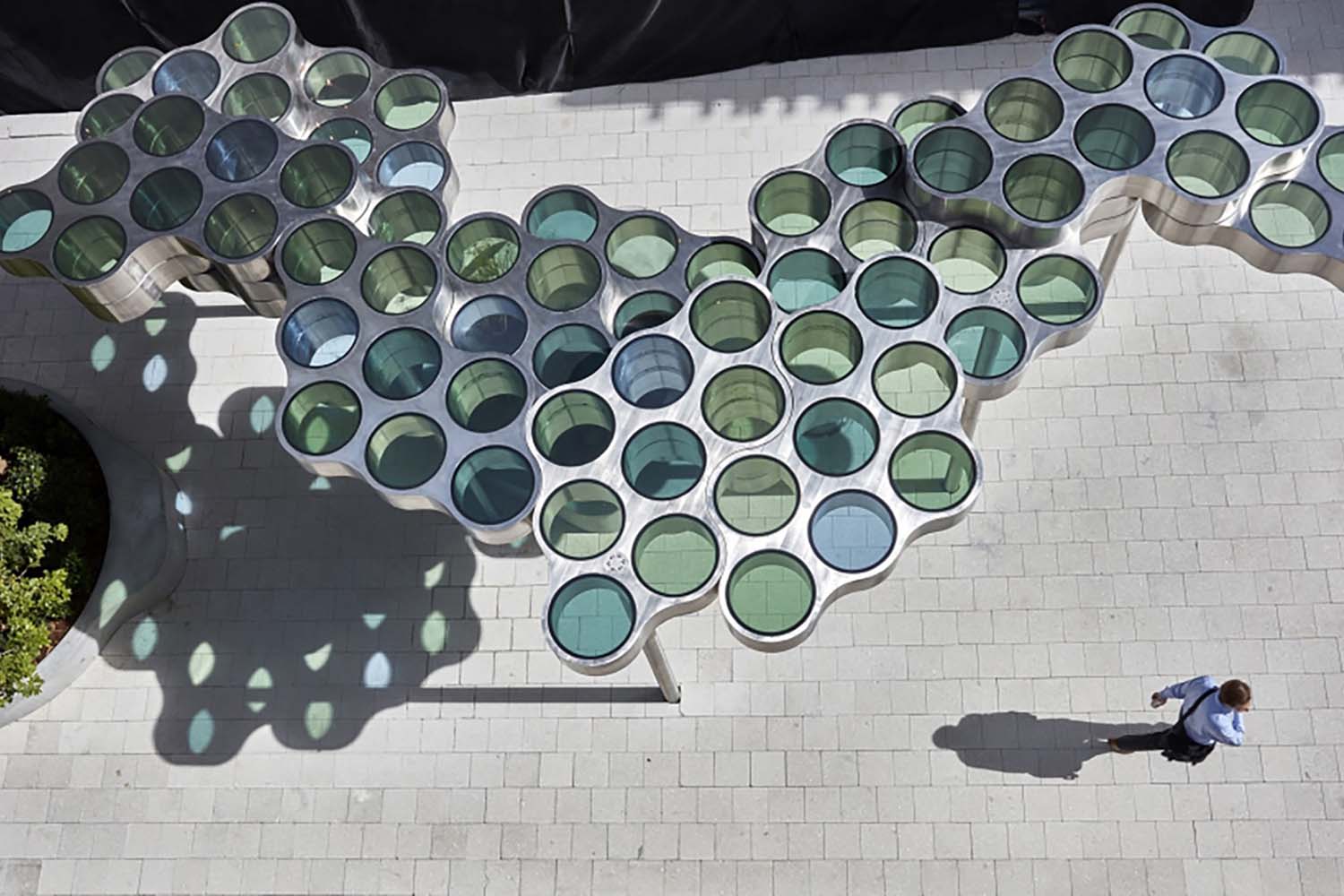 Nuage Canopy at Miami Design District, Ronan and Erwan Bouroullec
Enjoying on average 248 sunny days a year, brothers Bouroullec designed a 100 metre long and five metre high installation for Miami's Design District, the canopy offering shade and—equally important—shelter from the erratic weather patterns the city experiences on a frequent basis. Installed in 2017 for the Design Miami satellite programme, the now permanent structure is a larger version of the cellular Nuage vases that the French designers created for Vitra in 2015, and can be found at Paseo Ponti between 40th and 41st streets.
Muttrah Fish Market, Oman, Snøhetta
The Snøhetta-designed Muttrah Fish Market, located in the west of Muscat (the port capital of Oman) is a landmark on the Gulf of Oman coast, featuring emotive architecture that fuses old and new with guile and grace. Inspired by the playful qualities of light and shadow, its curved walls and dynamically shaded canopy provides both natural ventilation and an all-important ephemeral appearance. Stunning.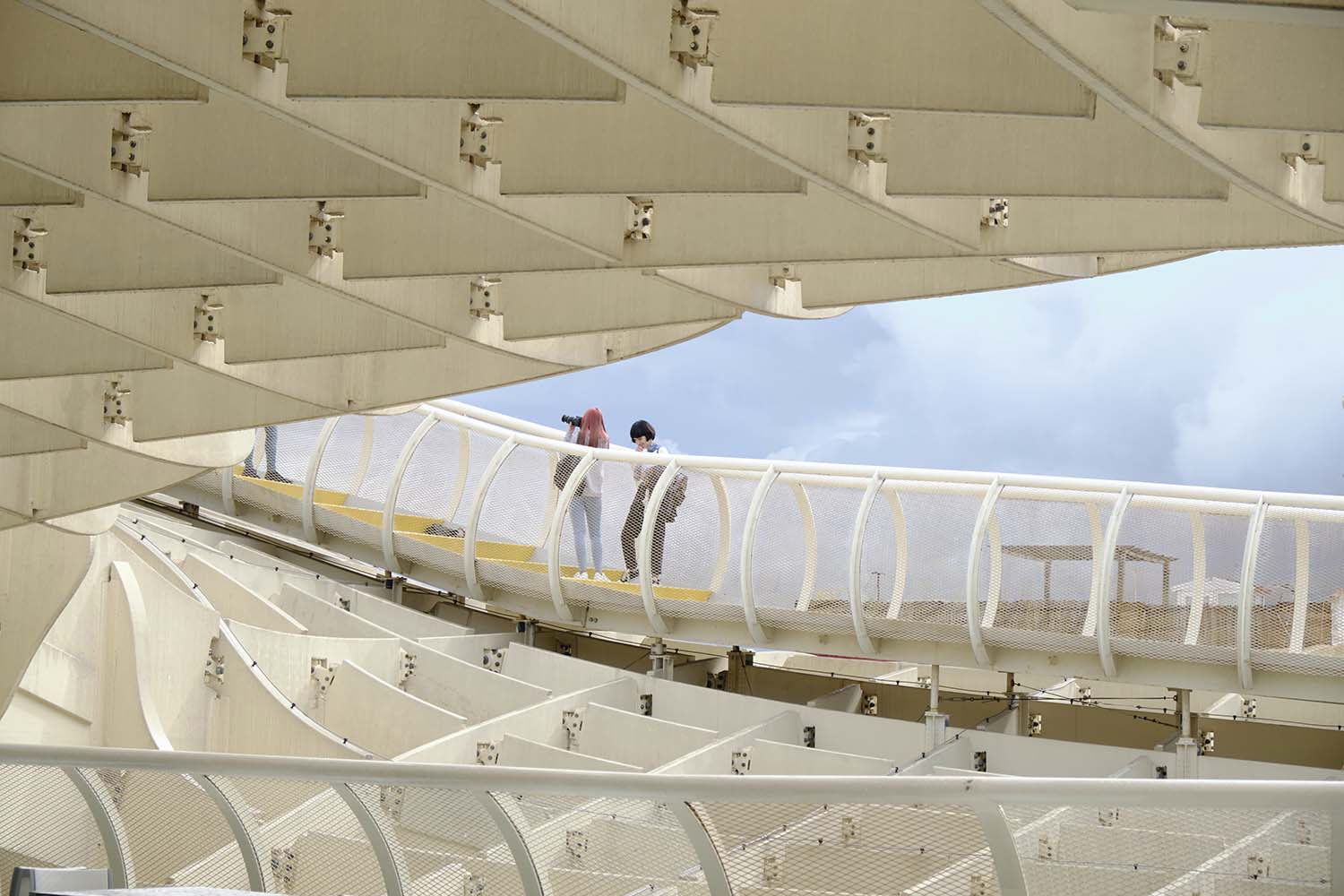 Metropol Parasol, Seville, J. MAYER H.
Located at Plaza de la Encarnación in Seville's old quarter, Metropol Parasol is a mammoth wooden structure designed by German architect Jürgen Mayer and erected in 2011. Consisting of six parasols the form of giant mushrooms, the edifice is organised over four levels and brings together an archaeological museum, farmers market, elevated plaza, bars, restaurants, and some of the city's most spectacular views. The canopy not only revitalised the old square, but tied together functions, past and present; creating a new urban statement along the way.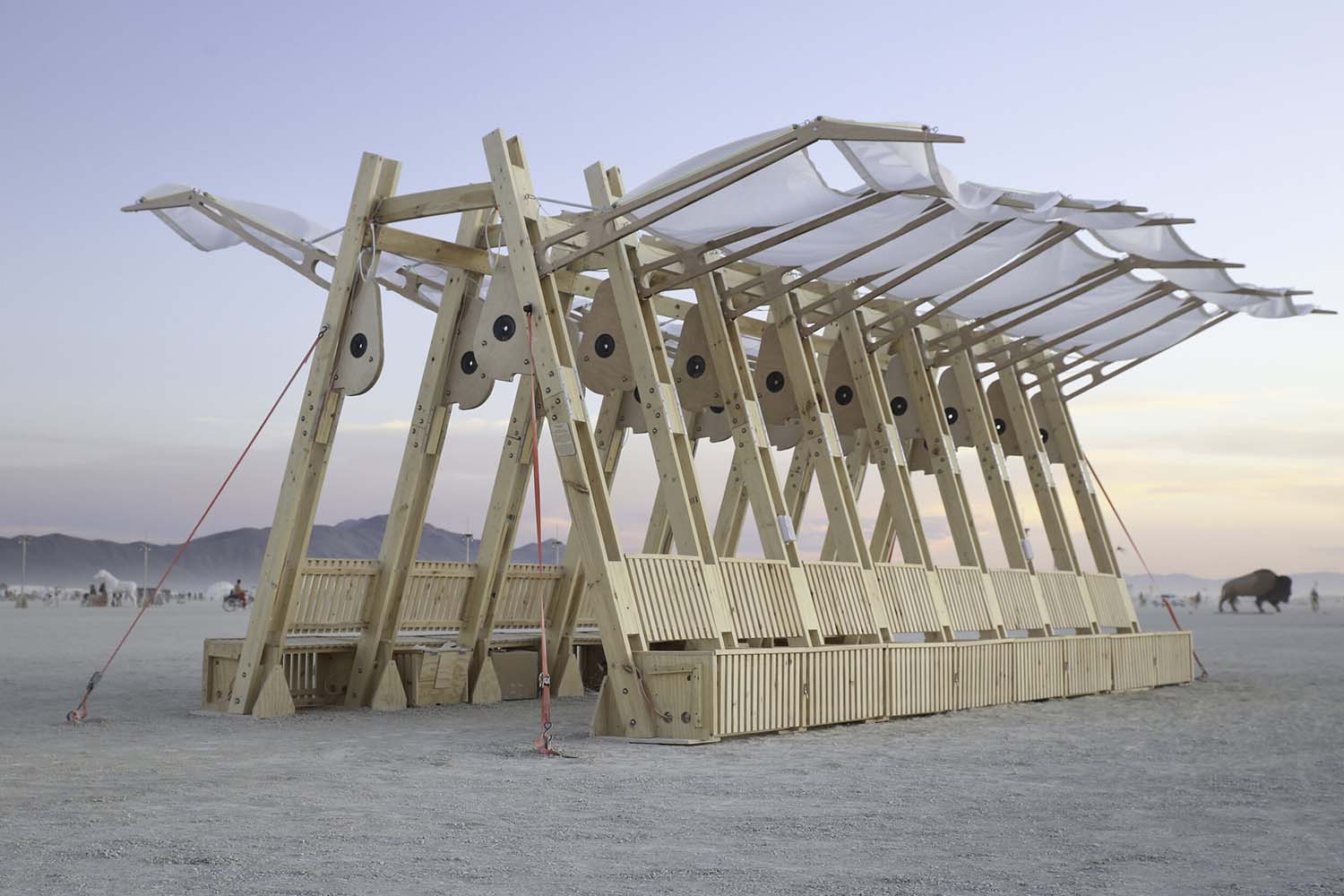 Archaeopteryx, Wevolve Labs
A global quantum kaleidoscope of possibility, the annual Burning Man is the free-lovin' city wherein everything that takes place is created entirely by its citizens. With this year's edition having been postponed, let us look back on the sizeable 'sail-like canopy' that Wevolve Labs created for Burning Man 2019. Archaeopteryx (pronounced arch-ee-op-ter-rix) was named after first bird known to evolve from the ancient dinosaur, and a physical and symbolic reminder that in order for humans to evolve, we must work as one. With moving elements that echo a retractable canopy tent, Archaeopteryx was designed to bring people together through touch and exploration, featured a 20 foot wingspan and some rather alluring illuminating light graphics.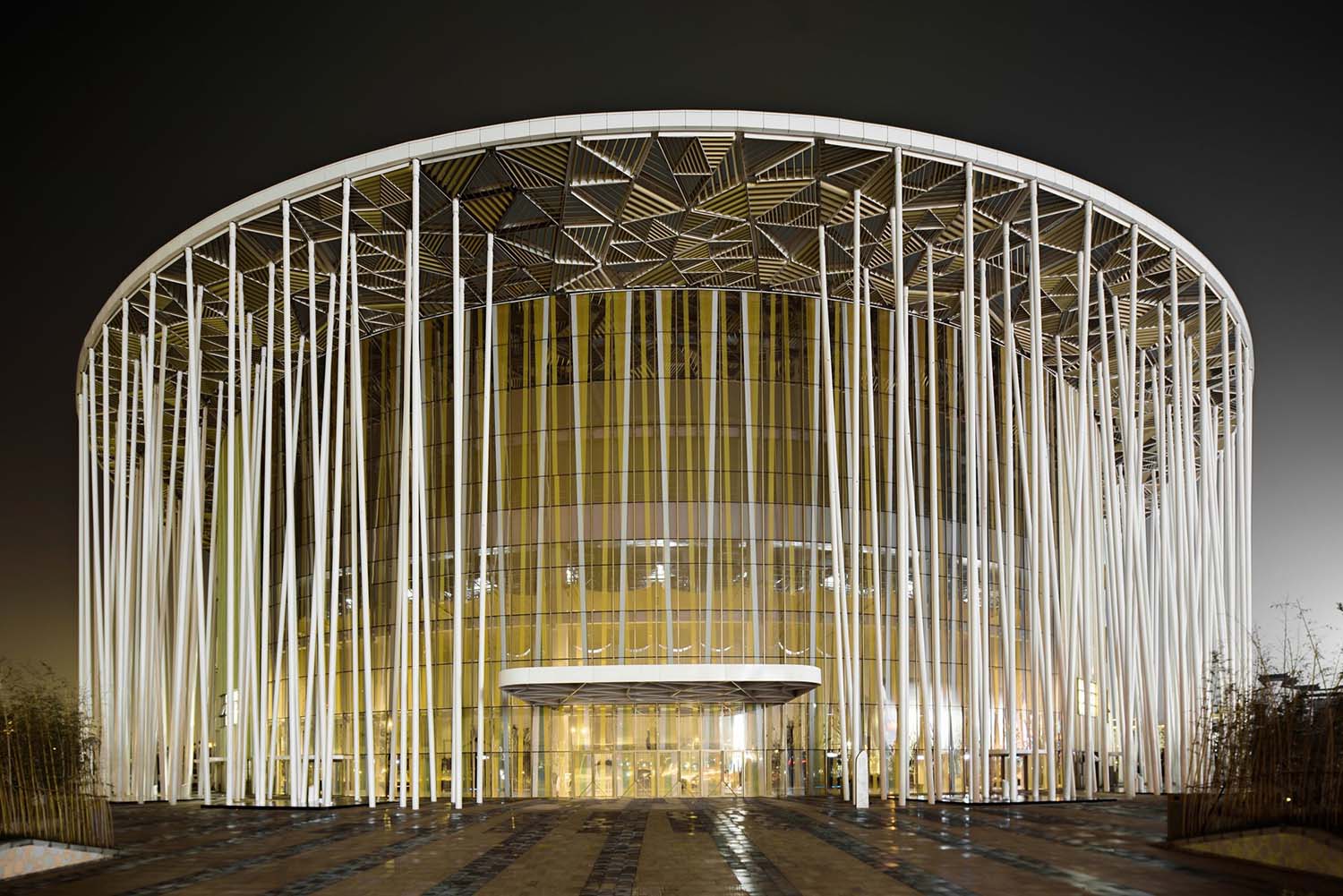 Wuxi Taihu Show Theatre, Steven Chilton Architects
Wrapped in a steel structure designed to look like a bamboo forest, The Wuxi Taihu Show Theatre—home to a permanent water show by Italian-born Franco Dragone—was inspired by the Sea of Bamboo Park in Yixing, China's largest, and is composed of three primary elements: the columns, the shade canopy and the building envelope. Mimicking 'bamboo' columns, the impressive structure really comes alive at night when the building envelope is illuminated from below, becoming an ethereal beacon glimpsed between the forest of 'bamboo' columns, drawing spectators and audience in from across the lake and surrounding development. Magical.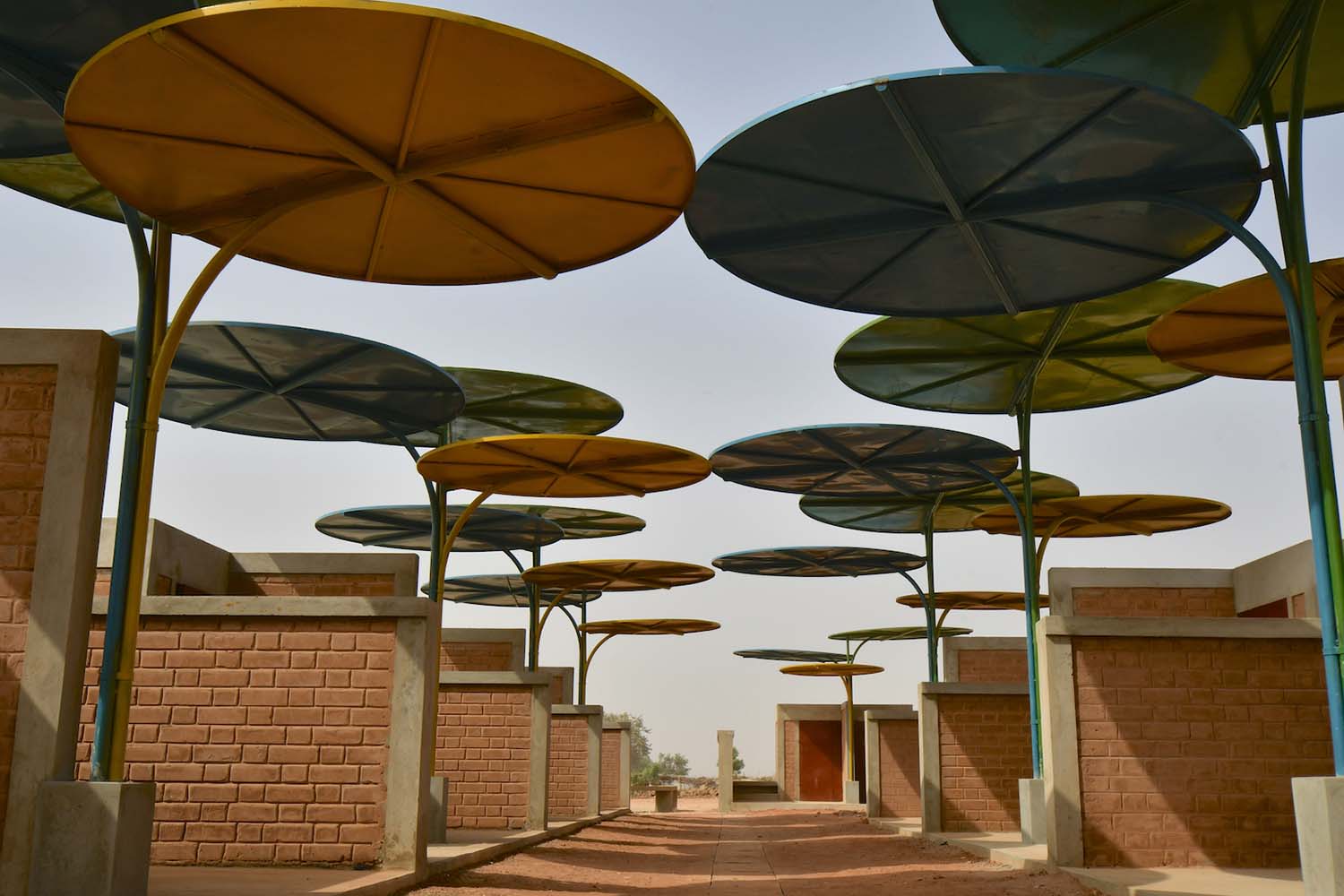 Regional Market Dandaji, Niger, Atelier Masōmī
Situated in rural Niger—where typically markets run on a weekly basis, allowing sellers to move from village to village—Regional Market is a new concept designed by Atelier Masōmī; a site-specific permanent market where inhabitants can procure and sell goods in a more consistent manner. Referencing the area's traditional market architecture of adobe posts and reed roofs, the design of the market was kept simple with the creation of a colourful recycled metal canopy that is placed at different heights and offers natural ventilation alongside solar and thermal protection. A whimsical structure, it complements the vibrant goods on display, while protecting patrons from the blistering sun.