Serving simultaneously as a focal point for the local community and a hub for Oman's prosperous fishing industry, the Snøhetta-designed Muttrah Fish Market, located in the west of Muscat (the country's port capital) is a new landmark on the Gulf of Oman coast.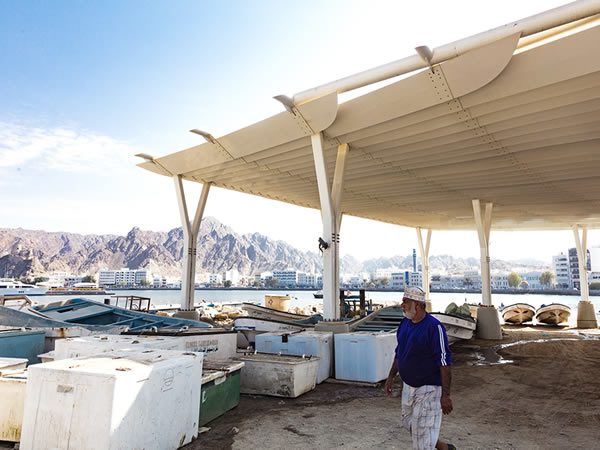 Enjoying a long history of commercial trade, the city's new market is situated close to the original one built in 1960 — a whopping 4,000 square meters uniting the old with the new; referencing the former waterfront and fishing traditions in its undulating design. With a need to accommodate the country's growing tourism industry, the new space is shared by more than 100 tradespeople, locals, and visitors; a lively coffeeshop and rooftop restaurant a meeting point for disparate cultures to gather.
Snøhetta tell us how Muttrah Fish Market's architectural concept is "inspired by the playful qualities of light and shadow through the shape of a double radial wall defining the spine of the new fish market". Viewed from a distance, the curved walls relate to the shape of the wider bay area, whilst on street level a dynamically shaded canopy takes a form derived from the sinuous flow of Arabic calligraphy. Built from aluminium fins, it provides natural ventilation and an all-important ephemeral appearance.
A contrast of old and new, simplicity and complexity, Muttrah Fish Market, is a contemporary icon for an ancient city; an architectural delight that weaves with grace but never feels out of context.