Handcrafting precise physical representations of famed architectural landmarks and cityscapes since 2011, brothers Robert and Gavin Paisley of Chisel & Mouse have meticulously cast over 90 celebrated buildings—including architect Gottlieb Eliel Saarinen's Helsinki Central Station, London's iconic ode to Brutalism, the Trellick Tower, and the modernist Bauhaus Dessau by Walter Gropius; also recreating a series of cityscapes that include Amsterdam, Barcelona, New York and Paris.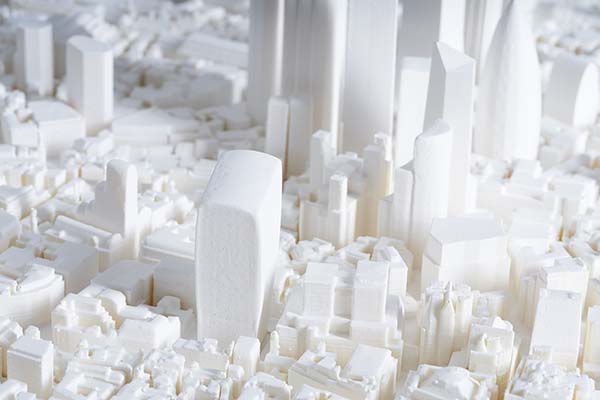 Using satellite data to create a digital model, a 3D-printed version of any given cityscape is then produced and combined with traditional moulding and plaster casting, before being tweaked to perfection by hand and framed; each unique digital–handmade city skyline crafted with a fusion of technical knowhow and artist flair. Accurate to the nearest metre, Chisel & Mouse's cityscapes are scaled at 1:5000 and capture an area of 1.5 km x 1.5 km.
Boasting some pretty impressive model-making skills (check out their 'making of' video for a look into their singular process), the Barcelona cityscape sculpture captures the Mediterranean city's world-famous La Rambla, the evocative old town neighbourhoods of El Gotic and El Raval, and its mammoth cruising port. Making a fine addition to your art and home interiors collection, the 3D plaster model measures 30 x 30 cm and is encapsulated in a beautiful perspex frame, capable of being hung on your wall, or displayed on a shelf, desk or sideboard.
With cities large and small, famous or understated, being defined by their architecture—the lifeblood that provides residents with endless opportunities and possibilities—Chisel & Mouse craft an artistic representation of the physical geography of any given city; capturing in devoted detail its architecture, thoroughfares, parks and waterways, with finely honed model-making skills that guarantee each unique piece is a true work of art.
Marvel at the Paisley brothers' artisanal flair as you discover the rich architecture that draws such a diverse crowd to the Catalan capital, the unforgettable skyline of New York, the waterways of Amsterdam, and many many more. If your city hasn't already been cast, then bespoke orders are also available. It's little wonder this duo's reputation is in such rapid ascendency.