To coincide with the first major UK retrospective of Keith Haring's works at Tate Liverpool, London's RHODES Contemporary Art presents a body of works, artefacts and photos of the illustrious artist, giving fans the opportunity to celebrate the legacy of a legend.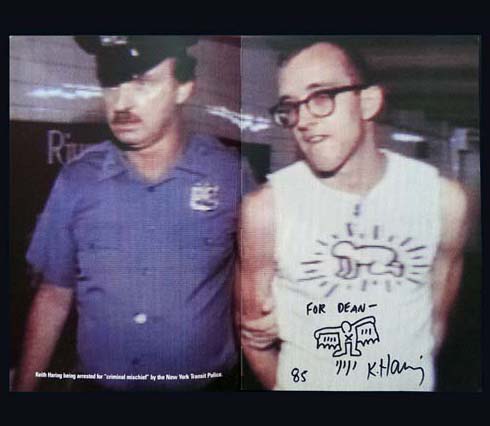 Appropriately entitled ICON, the show—a powerful portrait of the lived experience, timeless imagery, message and character of the one-of-a-kind artist—documents Haring's rapid career. Following a brief stint training to become a commercial graphic artist, the Pennsylvania-born artist would truly cut his teeth upon moving to New York and joining the same alternative art community that included Jean-Michel Basquiat and involved many a night at Club 57 with Madonna, Cyndi Lauper and Kenny Scharf; Keith known to perform from inside a fake television set reading his 'neo-dada' poems during Wednesday night readings.
"I was learning, watching people's reactions and interactions with the drawings and with me and looking at it as a phenomenon," said the late artist who became famous for a body of work that would span public drawings in the city's subway stations to a unique language of symbols and repeated characters that endure to this day. "Having this incredible feedback from people, which is one of the main things that kept me going so long, was the participation of the people that were watching me and the kinds of comments and questions and observations that were coming from every range of person you could imagine, from little kids to old ladies to art historians."
Heavily influenced by politics, Haring was also intent on spreading message through the power of public art, and during the 1980s—having featured in hundreds of international exhibitions—the sought after artist collaborated with a string of big names including Martha Cooper, whose images of Haring's historic painting of the Bowery wall also feature in the exhibition.
Keith Haring having once declared that "art is nothing if you don't reach every segment of the people. Art is for everybody," a small selection of rare and affordable posters are available to buy at the show, which continues at RHODES Contemporary until 3 August.