With room for 80 diners on Reykjavík's thronging Hverfisgata street, burger bar YUZU—designed by the creative minds at HAF STUDIO—combines dreamy interiors (think concrete bricks; yellow glass; azure blue curtains; chromed steel; Douglas fir; and brown leather seats) with top notch hospitality; the new concept from the same people behind Húrra Reykjavík and Flatey Pizza fast becoming a favourite among the city's hip crowd.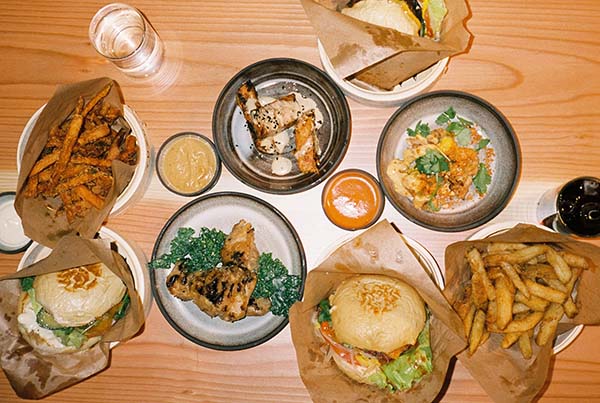 The arresting open plan space centres around a see-through yellow glass kitchen, where Icelandic chef Haukur Mar Hauksson leads a team of motivated cooks who put on a performance for diners each night; creating Japanese-inspired plates alongside the restaurant's signature burgers. Specifically taling, the unctuous YUZU burger, which is served up in a fluffy steam-baked bun.
Taking their inspiration from Nordic and Japanese aesthetics, local designers HAF STUDIO blended rough concrete with finely crafted Dinesen Douglas fir planks and brown leather benches, the space's overriding industrial edge softened through the use of a warm colour palette, greenery and ambient lighting.
Using azure blue wool curtains to divide the restaurant into smaller, more intimate spaces, YUZU is a fine place to head to with friends at the beginning of the evening, dine on delicious yet casual fare, and while away a few hours in good company and impressive surrounds; another winner from Reykjavík's excellent HAF.