Icelandic design group HAF STUDIO have created a lifestyle store on the ground floor of their Reykjavik workplace where they'll sell a selection of products from their own collection alongside a curated mix of homeware, fashion, and wellness products from fellow local artisans to international design talent.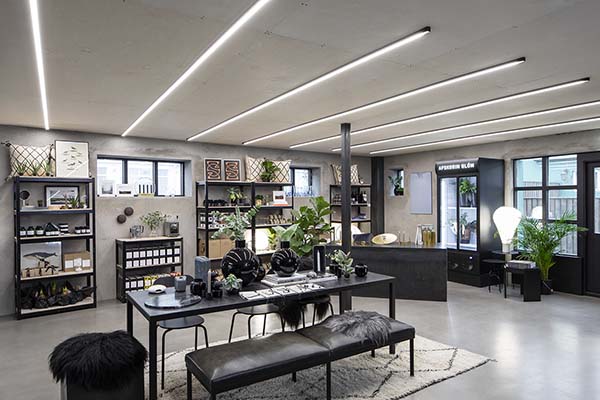 Located in a once-abandoned fisherman's shed by the colourful and up-and-coming Old Reykjavik Harbour, HAF STUDIO undertook a 14 month overhaul of the property, almost rebuilding the 1933 constructed house to create an arresting space that will showcase an ever-changing selection of design curios for locals and travellers alike to soak up.
At some 180 metres squared, the designer's studio is located at a mezzanine level of the largely monochrome space, leaving the ground floor open for shoppers to peruse their design products at leisure. Behind the eye-catching cyan façade a palette of untreated raw materials such as concrete, steel, and plywood give the space a sense of robustness and rough-edged appeal, whilst the lighting and product selection brings with it an air of elegance.
Leaving the wall behind the counter untouched—except for a neon #hafstore sign—this blank canvas in an increasingly lively part of the city is destined to attract a gaggle of design hungry culture vultures looking to beautify their homes and lives with a regularly-rotating and expertly-curated host of handsome wares. The store for those who HAF everything.