The New Stand is a revolutionary retail concept in New York. An App, a marketing platform, a source of daily enlightenment; a veritable 21st century upgrade to the classic newsstand. From their original Union Square subway spot to residing among the palm trees of Brookfield Place in downtown Manhattan, Brooklyn's brilliant UM Project have put together their physical environments; modular beauties that blur the lines between digital and analogue — operating like open source environments.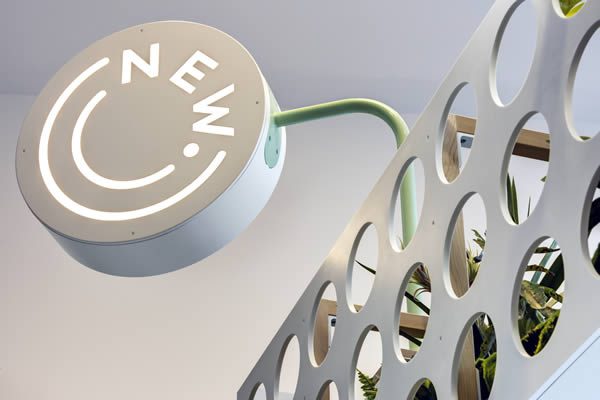 Product design in constant flux, UM Project's flexible retail spaces reflect the latitude of the newsstand concept itself; unexpected offerings in playful environments with a fluid approach to retail. We've seen the studio founded by designer François Chambard before — their Après Collection, using found materials from the aftermath of Hurricane Sandy, and their spectacular mixing console for Brooklyn recording studio, The Motherbrain; and Chambard himself with his characterful range of arty Theremins — and, once again, UM do not disappoint; their work is unusual and honest, functional and always on the right side of playful. Here they inject all they have into a fascinating collaboration that has the ability to shift perceptions of retail at large.
A pop-up unit at Columbus Circle's Turnstyle evokes movement with its sushi conveyor belt approach and, taking its cues from traditional street pushcarts, their mobile carts — that have had outings at events like New York Fashion Design Week and the Recode conference in Los Angeles — demonstrate the ongoing potential of this surprising concept. Waking New Yorker's from the slumber of their daily rigmarole, UM Project's work for The New Stand is unexpected and very capable of delivering rare delight.