Located on the North Fork of Long Island, Greenport is an upmarket destination known for its fine restaurants, shopping and accommodations. And, with the opening of Hotel Moraine, a resort where the land meets the sea, this seaside haven is even more attractive than ever.
Embodying the rich farmland and coastal seascape of the North Fork peninsula, Hotel Moraine is situated high above the Long Island Sound, inspired by nature and the primitive, rocky coastline below. Akin to a private estate, the resort is home to 20 guest rooms, 200 feet of beachfront, a saltwater gunite swimming pool, lobby bar, poolside dining, shop and more; making this the perfect escape for adults and children seeking fresh air, adventure and relaxation.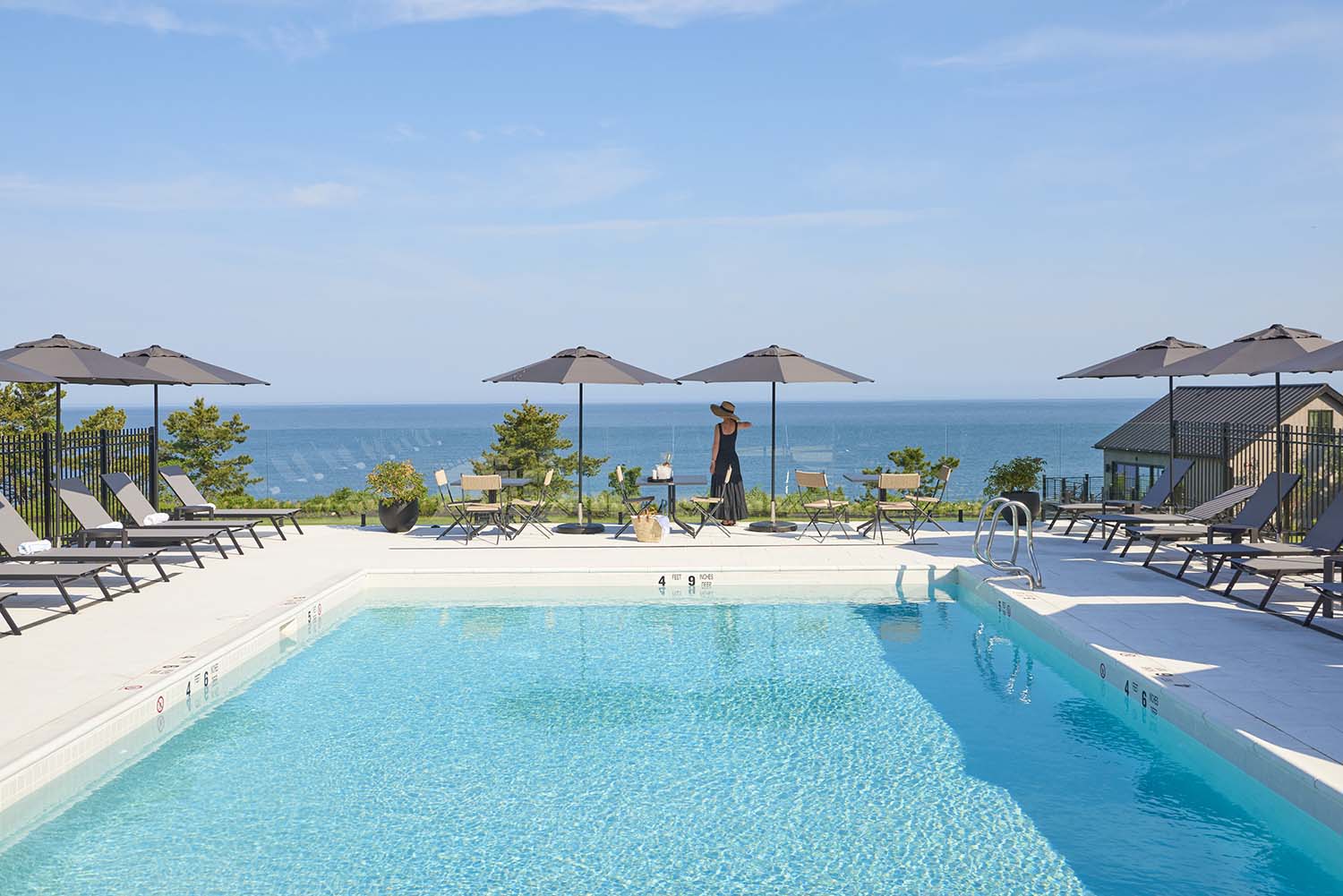 Guest rooms boast resort-style living with personal touches and luxury amenities including Bellino Linens, Kassatex Robes, Lavazza coffee and Anatome toiletries. Rooms are stylish blending a neutral colour palette with natural coastal elements including white oak beams, reclaimed wood flooring, custom-built cabinetry and hand-sewn rugs. Each offers dramatic views towards the water, important on a peninsula such as North Fork.
The Lobby is open daily from 8am till 10pm, and is a wonderful spot to sit back with a book or glass of wine or cocktail; more so on colder nights in front to the roaring fireplaces. With spectacular sunsets on offer, it's no doubt that this is a sociable spot that cannot be missed.
Whether spending the day beachside, poolside, taking part in activities such as cycling or water sports, it's always a good idea to end it at the hotel's restaurant — chowing down on small plates of Coconut Shrimp, NOFO Lobster Rolls, or Crab Cakes … all accompanied by a local wine or Greenport beer.
A new luxury family resort in idyllic Greenport, Long Island, Hotel Moraine is a New York State getaway with rest and relaxation at its core.