Located in a former residential development with ties to designer Philippe Starck, Generator Copenhagen combines style, energy and affordable hospitality in the heart of the city; the famous Nyhavn waterfront is just steps away. The six-storey hostel features 662 beds over 175 rooms, a mix of shared accommodation with bunks, and double private rooms (that deliver on enhanced design, bedside lamps, wall art and en-suite bathrooms) for those who're past the backpacker's life.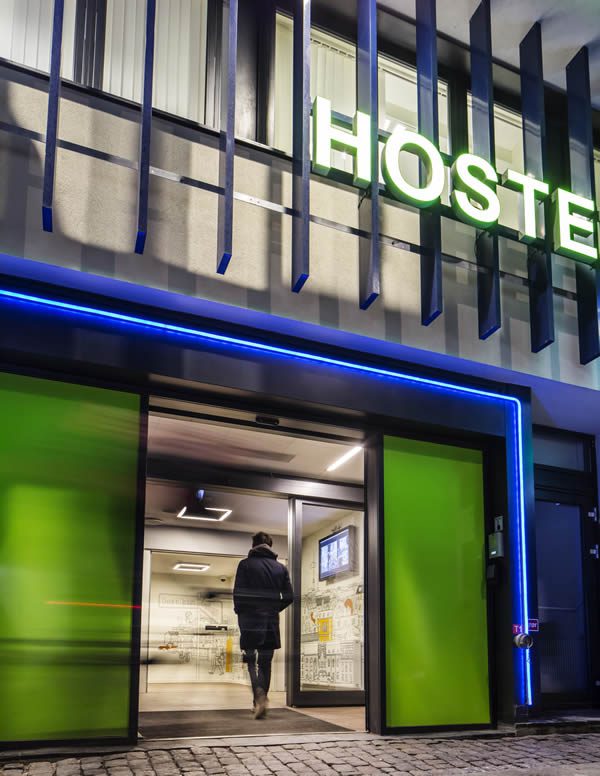 As with all Generator Hostels, though, it's the social spaces where the magic happens — guests congregating to work, play, eat and make friends; something that DesignAgency executed to perfection when creating their concept for the brand's foray into the Danish capital. Entering via the first floor lobby, designer lampshades hang over pool tables, crate-seated areas and dining tables — fusing high-design with cheap-chic, Danish design and international art (Jon Burgerman's revered doodles make an appearance) collide here; creating one of the neighbourhood's best casual spots to get hold of some American-inspired comfort food and beers (including local craft brews), and party into the early hours with a diverse international crowd.
The design hostel's large terrace, dotted with wooden seating and comfy cushions, is a splendid spot to enjoy a morning cappuccino and breakfast — and is also home to Generator's Pétanque court; the French form of boules keeping the Generator's more competitive guests amused for hours. Fancy shuffleboard tables inside, overlooked by exquisitely-kitsch lampshades, keep the competition alive come colder hours (and, as it's Copenhagen, there can be plenty of those).
Helpful hosts are on hand 24/7 to provide information on the city, including cycling routes and bike hire. Possibly one of friendliest bike cities in the world — with more bikes than cars for the first time since 1970 — Copenhagen boasts wide cycle lanes, bike-only bridges and some of the freshest air we've had the pleasure of soaking up in a long time. The hostel's city centre location and the city's flat topography makes for pleasant rides; a never-ending reservoir of style-conscious coffee shops, bars, and lush green parks, make ideal pitstops for refuelling along the way.
Occupying a 1,000 sq ft space on the ground floor, the recently-opened Reflections Icebar is Denmark's only all-year round bar made of crystal ice. Designed in partnership with architectural agency Tengbom, it will be re-built each January; the water then recycled back to nature. As part of Generator's commitment to focus on 'activated social spaces', the theme will change and local artists will be invited to create ice sculptures inside. Currently featuring ice harvested from Torne River Jukkasjärvi (200 km north of the Arctic Circle in Northern Sweden), images by photographic artist Villfarelser are currently etched into its walls. Cocktails are served in specially-designed kåsa mugs; and Reflections' shot glasses are made from pure ice.
Doing exactly what Generator Hostels do best, here is a culture-forward hub from which to take in one of the world's most incredible cities — craft beer; pioneering cuisine; street food; galleries; design heritage; unrivalled lifestyle … Generator Copenhagen is the design-minded nerve centre from which to see it all.
@GeneratorHostel
@thedesignagency