With 162 guest rooms housed within a historic, century-old Army-Navy landmark building in downtown San Diego, The Guild is set to delight dwellers by "providing comforts and conveniences that will afford practically unlimited opportunity for pleasure and social diversions." And unlimited pleasure is sure a concept we can buy into.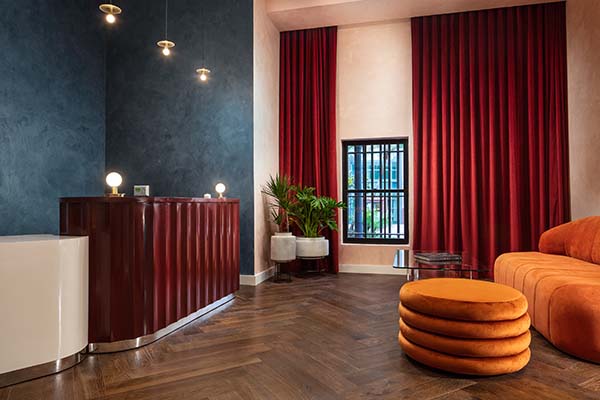 A collaboration between ​Oram Hotels and ​Azul Hospitality Group, the property—a member of Marriott Tribute Portfolio—has been reimagined by Oram Hotels and designer Sormeh Rienne, the 95-year-old building now a design-driven, contemporary space; at the same time remaining respectful to the city's rich history and the building's storied past.
Nodding to some of Europe's most renowned properties, Sormeh Rienne has created an inviting hotel with an inclusive vibe and inspired sensibility where interiors include a hand-torched herringbone floor; seating areas with plush, classic custom sofas; and a resplendent original grand stone ​staircase. The bedrooms are defined by six categories, and are dominated by minimal interiors including custom-designed art which complements a colour palette of pale blue, grey and a soft army green; a direct reference to the property's origins. Maison Margiela Paris amenities can be found in the bathrooms alongside enveloping rain showers and oversized mirrors.
Mediterranean-influenced fare is served at Luca, the hotel's signature restaurant, located directly off the lobby and opposite The Guild Bar> Here executive chef, Justin Vaiciunas, has devised a menu bursting with seasonality and colour which, in the warmer months, can be enjoyed in the Grace Garden amidst an abundant mix of olive and evergreen ​trees, leafy plants and shrubs. A space providing respite from city life, it's symbolic of The Guild in its entirety; a calming hideaway of comfort and style, experience and contentment.