Once home to an East-End traders' hall, aptly called the People's Mission Hall, x+why is a coworking space located on Whitechapel Road—between Whitechapel and Aldgate Underground stations—that is uniting likeminded individuals and businesses; its members pledging to commit to a mission to unite, inspire, and amplify in order to work more responsibly and consciously.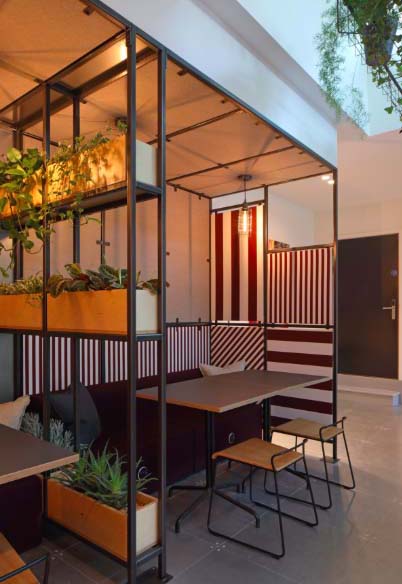 Designed by architecture and design practice Squire & Partners, interiors at x+why blend robust materials and raw finishes with inviting seating, free-standing furniture pieces, lush greenery, and locally-sourced artwork and vintage pieces. The use of booths flanked in striped panels gives a distinct 'market feel' to the space. With a colour palette of ox blood with dark metal and natural timber—and a selection of blues, greens and yellows on the floor—members can inspire and be inspired; making office and home out of a tech-forward, wellness-focussed and thought-provoking work space.
Founded by Rupert Dean and Phil Nevin, who were seeking to "build a closer connection between profit and purpose in business", at x+why, the wellbeing and lives of those who use the space are as important as profit; the duo hoping the brand is part of what will become a big system change. "Let's allow 1,000 flowers to bloom," states Nevin, "let's encourage start-ups and SMEs to adopt this way of thinking. It's already there with young start-ups, so let's help build that mindset."
Unapologetic about looking for likeminded individuals and businesses to live and work alongside one another, x+why already calls itself home for a diverse mix of organisations; including BCorp, Muslim Giving, and Bethnal Green Ventures. Both inspiring and worthwhile, the Whitechapel coworking platform is committed to multiculturalism and attitude of advancement; changing the way the world works for good in surrounds that hint to the workspace of tomorrow.