The name alone suggests the sheer brilliance of Ambient Lounge's original premium beanbag. Shaping the future of living room and outdoor furniture, Evolution—imbibed with the essense of progressive forward-thinking—brought upon its own transformation of the humble beanbag; a mix of commercial grade soft furniture, luxury and structure forming the basis of a comfortable and functional collection of seating and lounging.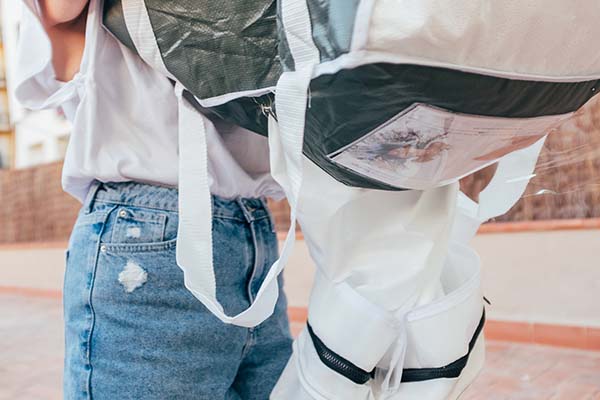 A range of colours means this lightweight product looks good in any home or on any terrace, with some outdoor versions—such as the Crimson Vibe and Black Rock varieties—covered in commercial-grade Sunbrella fabrics for a combination of colour, texture and pattern that not only look impeccable, but that are durable, resistant to the fading effects of sunlight, and simple to keep clean.
The Silverline and oh-so-summery Raspberry Polo versions are covered in Grade AA+ UV fabric, and designed to dazzle come rain or shine, the quilted waterproof textile combined with internal elastic system, meaning these adaptable pieces can be left outside year-round with minimal fuss. Although, if you're asking me, you'd be mad not to bring them indoors on occasion, the colour and structure adding bags of style and sophistication to any living space.
Beginning life back in 1998, influenced by "the creative Australian contemporary interior design landscape, fused with a relaxed lifestyle and a hint of Melbourne café & urban culture," Ambient Lounge founder Grant Morris and his expanding team of creatives the world over have managed to transform the beanbag into a seriously desirable design product; transcending the sort of 'bag I remember owning as a pop-band-obsessed teen. Today, in search of disconnection from the technologies that teen couldn't even have dreamed of, the luxe beanbag makes an ideal companion for extreme relaxation.
The lightness and relative compactness of the Evolution chair makes it an ideal travel buddy, adept at fitting in most cars and effortless to carry around when you reach your final destination. Whether popping away for a weekend of switching-off and taking your favourite piece of outdoor furniture from which to enjoy a cold glass of crisp, white wine in comfort after a long day; topping up on Vitamin D at the park or on the beach; or taking a day off from city life to reconnect with nature, as we did recently, Ambient Lounge's sophisticated waterproof design pieces are your flexible friends.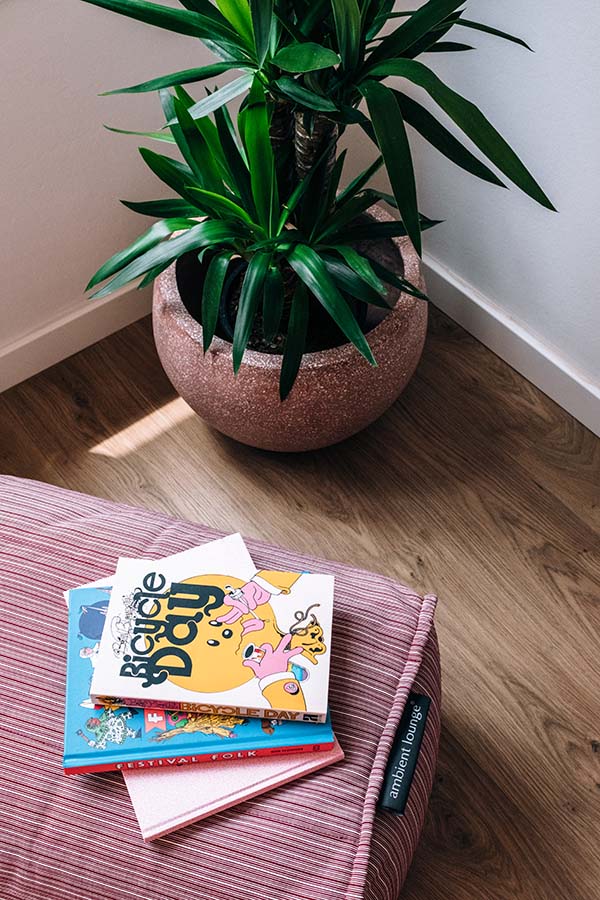 Traversing the long and winding roads up to Montserrat, a stunning multi-peaked mountain range near Barcelona famed for its serrated appearance (the name literally meaning 'serrated mountain'), we take the opportunity to stop and revel in the natural beauty, enjoy the summer's blistering heat, devouring a packed picnic of Catalan meats and cheese, all the whilst rejuvenating the soul whilst taking it all in from our seriously stylish and versatile Evolution beanbags.
For those looking to go 'all out' in the comfort stakes, the Ottoman footstools—available in the same colours as the Evolution range—allow you to literally kick up your feet in style; the hard wearing, bean-filled poufs elevating your contentment to the next level, and a doddle to clean. Not only are they a great lounging tool, but they can double-up as plush seating for friends at indoor and outdoor soirees, and serve as a focal point in the home. Simply add some of your favourite books, and the versatile Ottoman turns impressive design statement.
Ambient Lounge's range of design-minded soft furnishings—filled with high quality beads that the patented Funnelweb™ Zip & Tip System allows you to add quickly and easily, meaning your own furniture can be erected with minimum fuss—are contemporary and modish, whilst remaining insanely comfortable and frequently impossible to separate yourself from. Lightweight, able to withstand the elements all year round, desirable design pieces … the Aussie company's versatile outdoor furniture shows that style and snugness needn't be exclusive.