Known for its reputation as a crashpad for indie and rock royalty, built in 1956 and having been frequented by the likes of Neil Young, David Bowie, Kurt Cobain, and Pearl Jam, the Phoenix Hotel underwent a loving restoration in 1987; noted hotelier Chip Conley casting his expert eye over renovations in what resulted in a former motor court hotel becoming a legendary property in San Francisco's Tenderloin neighbourhood.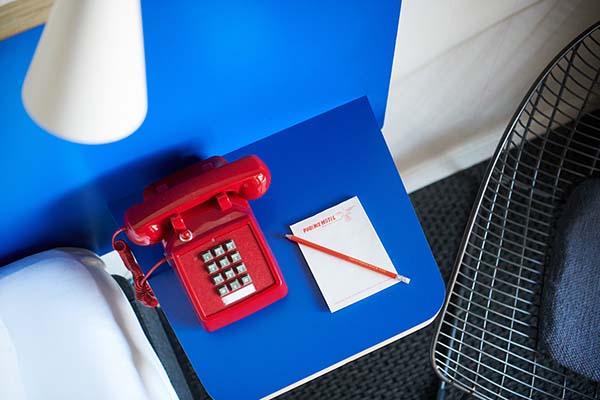 Today operated and updated by Liz Lambert's Bunkhouse Group—a family of businesses 'with soul'—the Phoenix Hotel features 44 colourful guest rooms that are indebted to its audible heritage; an arty courtyard with poolside parties; and CHAMBERS eat + drink, the onsite restaurant that offers a menu filled with California-inspired dishes with a Japanese twist and classic cocktails in a contemporary speakeasy setting.
Harking back to the city's musical past, each room has large windows facing the courtyard and are kitted out with colourful textiles, including bright blue custom headboards and desks, light installations, and vibrant yellow curtains inspired by the original Caravan Lodge and vintage rock 'n' roll concert posters.
The property's heated pool is one of only two landmarked swimming pools in America—part artwork and part historic landmark, it features Francis Forlenza's Pop Art installation, Tumbling Waves – My Fifteen Minutes; whilst red and white cabanas stand out among lush greenery, and the patio of the adjacent CHAMBERS eat + drink offers an urban oasis in this otherwise hectic 'hood. The beating heart of the Phoenix Hotel, the iconic oval pool is just the spot to stop Instagram dead in its tracks by bringing along some on-trend pool inflatables from The Floatys; a bona fide landmark and living, breathing contemporary art work, it's a memorable draw for this evocative downtown hotel.
With the lobby—inspired by vintage recording studios—featuring a Shinola record player and memorabilia from the '80s/'90s punk and grunge scenes, the history of this onetime motor court hotel is inescapable; coupled with Liz Lambert's renowned cultural approach to events programming, expect this Phoenix to rise once again.
@phoenixhotelsf
@bunkhousehotels