Rural and serene, stepping foot into Can Sastre—a plush yet rustic boutique hotel on the Isla Blanca, Ibiza—is somewhat akin to finding a secret slice of paradise.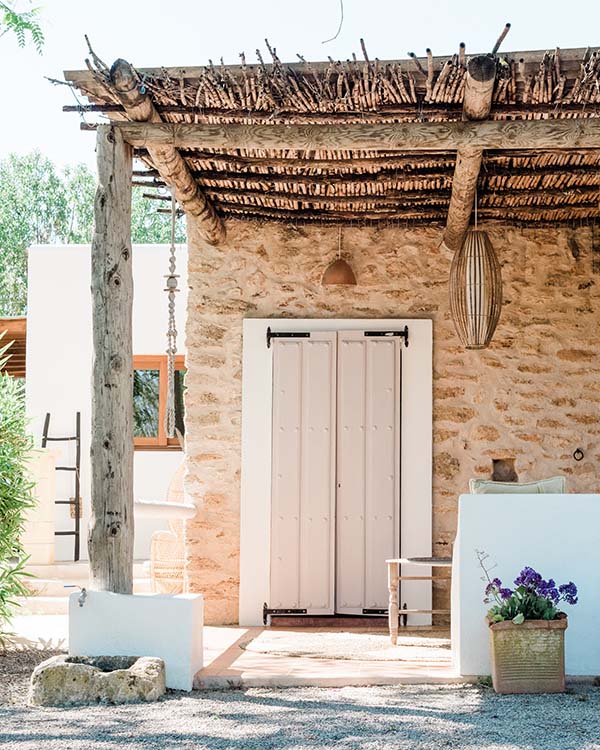 Located close to the small inland village of Santa Gertrudis, flanked by countryside, although just a short ten-minute drive from the cosmopolitan capital of Ibiza Town, Can Sastre comprises a stunningly-restored finca surrounded by resplendent flora; fragrant citrus groves, vibrant bougainvillea and rustic olive trees. Set within ten acres of land, cobbled pathways lead the hotel's guests from their rooms in and and around the rolling countryside, providing a hideaway to disconnect from the real world whilst reconnecting with nature at its most visceral and decadently alluring.
Rooms—three casitas and two villa suites—have their own character, and ooze romance and luxury. Scandinavian minimalism meets that famous Ibizan boho-chic. Exposed woodwork, white-washed walls, crochet wall adornments, wicker baskets, and all-white fresh linen make up some of the more notable design elements. Offering the conveniences of a five-star boutique hotel with the added luxury of privacy, guests here can opt for in-house-chefs to rustle up breakfast, lunch and dinner at a whim; enabling those who stay here to exist on their own timescale in the comfort of their own decadent abode.
Laidback and luxurious, idyllic and stylish, finding Can Sastre is like finding a slice of paradise; a little bit of old Ibiza to captivate those in search of Balearic history.