With space for a maximum of 14 guests, Tsukimi offers a counter dining experience in New York's East Village, executive chef Takanori Akiyama's modern take on Kaiseki cuisine—a traditional multi-course Japanese dinner—taking diners on an epicurean journey consisting of 12 courses that flow, surprise and delight.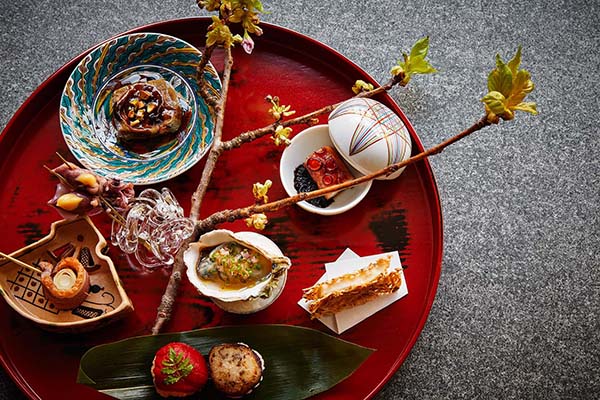 Translating to 'moon viewing' and referring to the mid-autumn harvest festival that honours the celestial object at its fullest and brightest, Tsukimi is an intimate venue; proceedings taking place in one room over the course of two-and-a-half hours. Priced at $195 per person with a beverage pairing option for $125 (the pairing draws from an extensive drinks menu that includes local craft sake courtesy of the excellent Brooklyn Kura, the city's first sake brewery), dinner might start with nori and fluke before progressing to bluefin tuna; goldeneye snapper; caviar; and much more. The transcendence of exquisite Japanese cuisine finished with three sweet plates set to cleanse and renew the palette.
Takanori, alongside partner and general manager Karen Lin—the same team behind stylish sake bar and restaurant SakaMai—use seasonality and quality to excite and entice diners to Tsukimi; a petite but perfect restaurant which is sure to make major waves among NYC foodies.