With 43 bedrooms featuring a mix of vintage and custom furniture, original artworks and beds made for snuggling up in, Hotel Kinsley offers its guests a respite from city life, the property—located in the cultural and foodie Hudson Valley town of Kingston—a mere two hours from the hustle and bustle of Manhattan.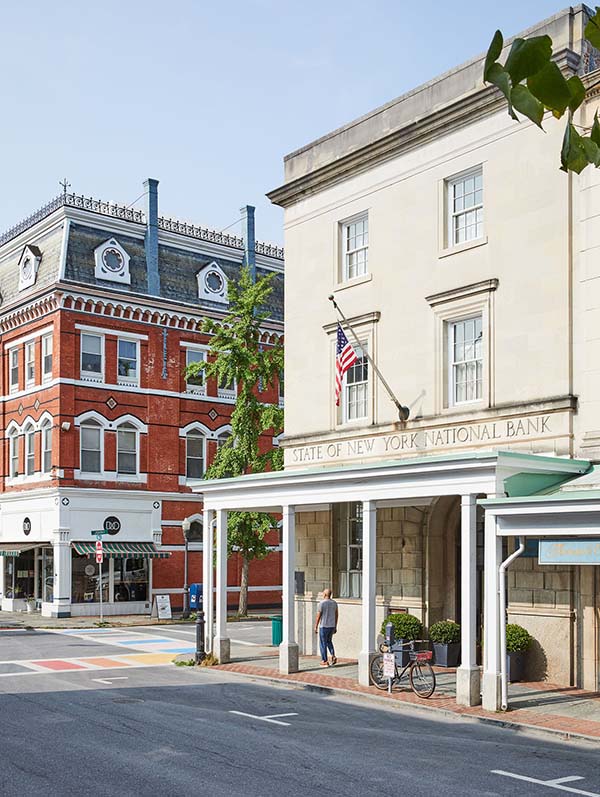 Housed across four thoughtfully-restored historic buildings dating from 1688 to the late 19th century, the destination hotel is also home to Restaurant Kinsley, a modern oasis that serves a seasonal, locally-sourced menu that has been designed around the harvest of regional farmers; this a passion project of chef Zak Pelaccio, restaurateur Taavo Somer, and developer Charles Blaichman.
Studio Robert McKinley brought the CBSK Ironstate-owned property back to life, taking their cues from each of the four buildings' architectural details; including centuries-old tile work and original tin ceilings. Fusing relaxed elegance with a home-from-home vibe, the New York-based design studio fused a mixture of vintage and custom furniture with original artwork and photography; self-serve honour bars; inviting living areas and enticing wood-burning fireplaces. Each detail at Hotel Kinsley encouraging those who step over its threshold to relax and reconnect with the real world.
The home base of the hotel, the Wall Street building (301 Wall Street to quote its full name), captures the spirit of Hotel Kinsley. Housing ten of the guest rooms; the Kinsley Restaurant; an upstairs bar and lounge; and treatment room and sauna, it's the property's beating heart, a place where travellers will be drawn to time and time again enjoying the very best of what this upscale, boutique hotel has to offer.