From Sol LeWitt's 1960s conceptual art structures to Rocky IV, Chicago-born New York-based artist Rashid Johnson's Within Our Gates is a living, breathing romp through high- to low-culture influences and interjections.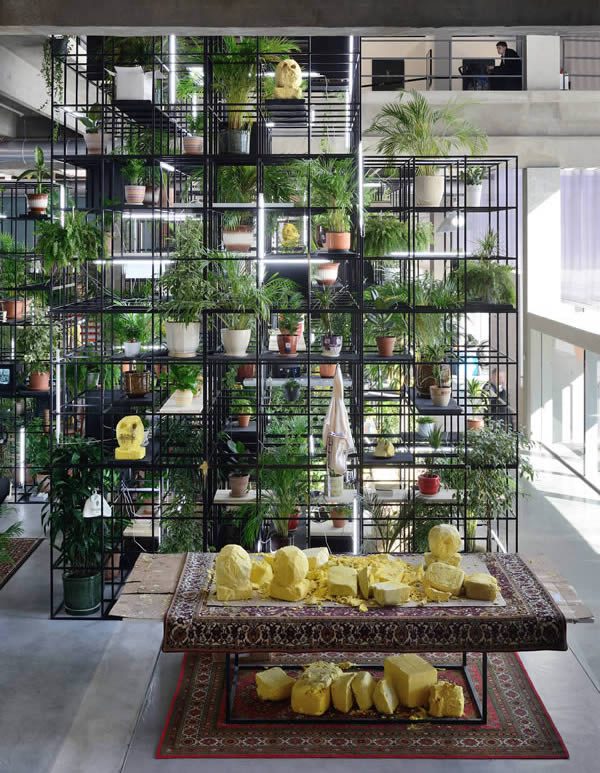 Evolving since its installation in the spring, the artist's largest work to date is the third commission for Garage Atrium, an expansive space at Gorky Park's Garage Museum Of Contemporary Art, and was inspired in part by by the museum's Soviet Modernist architecture (originally built in 1968) that was in transition when Johnson first visited the under-construction gallery in early 2015.
The visit led the son of an African History professor and a CB radio enthusiast to mull over a trip to Turks and Caicos, where unfinished buildings had been overrun by the tropical landscape. 'It was when the place was full of anticipation, but the buildings were never finished and it looked to me like this incredible, deformed dream.' Explains Johnson. 'There are a lot of different ways to interpret that, but it's the contradictions that I keep thinking about in relation to the new work I'm making for Moscow, which will keep growing and changing over the time it is on show.'
The LeWitt-inspired grid-like structure is punctuated with cultural symbols that rise above lazy stereotypes of race and class — tropical plants, moving image, and sound, shea butter and Fellini's 8 1/2, Russian rugs and Woody Allen's Manhattan … Rashid Johnson's perplexing installation is an overgrown amalgam of colliding cultures, a physical stream of consciousness.
Rashid Johnson, Within Our Gates, can be found at the Garage Museum Of Contemporary Art atrium until 31 August.