Interior design studio and architectural Practice, WEWI, have transformed a 60 square metre space within a Cancun shopping centre into a tropical oasis. An ideal environment to tuck into tasty poke bowls, with aesthetics to match their fresh flavour and visual flair, your senses will be off the scale.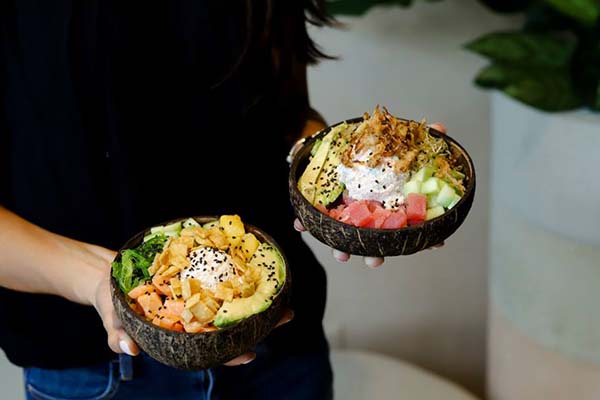 Located on the Yucatán Peninsula, Maku Poke Stop respects the Hawaiian-Japanese cuisine whilst adding a little Mexican twist, the abundance of healthy and vibrant ingredients that go into each dish combining the perfect balance of flavours, colour and spice.
Inspired by the landscapes of Hawaii and the stunning beaches right here in Mexico, designers WEWI have used a mix of materials, furniture and plants to create a "magical hidden beach" vibe for the eatery; a sandy colour palette not only accentuating the aesthetic goals but allowing the ingredients that make up the bowls stand out all the more.
Chukum—a local plaster made of a tree resin—was used to cover the walls, floor and ceiling, and locally-sourced bojon wood was used to make the round-edged tables that fill the space. Layered concrete features in the over-scale plant pots and bar area, their colours and textural roughness contrasting otherwise soft interiors whilst nodding to the shifting tones of the Hawaiian landscape.
An Instagram-worthy spot serving healthy grub that you can compile yourself, Maku Poke Stop brings a bolt of freshness to the humid air of Cancun.