Having earned the title of "one of the most Instagrammable hotels in the world" with their hospitality concepts Urban Cowboy Nashville and Williamsburg, Lyon Porter and Jersey Banks are set to disrupt the world of reimagined roadside motels with the opening of The Dive Motel & Swim Club; also located in Nashville and featuring 23 uniquely designed guest rooms, a year-round swim club, and a dive bar open daily 'til 2.00am, dishing out hot food, cold drinks and good ole times.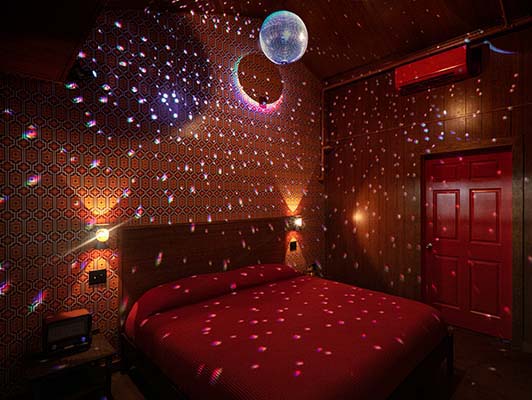 Rooms at Dive Motel Nashville range from kings to double queens, pool suites to penthouses, and each feature a decadent 'Party Switch' that spins a disco ball to the tunes of 'Dive Radio', which consists of four fixed channels: Sex, Drugs, Rock & Roll and Sleep. Kitsch and tongue-in-cheek, no two rooms are the same; although custom furniture, wallpaper, found objects, a Rainbow Caviar-curated minibar and organic EO Bath Products are found in all.
From the Boogie Nights Suite to the Leopard Suite and Mushroom Room, booking an overnight stay guarantees Swim Club access, offering guests complimentary entry to the 60-foot, outdoor swimming pool and hot tub, along with bar and lounge access to the Twin Peaksesque dive bar located on site.
A much-needed oasis for hot Nashville summers, real estate broker turned hipster cowboy, Lyon, renovated what was once a dilapidated 1956 motor inn located in East Nashville's gentrified Cleveland Park neighbourhood; employing an updated twist of the signature design aesthetic—think Liberace goes Wild West—in creating a design motel that oozes characterful decadence without any of the decadent characters that may once have occupied it.
Guests check in at the Dive Bar, which is open from 9.00am but focusses on late night dining and revelry. Alongside the swimming pool flanked by cabanas, hosting live performances and featuring an open-air boutique curated by Jersey Banks, the bar is open to locals and travellers alike; curious souls able to cool down from the scorching sun before ramping up the heat once again come nightfall.
Set to become a travel destination in its own right and boasting design details that are both impeccable and outré, there's little doubt it'll be long until The Dive Motel & Swim Club brags the same Instagrammable title as those renowned Urban Cowboy B&Bs.