Be it in the fourth floor community kitchen preparing a snack or home-cooked treat of regional specialities; the tree room, a light-flooded quiet space on the third floor; the 'Gute Stube', an area filled with a curated selection of records and books; the indoor farm; or vibrant rooftop terrace, guests of LINDLEY LINDENBERG are encouraged to treat this Frankfurt space as they would their own homes.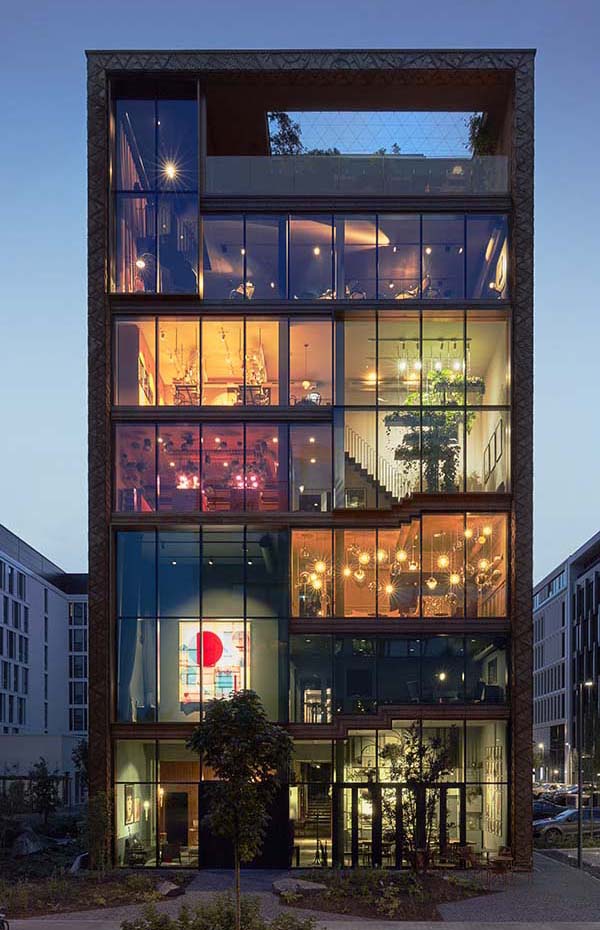 "Neither a classic hotel nor a flat share community, and yet both at the same time," the guests—some staying for months, others days and the odd one overnight—share a number of the living spaces and co-working areas in this building located at Lindleystraße 17. The third property for the culturally-conscious hospitality group that owns LIBERTINE LINDENBERG and THE LINDENBERG—as well as noted local drinking destinations BONECHINA and SHOWMANSHIP—Frankfurt's LINDLEY LINDENBERG is another triumph in style and personality; a hospitality project where hospitality receives top billing.
The 100 guest rooms here at LINDLEY have been created purposely compact in a bid to get 'residents' out into the public spaces—socialising and co-living, creating a community of likeminded individuals and thus a new quality of life, accompanied by a sense of togetherness. Despite the rooms having been designed for 'sleeping, showering and retreating', the quality of the interiors has definitely not been compromised; furnishings are of high quality and presence with design details and contemporary artwork dotted around accordingly; the photogenic style of the property reflected throughout.
Among the public areas, guests can dine in the LEUCHTENDROTER, an all-day restaurant serving hearty, vegetarian dishes from regional produce; and the next-door BAKERY which bakes oven-fresh sourdough bread, pastries and cakes to go alongside scrumptious sandwiches and fair trade coffee. A fifth floor bar and the rooftop terrace enable guests to relax over local and international wines, beers and cocktails, the latter offering views over the local neighbourhood and Frankfurt at large.
Franken Architekten, Exitecture and studio ABERJA worked in tandem to bring LINDLEY LINDENBERG to life, the property's cast iron façade featuring a total of 2,000 elements made from the material said to weigh as much as 70 elephants; the perfect welcome for the the decorative playfulness of art nouveau found inside.
A design-led community where monthly rates start from 1,299€, the lure of a long-term stay at this remarkable space is strong. Bold and brilliant, LINDENBERG's latest is a desirable destination, however long you plan on hanging around.