With serious Miami Beach vibes and aesthetics, Bayside eatery ​​Lenny 3206 is a beaut of a space where colourful interiors and stylish furnishings complement one another in a building that resembles the numerous Art Deco hotels and restaurants of the Magic City's South Beach; in particular its buzzing and iconic Ocean Drive.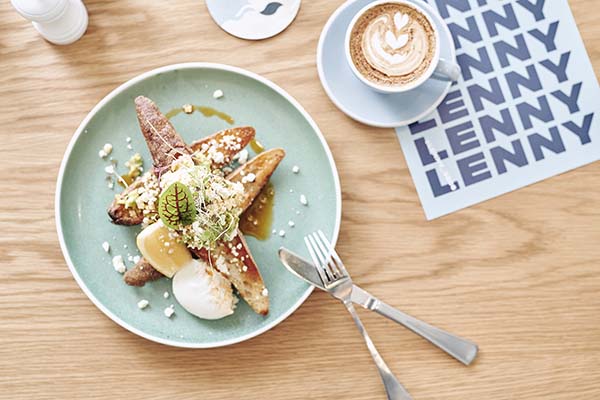 The younger sibling of Arndale's Moby 3143—an Instagrammable destination café that honours both great food and design—​​Lenny 3206 is located in an attractive heritage corner shop in Melbourne's Albert Park and packs an equally strong punch in the style stakes as its forbearer; from the punchy branding and choice of natural materials to its inviting pastel-accented façade and cute outdoor terrace.
Reflecting "the interiors of the breezy brunch bar", executive chef Stephen Svensen devised a menu full of light refreshing dishes, breakfast including the Lenny bircher or smashed avocado and chilli scrambled eggs; the lunchtime menu consisting of treats like superfood salad, Lenny fish burger and chicken katsu, each plate created with care and served as Instagram-ready as the surrounds.
Adding to the waterside vibe, a recently-acquired alcohol license means diners can now enjoy a crisp wine or Aperol Spritz with their order—raising a glass to great design, great food, great company and great times. Lenny, we heart you.