The charming folk of Tuscany have an awful lot to be proud of. The region, famed for its landscape, artistry, wine and culture, is arguably one of the most celebrated in Europe. A territory boasting excellence in architecture, fine dining, hospitality and shopping. And it is as romantic as it is beautiful. So, when an invite to experience Tuscany with The Mall Luxury Outlets landed in my inbox, I dropped everything. Literally.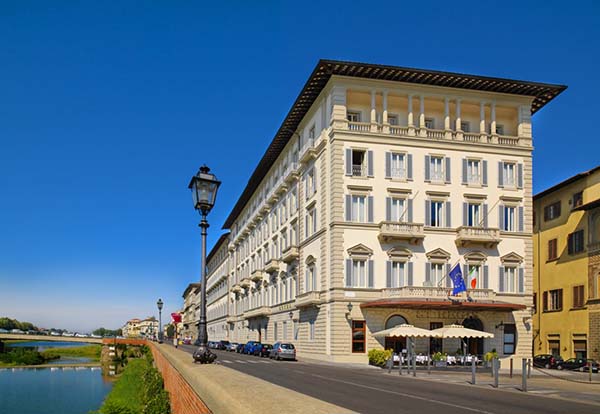 Florence can be reached via Pisa, Rome, Milan, and Bologna. You can fly direct, but the largest city in the region has one of the smallest airports due to its proximity to the mountains. Transfers are a cinch, though, and my journey from Bologna rolled at speed through the Apennines with numerous tunnels through the mountains. Still lusciously green even in early November, all that the mind conjures about the region unfolds in its pure natural form.
In no time I find myself in the heart of the Tuscan capital, on the north bank of the Arno River gazing across to the Ponte Vecchio, internally oohing and aahing. Stepping through the revolving doors of one of the birthplace of the Renaissance's finest hotels, I am greeted with enthusiasm and warmth at the Hotel St. Regis. There isn't a traditional check-in desk—instead a library-cum-sitting room of exceptional splendour looks after your welcome.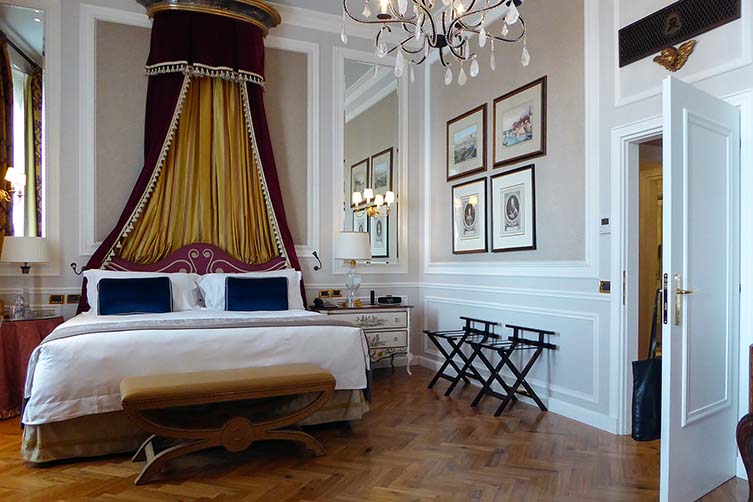 Once in my river view room, I'm introduced to my Butler, who at my request can arrange anything. I'm not sure how I feel about the offer to unpack my humble belongings, so I opt for an espresso instead, which promptly arrives in fine pistachio-coloured china created by one of Florence's most celebrated potters, Richard Ginori. One can get used to this kind of living.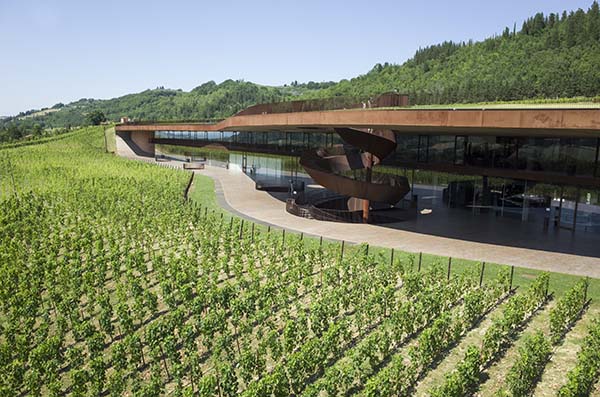 The room is an impressively immaculate time capsule of the Renaissance period. A historic palace designed by Brunelleschi in Florentine grandeur twinned with modern luxury. Adorned with fresco paintings, elaborate chandeliers, velvet fabrics, and antique furniture, the St. Regis is everything a Florentine hotel ought to be.
Our hosts—The Mall Luxury Outlets—invite us to a wine tasting and private tour of the Antinori Chianti Classico Winery. Just south of Florence, integrated into the Tuscan Hills, the family-run winery is one of the oldest producers in Italy. 26 generations of the Antinori family have perfected and innovated wine production in the region and beyond, and their headquarters is an architectural spectacle. The structure and landscape are designed by Archea Associati and took almost eight years to complete.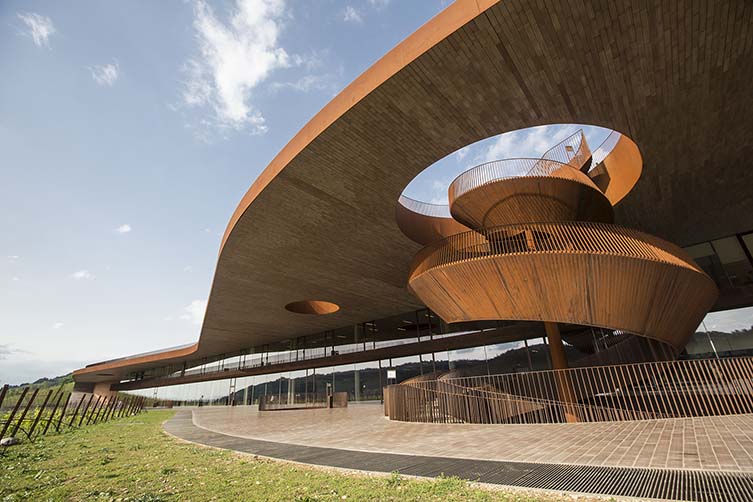 Combining local materials, artisan craftsmanship, and a contemporary vision, the ambitious project was an extraordinary investment. It acts as a fully working winery—its vaults submerged into the landscape while its upper levels make up the visitor centre, offices, tasting rooms, restaurant, public art installations, and shop.
Built with Corten steel and local terracotta tiles, its rusty-coloured structure is modern, elegant, and effortlessly bonds with the landscape. With epic views of the region, and as a big fan of Chianti wines, there really isn't a better place to experience Antinori's unique viticulture.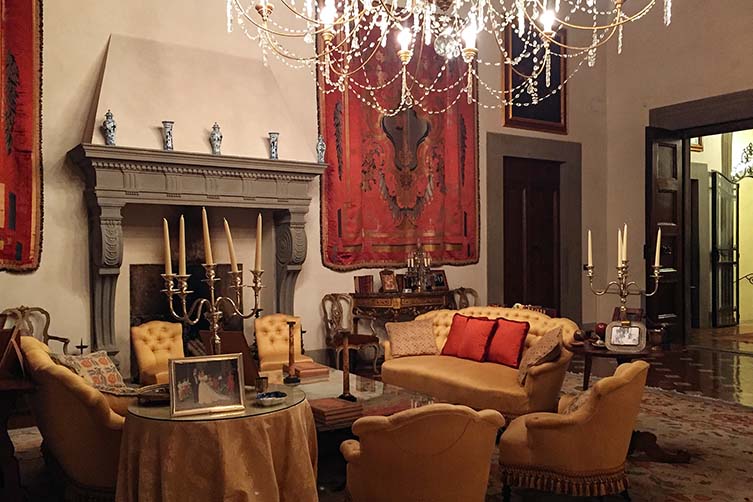 As the moon replaces the sun, we head back into Florence to visit the private home of the family, followed by dinner at their restaurant—Cantinetta Antinori—hosted by leading lady Marchesa Albiera Antinori; the first female CEO in its 633-year history.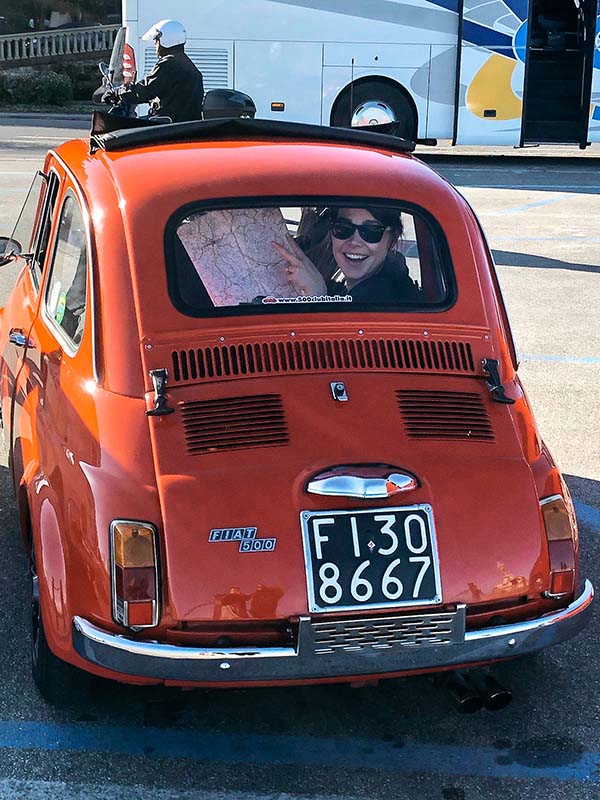 Albiera is the perfect host, showing us the many rooms in the Palazzo, akin to any Florentine museum. Dinner follows, and I am smitten with my maltagliati: roughly cut ribbons of pasta with lashings of wild porcini sauce. Followed by an aromatic and savoury castagnaccio cake made with chestnuts, pine nuts, rosemary and raisins, everything is utterly regional.
Naturally, wine accompanies the meal, and we sample Antinori wines including the refreshing Conte della Vipera (20017), vibrant Badia a Passignano (2015), and the rich Guado Al Tasso (2015).
After an extremely comfortable nights sleep in my princess bed, breakfast at Hotel St. Regis is a delight. Served on the Balconata in the atrium above Michelin-star restaurant, the Winter Garden by Caino. It features dramatic arches and antiques, elaborate floral displays and a stained glass window above completes the distinguished setting.
There are various ways to get to The Mall Firenze, and our hosts have yet another treat in store. We arrive in style courtesy of the 500 Cento Touring Club. Trailblazing through Florence in our 1966 Ferrari-red Fiat Cinquecento, we plough through the Tuscan valleys, vineyards and olive groves and—before we can hold on to our hats—we arrive for a day of wallet-busting.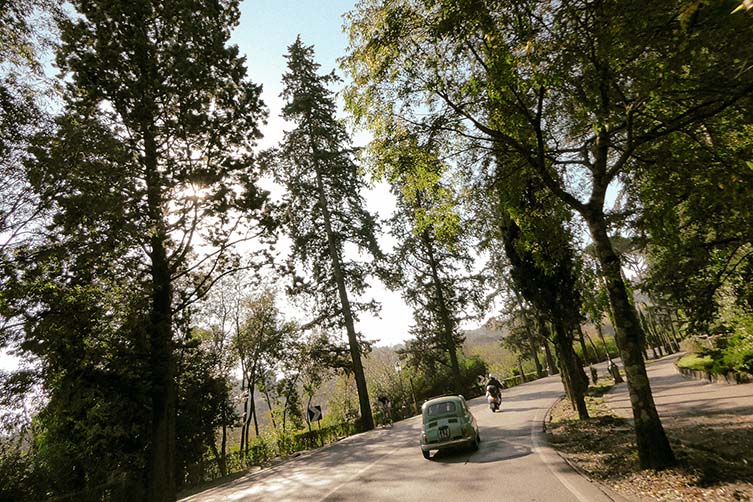 Southeast of Florence, outside the centre of a tiny town called Leccio, stands The Mall Firenze. It hosts designer brands including Chloé, Fendi, Gucci, Bottega Veneta, Alexander McQueen, Saint Laurent, and Loro Piana to name just a few. The Tuscan valleys surround the site, and the feel is more of a park or resort than a typical indoor mall. Architecturally, The Mall is like a village, with plenty of green spaces, lawns and trees with a backdrop of the Tuscan countryside. It's all rather relaxing.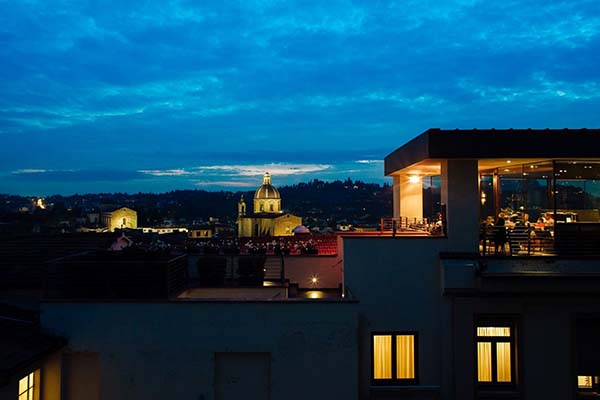 Forever eager to develop the shopping experience, with a focus on exploring Tuscany, the owners are expanding on the food offer. Currently, visitors can grab bruschetta and a glass of wine at the Gucci Café, should they need a break from all the shopping. A brand new site in the coastal Sanremo is due to open in 2019, and promises the same laid-back and beautiful experience, but with added beach.
All shopped out and feeling (a little) guilty, it's time to eat. Our culinary destination is Sesto on Arno at the Westin Excelsior Roof Top Bar and Restaurant. Located at yet another spectacular hotel in Florence, Senso offers a chic and contemporary dining experience with epic views of the city.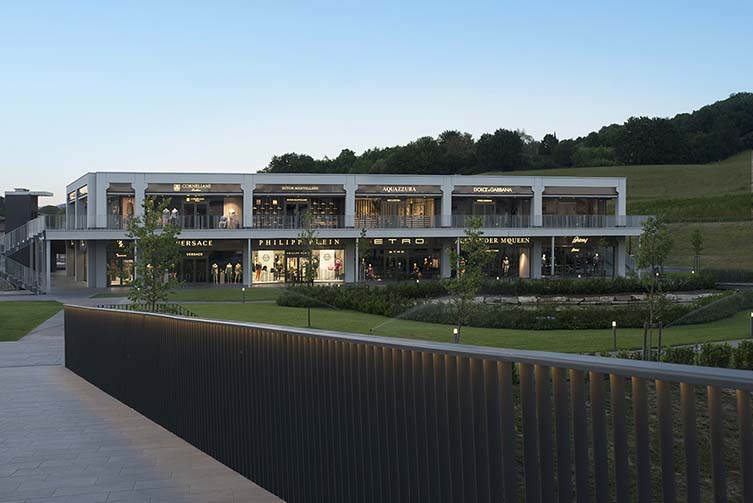 I am thrilled with the chef's taster selection, and the oyster served warm with pearl of consommé, lemon emulsion, and coriander pesto is quite divine. The beef carpaccio with avocado, shallot and 18-year-old balsamic vinegar dazzles too. I also sample a chestnut and chicken mousse and a light yoghurt salmon pot. The main, a black squid ink risotto with a generous helping of sun-dried tomato oil, is insanely moreish, and I try, with little success, to take my time to savour the rich flavours of the sea.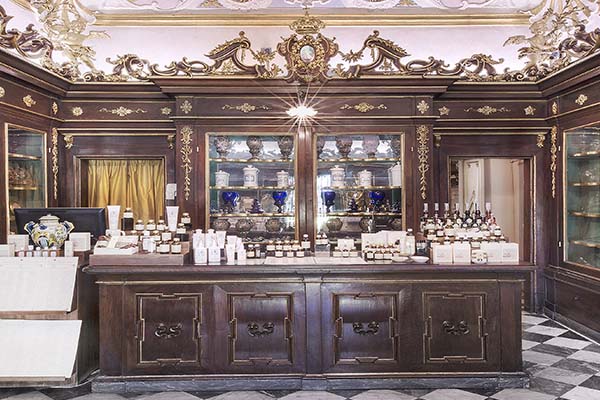 My final day in Florence consists of a visit to a Florentine institution: Officina Profumo Farmaceutica di Santa Maria Novella. We meet CEO and host of our private tour, Gianluca Foà, who takes us on a journey through the centuries of the famous Farmacia. One of the oldest in the western world, it was founded in 1612 by monks to help prevent and manage the deadly plague.
With a vast domed hall selling beauty products made from ancient recipes, a quaint tea room serving herbal teas and tonics, the green room adorned in founding members' oil paintings, as well as an ancient apothecary shop selling herbal medicines and tinctures, it is quite the spectacle; and proof of the incredible properties of plants. Today they have stores in over 75 countries, and the shop-gallery-museum is still located where it all began centuries ago.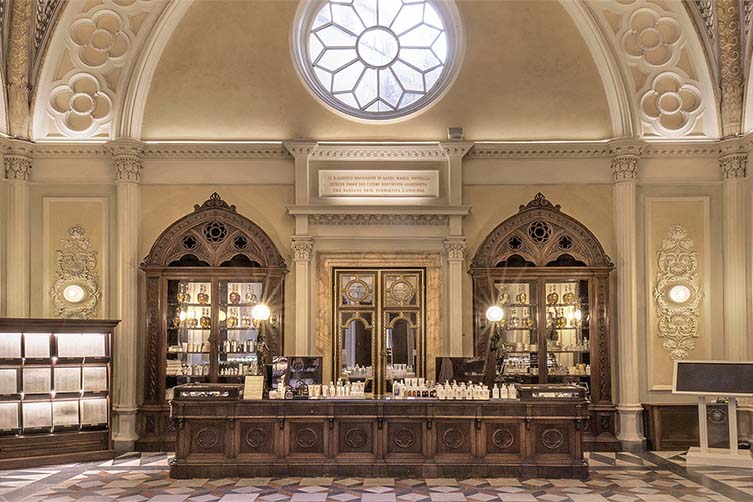 Before I reluctantly head home a light lunch at JK Place Firenze, in one of the smallest and finest boutique hotels in the city, beckons. Elegant and rather beautifully turned out, the contemporary and utterly stylish hotel has an informal feel. I've been invited to have a snoop around the townhouse and discover art and the touch of artisans in every corner. They're proud to support local and regional talent, and everything feels hand-picked. It's all rather fabulous, and in the few minutes that remain—before the clock strikes midnight—I sneak upstairs to the private roof terrace. Cosy and beach-like, the terracotta roof tiles and blue skies are all I see.
I say grazie mille to all my hosts, kiss them on both cheeks, and disappear before my carriage turn back into a pumpkin.
@TheMallOutlets
@grandluxury
@marchesiantinori
@500touringclub
@sestoonarno
@santamarianovella1612
@jkplacefirenze