Not one to overcomplicate matters, Amsterdam restaurant MaMa Kelly gives you a simple choice: chicken or lobster. Naturally, there's a selection of sides and salads, however this considered simplicity means less time spent perusing the menu and more time admiring your surroundings. Which can only be a good thing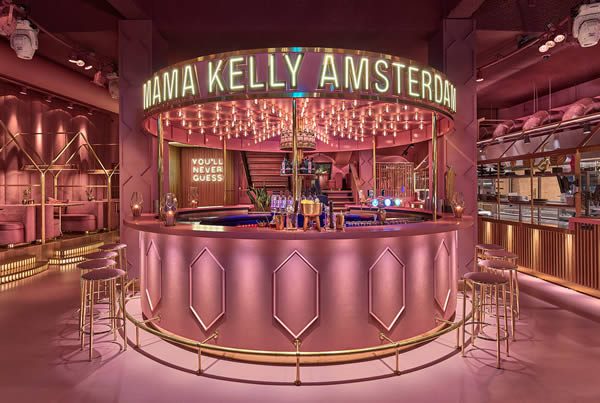 The second restaurant for the fledgling chain — with interiors by Rein Rambaldo of De Horecafabriek, who designed the first outpost in The Hague — diners will certainly grow familiar with the colour pink; which can be found on the walls, ceiling, carpets and staircase, as well as tables, chairs, and central bar. Somehow it works brilliantly — paired with low lighting and plush sofas, it all adds a certain avant garde to the eatery.
Completely different in design to the first MaMa Kelly, whilst retaining the same culinary traits, this outpost at Amsterdam's Olympisch Stadion is a kitschy assault on the senses, with shiny gold often the only accent against that luxuriant barrage of brilliant pink. Choices might be limited on the menu, but in terms of aesthetics there is only one: sink into the rosy bliss of playful opulence and be whisked away on a sumptuous daydream daubed in cuddly hues.
@mamakellyamsterdam
@dehorecafabriek