Bologna-based studio, Rizoma Architetture, join visual artists TO/LET and all-round creative agency Comunicattive in bringing to life the third Milanese outpost for brothers Matteo and Salvatore Aloe; located close to the Central Station area and dishing up the duo's signature pizzas in characterful surroundings.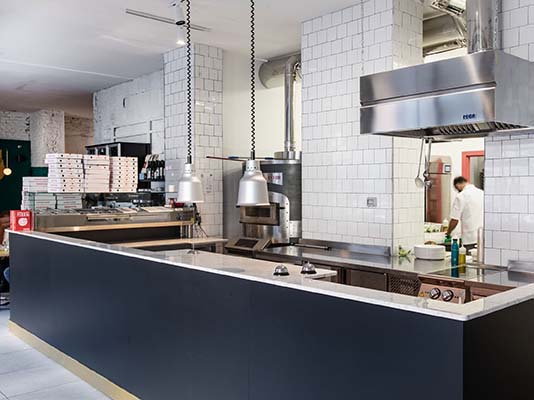 To open up the 120-cover restaurant, plaster was removed to expose original brickwork which in turn was painted white and green—the completely renovated space with large windows in keeping with the brand's colourful and convivial approach to hospitality. TO/LET were given a free rein to cover the walls, the result a dreamlike environment which Rizoma Architetture liken to an "aquatic garden in which are floating evocative amphibious creatures." Quite.
The tenth Italian-based pizzeria for the brothers (part of a group that boasts Berberè Navigli in the cobblestone and canal neighbourhood of Navigli, as well as two London restaurants that include Radio Alice), diners at Berberè Centrale Milan can expect the artisanal, delicious pizza synonymous with the chain, made from living sourdough which guarantees pizzas light and soft on the inside with that much-loved crunch on the exterior.
Expect the likes of pizza with mozzarella di bufala di caserta, tomato, basil; creamed piquillo peppers, stewed white onions, black olives, salina capers, parsley; speck from Trentino, natural gorgonzola, acacia honey, walnuts, fiordilatte mozzarella; and Podere Cadassa rolled pancetta, pecorino romano, tomato … all designed for sharing as to enjoy as many flavours as the stomach will allow. There is also a list of small plates, salumi, cicchetti, and enticing desserts for the most hungry to indulge in.
Another winner in terms of style and taste, Berberè Centrale offers a pizza fix for the creatively-curious in the northern Italian city's business district.
@berberepizzeria
@rizomarchitetture