Split over two floors of a palazzo that dates back to the 16th Century, overlooking Florence's historic Via Dei Serragli, Oltrarno Splendid is a boutique bed and breakfast offering just 14 rooms, each with its own individual style and ambience; hotelier and interior designer Matteo Perduca personally curating the smallest of details to reflect his visionary eclecticism and passions.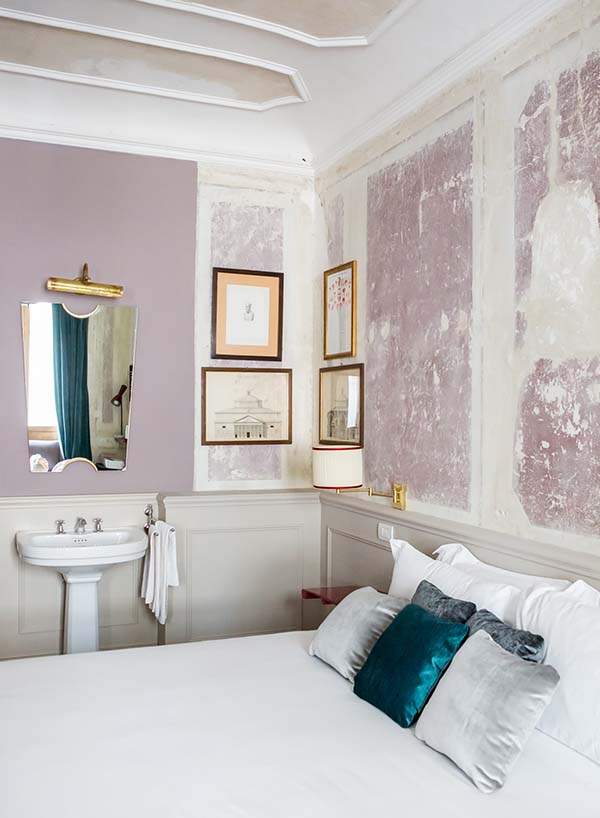 Located close to the beautiful Italian city's compact centre, Oltrarno Splendid is created by the team behind SoprArno and the wonderful AdAstra (an eclectic boutique overlooking the largest private garden in Europe) and oozes quintessential Florentine hospitality; breakfast, for example, with its selection of prosciutto, local cheeses and freshly baked pastries is included in the room rate, and the friendly team on the concierge available to tend to your every whim.
Architect Francesco Maestrelli oversaw the building project, retaining many original features of the decadent old palazzo and ensuring it remains as authentic as possible in an otherwise artisanal neighbourhood. In the guest rooms, unique touches include 200-year-old toile de jouy wallpaper covering the walls of one room, wall frescoes from the 1700s brought back to life in another, and curated corners enriched with industrial lighting. Calligraphic neon signs and free-standing bathtubs from the '50s and '60s occupy the King Deluxe Atelier, a spacious and light filled room once the studio of fashion designer Ken Scott's eccentric muse, Susan Nevelson.
In the lounge area, maps from the early 1900s adorn the walls, whilst bespoke furniture, detailed ceiling and abundance of stylised touches make this a fine spot to enjoy a glass of wine whilst reflecting on a fruitful day. Otherworldly yet entirely accessible, Oltrarno Splendi fuses contemporary style with old world elegance, classic eccentricity with the wonder of Florence. Another winning combination for the formidable hospitality outfit.