Set within the Oltrarno district of Florence, overlooking Giardino Torrigiani (the largest private backyard in Europe with some 17 hidden acres), AdAstra is an eclectic bed and breakfast that occupies the first floor of an ancestral family mansion; noble Tuscan relations spread out across the remainder of this imposing villa.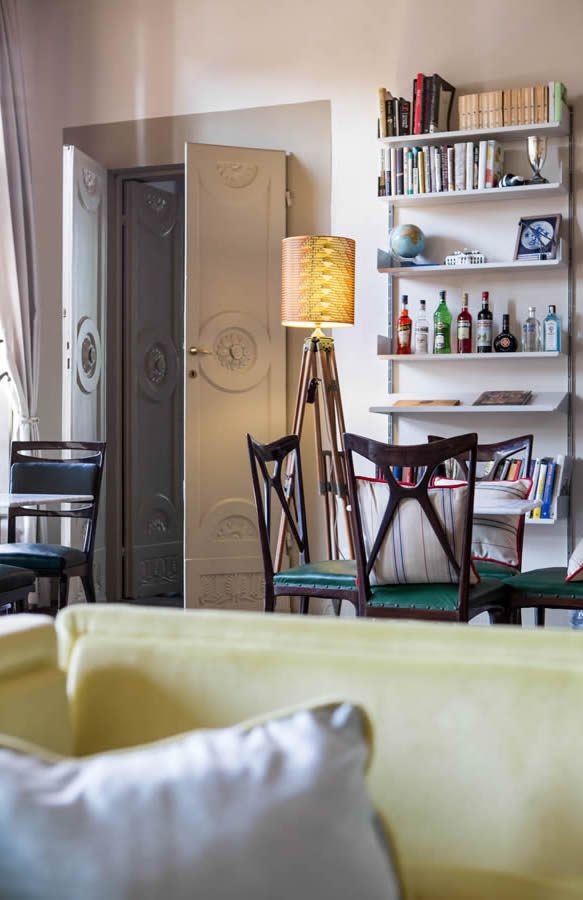 A collaboration between architect Francesco Maestrelli and brothers Marco and Matteo Perduca — the force behind nearby SoprArno Suites — AdAstra, which means 'to the stars' in Latin, features seven guest rooms within the main building and a further two immersed in the Torrigiani; which, dominated by a neo-Gothic tower built by the Marquis Torrigiani as a former observatory to the stars of the early 1800s, serve as inspiration behind the B&B's name.
The surrounding neighbourhood is hip and authentic, the masses of tourists largely remaining on the opposite side of the Ponte Vecchio. Still within the historical centre but a little off the beaten path, Oltrarno is packed with museums, gardens, basilicas, excellent food and drink, and runs right up to Piazzale Michelangelo; a hillside square with panoramic views of the city and the lush countryside that encircles it.
Informed by its surrounds, AdAstra typifies the authentic and independent nature of its 'hood. Each guest room has a different look, personalised with hand-picked antique furnishings, original Italian midcentury design, and iconic pieces by Flos and Vitsoe by Dieter Rams. Parquet flooring complements the sleek white walls and crisp bedding, whilst roll top baths — situated in the bedroom — and controllable lighting add a heavy-handed helping of romance.
With ample space to open up a bottle of Chianti (and we can't recommend a takeaway from nearby Gusta Pizza enough), kickback and relax, the AdAstra's stunning salon is a joy to behold, its ornate vaulted ceilings truly breathtaking. In fact, one could sit and stare at its intricate details all day. The salon (and, on warmer days, the terrace) is also the spot to tuck into a tasty continental breakfast each morning, nothing too much trouble for the discreet staff that mill around.
Boasting a space of 270 square metres, the resplendent terrace overlooks that mystical garden, the fragrance of its flowers and plants wafting serenely through this still space. With comfortable seating and parasols to fend off the Florentine sun, you wonder how you can be within miles of a bustling city, let alone slap bang in its centre. Majestic, daubed with knowing design details, relaxed, homely and impossible to tear yourself away from — time spent at Florence's starry-eyed surprise is an unforgettable experience.