Forget dark and moody cocktail bars where you sip your drinks in intimate nooks, Peaches—located on Melbourne's busy Swanston Street, above 'non-traditional' BBQ restaurant, Cheek—is a stunning space that features lashings of pale peachy goodness.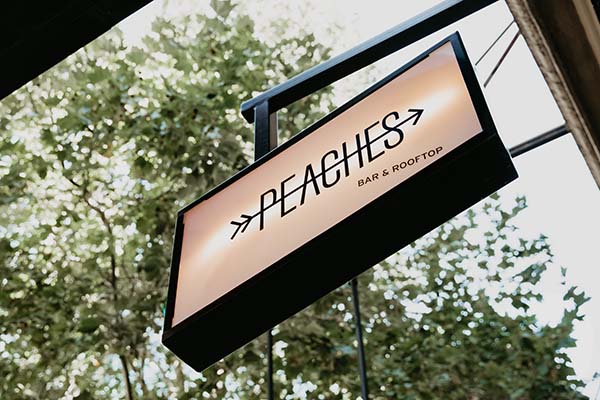 From circular pendants (a representation of ripe peaches) hanging from the pink-hued ceiling, to semi-private booths upholstered in textured blush fabric; candy-coloured terrazzo table tops with eye-catching speckles to pale pastel peach walls, the mouthwatering pastel tones are everywhere.
Designed by interior and furniture designers, Pierce Widera, Peaches is an innovative and welcoming environment that reflects its cocktail and food offerings. Situated on the second floor, an experienced bar team serves an impressive selection of crafted cocktails, wines, and beers alongside fried chicken burgers and tofu sandwiches; which are available until close.
Moss-green bar stools, oversized Philodendra Daliciosa leaves, and shiny brass detailing add a touch of luxury and Insta-ready panache to the interior spaces at Peaches, whilst—come sunset—a disco ball bouncing pink light-rays through the room makes the mixture of colours as delectable as the cocktails.
Traverse a pink (of course) staircase to the top floor where Peaches rooftop—which feels more Miami than Melbourne—drops its namesake hues for pastel blue walls and white furniture atop timber decking, the ideal spot to to enjoy a summer spritz and people watch from above.
A relaxed venue in the nightlife end of the city's CBD, hit up Peaches for great cocktails, killer fried chicken and high times.
@peaches.melbourne
@piercewidera