Atelier Ace and Studio Shamshiri-designed hotel Maison de la Luz has taken up residence in New Orleans's former City Hall Annex—the creative force behind Ace Hotel collaborating with the Los Angeles-based studio in conceiving a distinctive new guest house where true Southern grace can be found in every corner of the numerous guest spaces, craft cocktail lounge Bar Marilou, and its 67 splendid bedrooms and suites.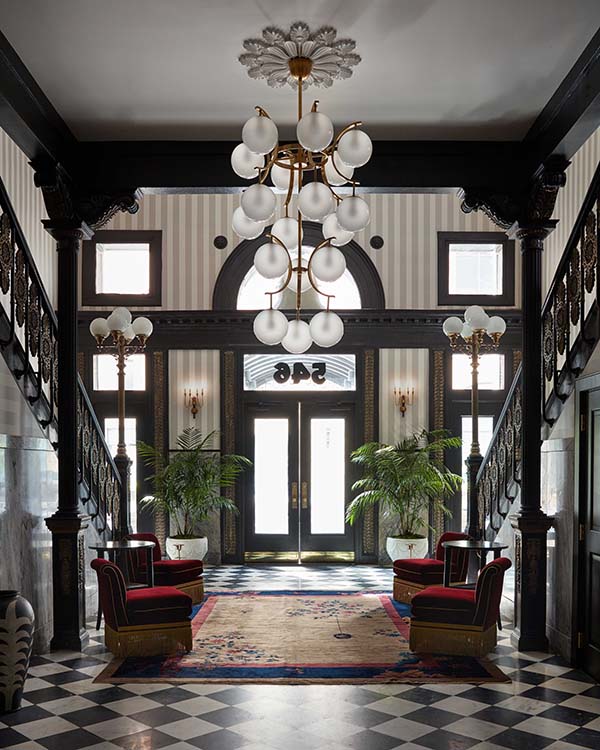 Set over six floors, classic hospitality and understated elegance is in abundance at this luxury guesthouse—Maison de la Luz revelling in the finest details; from historic grand staircase banisters to silk-tasseled keys and hand-embroidered linens. New Orleans-sourced antiques sit alongside bespoke wallpaper, Christopher Farr x Shamshiri rugs, and art by local artists. Those who choose to rest their heads here will find beauty in the curious, and generous amounts of spirit.
Located in the city's revitalised Arts District—filled with art galleries, fine restaurants, and world-class museums—Maison de la Luz provides a refuge from the bustle of Lafayette Square and the other delights on its handsome doorstep; encouraging its guests to linger in the regal Breakfast Room each morning, as well as the private guest-only Living Room, where one can enjoy nightly wine and cheese, first-rate cocktails and craft beer in a space that radiates comfort and attention to detail.
Bar Marilou—an extension of the hotel located next door—has also opened, bringing the European apéritif culture and warmth of Caribbean spirit and flavour to The Big Easy; French hospitality group Quixotic Projects mixing cocktails with French-inflected fare until late each day.