A historic church, schoolhouse, rectory, and convent have been transformed in a venture between ASH NYC and Nathalie Jordi, the four notable New Orleans buildings now home to the august Hotel Peter & Paul; a discerning bolthole four years in the making.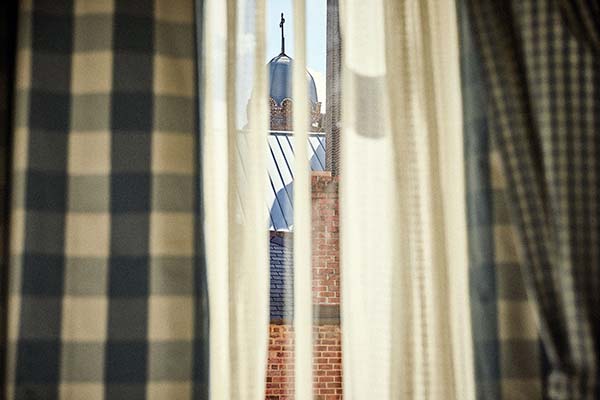 Each of the storied buildings—designed in the late 1800s by noted Irish-born American architect, Henry Howard—have been lovingly restored and repurposed by the designers-cum-developers who are adding to an expanding portfolio of thoughtful design hotels, the result being four distinct quarters which each possess their own singular personalities.
The School House homes 59 of the 71 guest rooms, with the reception and lounge dominated by a palette of colours that nod to 14th—18th century religious paintings; over in The Rectory—an 1875 soft red brick building that the clergy once lived in—guests and locals alike can mingle at the stately Elysian Bar over a good coffee, wine, or specialty cocktail with a selection of small plates, or in one of the many communal spaces, including the Courtyard adorned with thriving palms, ferns, and vines.
The Convent, former home of the Marianite nuns who taught in the school, is now a considerably less religious affair, housing seven sumptuous sanctuaries that will include Mother Superior, a room with a canopy bed that features a clandestine bar, and a bathroom luxurious enough to wash away the sins said bar might incur. All rooms boast an array of antique and bespoke furniture and lighting, and retain the dignified majesty of Hotel Peter & Paul as a whole.
Finally, the Church—a 9,450 square foot decommissioned red brick Catholic church—will play host to a curated selection of gatherings that its new owners will hope will be held in high reverence by visitors to and locals of New Orleans alike.
@hotelpeterandpaul
@ash_newyork