After an American scientist developed a shade of pink as a means to temper aggressive behaviour, claiming the specific tone to be a pacifier, establishments including Santa Clara County Jail and a San Bernardino youth clinic painted their walls in Baker-Miller Pink in a bid to simmer hostility. Sports psychologists, meanwhile, began to use the colour as a way of gaining an advantage over opposing teams; Norwich City painting their away changing room in a deep pink hue in recent times, something that led to opponents Sheffield United covering it up with sheets of white paper.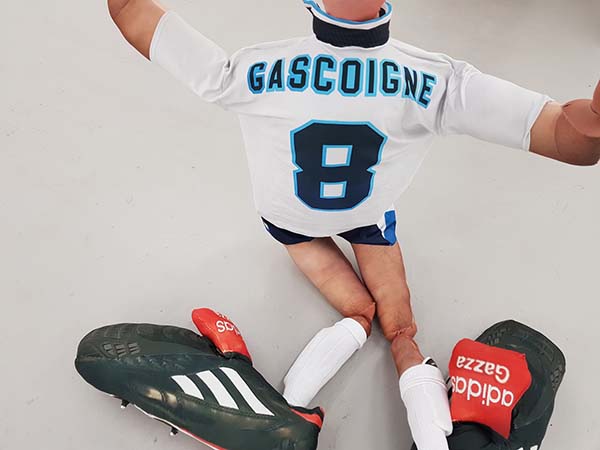 As part of a new group exhibition, ULTRA: Art for the Women's World Cup, the exceedingly talented Juno Calypso created an all-new football-based body of work which has been inspired by this pink theory—the artist staging a range of changing room scenarios in her renowned style of cinematic self-portraits drenched in unwritten narrative and bags of melancholy.
Presented by biannual art and football print magazine, OOF, the exhibition is currently showing at J Hammond Projects until 27 July and includes the work of seven more artists alongside a cast of characters ranging from Gazza to two-time FIFA Women's World Cup champion Brandi Chastain, and good old Delia Smith, painter Lydia Blakeley recreating The Canaries owner's infamous 2005 "LET'S BE 'AVIN YA!" rant.
Focussing on the monster that is football—a game that brings joy to communities whilst tearing them apart, unifying whilst dividing—the conflict of the beautiful game is at the core of all the works on show. From Rosie McGinn's imposing Paul Gascoigne sculpture to Emma Cousin's contorted and competitive players, or Rhiannon Rebecca Salisbury's CP Goggle Girl depicting women's fashion in the sport, the exhibition explores compelling artists working across a broad spectrum of disciplines.
Emmely Elgersma, Georgia Lucas-Going, and Gray Wielebinski complete the stellar line-up at ULTRA: Art for the Women's World Cup, which continues at J Hammond Projects, London, until 27 July.
@oof_magazine
@jhammondprojects