Juno is Joyce, and Joyce has issues. At war with the everyday pressures of being a woman in the 21st century, Joyce is trapped deep within walls of image and femininity. Setting Joyce, a caricature that she herself admits is increasingly close-to-home, against backdrops of cinematic 1980s saccharine sweet pop culture – Juno Calypso is already drawing comparisons to the likes of Cindy Sherman and Gillian Wearing. And rightly so, Londoner Calypso is frighteningly talented for her years (the young photographer was born in 1989, the year Nirvana released their debut album), the London College of Communication graduate having recently won the visitors vote at this year's Catlin Art Prize.
Calypso's melancholic staged self-portraits are hard-hitting despite their candy-coated gloss; similar to John Waters' subversion of mainstream Hollywood, there's sadness, charm, wit and mystery – all captured with deft flair. Juno Calypso is a very talented young lady with a very, very bright future – we caught up with her for a quick chat to find out more…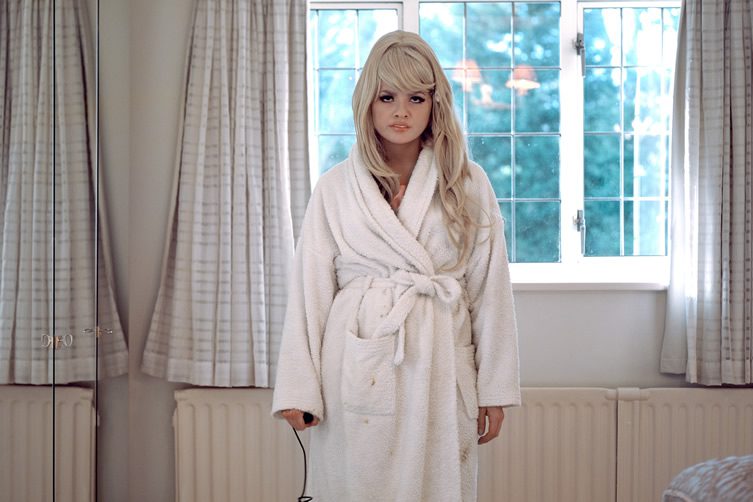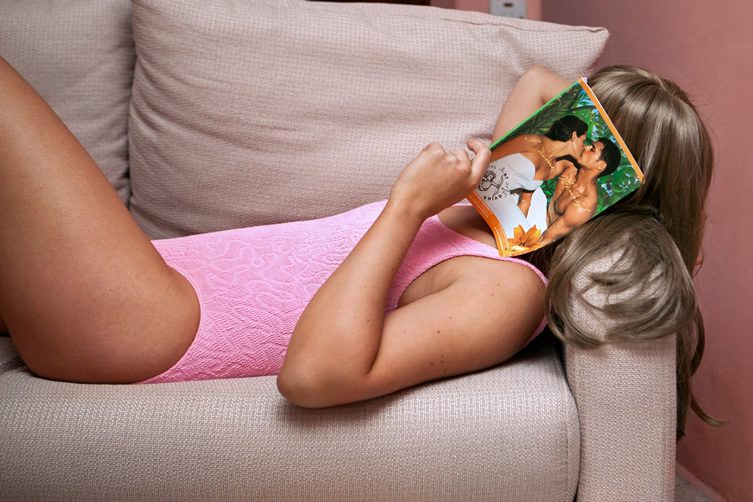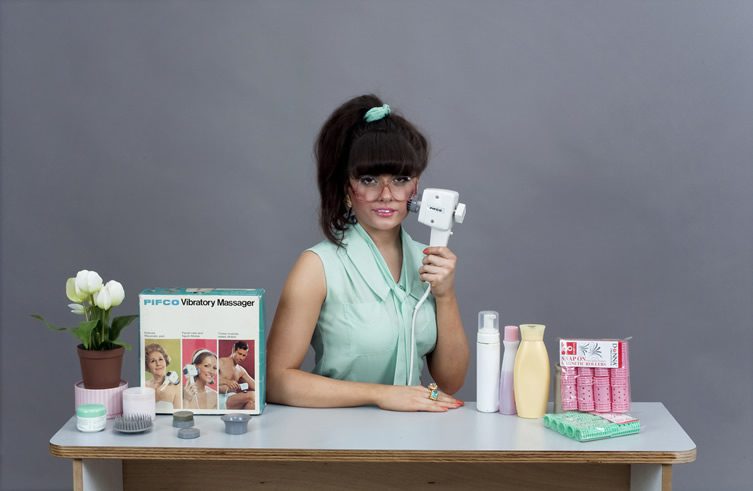 Hi Juno, can you tell us a little about you and your background?
I'm a 23 year old Londoner, born and raised in Hackney. Last year I graduated from the BA photography course at LCC. Before that I wanted to be a painter, then at Leeds College of Art I got very into extravagantly staged fashion and beauty photography, but now I feel most comfortable with photography as a fine-art practice, especially the way it was taught at LCC – there were little restrictions on what you could do and so it allowed me to also incorporate other mediums like video and sculpture.
Is photography your full time gig now?
Yeah, which is a nice surprise. I left my part time job in January and set up a commercial photography and film production company with two friends from LCC. So I split my time between that and making my own work.
You say that you 'draw upon personal experience' – how close to home is Joyce?
Very close, and I think it's getting closer. Even hearing people say the name Joyce sounds strange to me now. At the start I felt much more detached, the character was more of a caricature. I always donned fake teeth, thick glasses and a bright blonde wigs. But recently the costume has become more realistic and the things I'm doing in the image, or the mood, is usually a mirror of what I'm feeling at the time. It becomes a sort of study into how women, like myself, present ourselves in front of a camera. So I suppose my photographs of myself are ultimately a comment on how we photograph ourselves.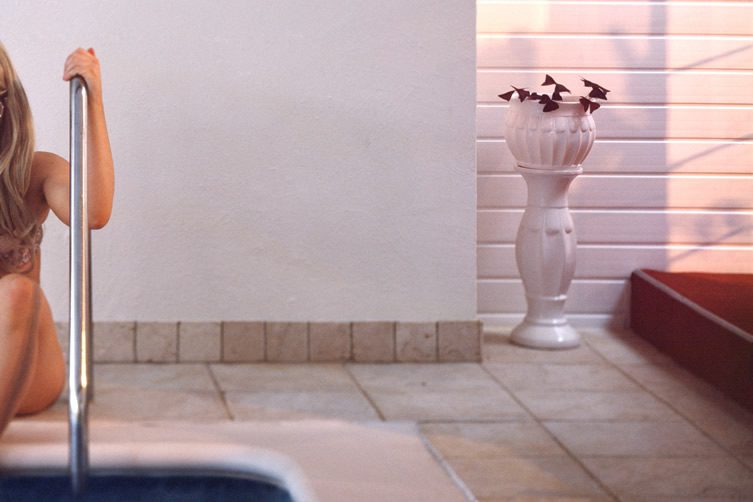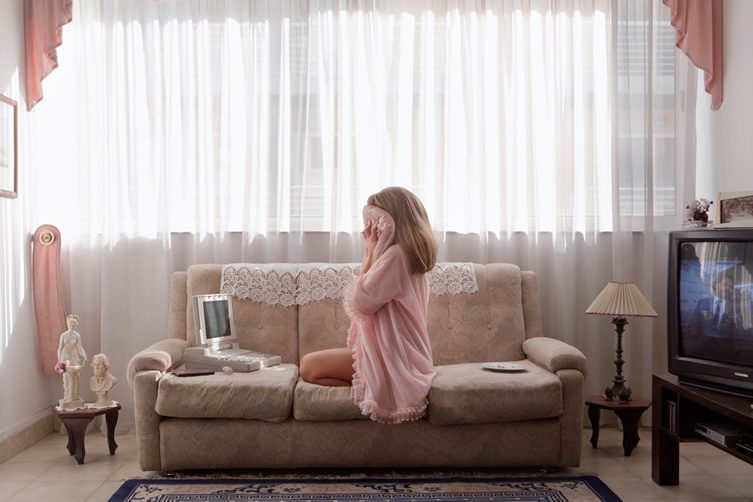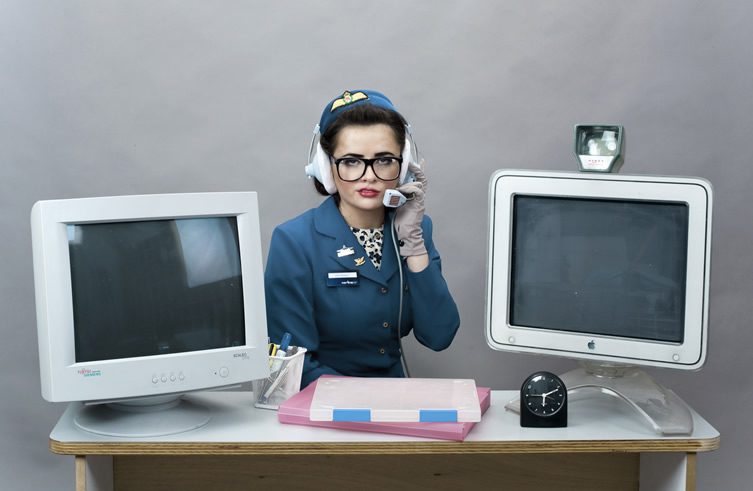 There seems to be more inspiration from cinema than the art world in Joyce's character, who are your inspirations – and is there a 'storyline' evolving for Joyce?
Yeah I watch lot of films before making work. I'll usually spend the whole film manically grabbing screenshots on my computer and then I'll draft ideas for scenes from there. 1950s films like Butterfield 8, Rear Window and Pillow Talk have been recent sources of inspiration. Then I have a few films and directors that I'll always go back to when I'm feeling stuck like Pedro Almodovar, David Lynch and Stanley Kubrick. As for a storyline, not at the moment, I prefer to work intuitively and be surprised by what comes out of experimentation.
Your staging looks straight from the set of a saccharine '80s movie, can you tell us a little more about the locations and where you find your props?
Saccharine's a good word I've never heard that before. Locations so far have usually been grandparents houses – the decor is perfect and untouched. Recently I've been sourcing locations through people renting holiday rooms online and I've found some gems. When I found the all-pink room for the series I shot for the Catlin Prize I nearly fell off my chair. Hotels have been very overdone in photography so I much prefer to work in someones home and have that persons personal taste and detail around me.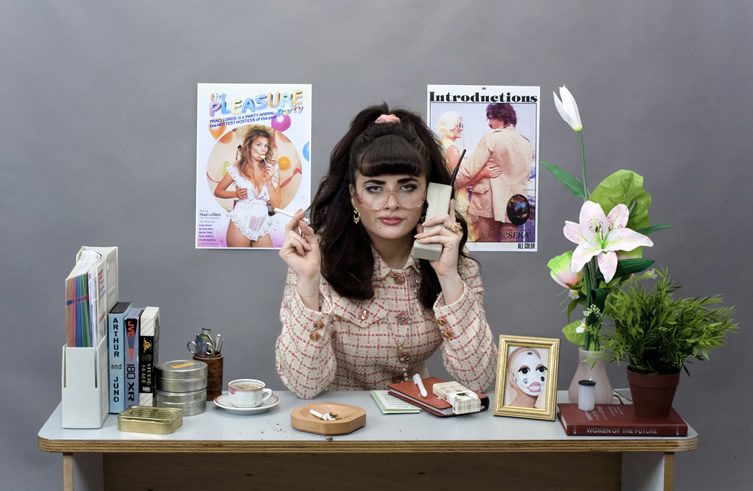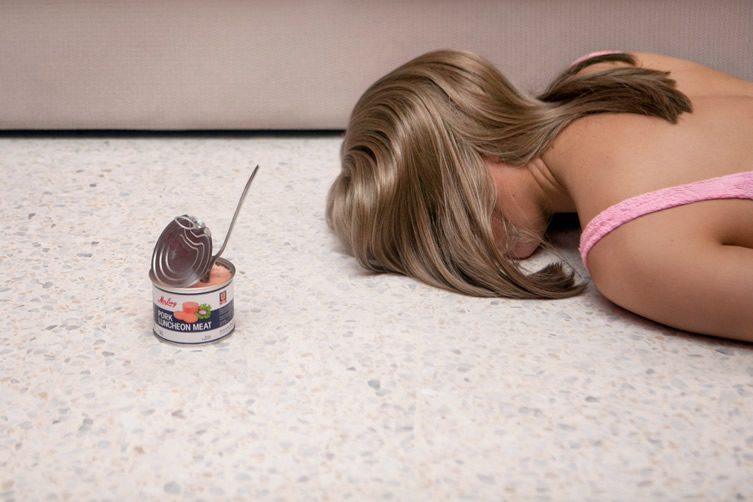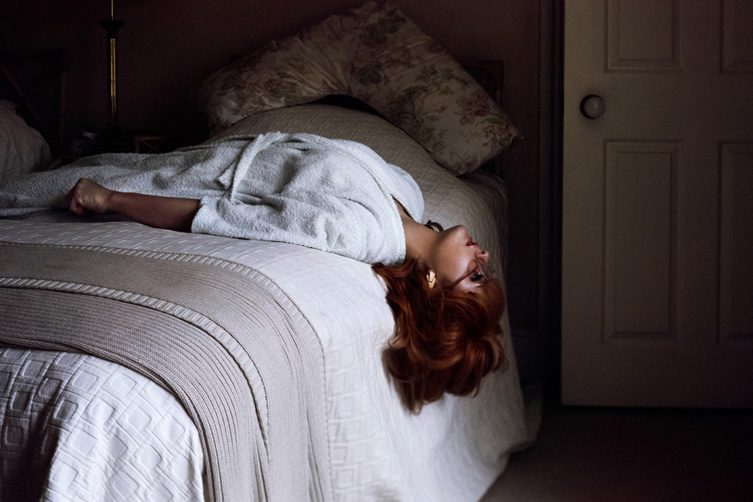 Joyce seems a little lost, is this a metaphor for the modern female?
I wouldn't say lost. I think the modern woman knows exactly what's going on, we know it's all absurd, but it's difficult to escape from it. Susan Brownmiller said it perfectly when she described femininity as 'a challenge thrown down to the female sex… an exasperation, a brilliant, subtle esthetic that was bafflingly inconsistent at the same time that it was minutely, demandingly concrete.'
What's next for Juno and Joyce?
I have new work on show at the moment at the Simon Oldfield Gallery in London which will be up till July 27th, so you can see what Joyce has been up to there. After that I'd like to start something new, I have a couple ideas for new characters and new locations which I'll be working on over the summer so we'll see what happens then.
***