Located on the left bank in Paris's 13th arrondissement—an area home to Chinatown, a mixture of upscale and budget Chinese and Vietnamese eateries, and France's main library, the Bibliothèque Nationale François Mitterrand—La Felicità is an exciting dining and cultural destination making waves in the capital; the 4,500 square metre space (complete with 1,000 square meters of terrace, a food market, five kitchens, biergarten, whopping cocktail bar and 500-seat musical terrace from which to enjoy a year long musical line-up) getting Parisians and travellers alike hot under the collar.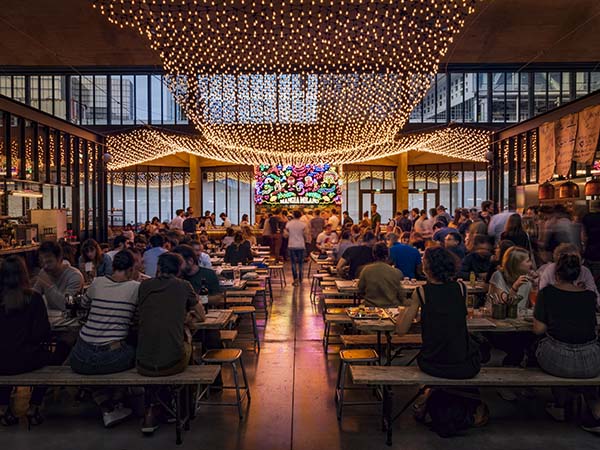 La Felicità is the latest food offering from the Big Mamma Group and serves, essentially, as an Italian food market where each kitchen sources ingredients directly from their producers to create a menu bursting with 100% homemade plates. The cement and glass space transports diners to the Med, its vast footprint split into smaller, inviting areas filled with mismatched seating and lighting, clashing rugs, rattan and wood, and masses upon masses of lush greenery.
Five metre-wide backlit balloons hang from the building's structure, Italian street-art frescoes adorn two train carriages, a bar boasts more than 1,000 bottles and the beer garden arrives with 16,000 lightbulbs hanging above it. Each detail ensures that guests are compelled to return time and time again, the feel-good space as aesthetically pleasing as the food is tasty. From freshly-made bread to Tuscan prosciutto, barbecued porchetta di Cinta Senese and beef ribs di Manzo to wood-fired Neapolitan pizzas and fior di latte mozzarella—Italian fare lands with aplomb in an already culinarily-diverse neighbourhood. Big and brilliant, Big Mamma nail it again. Saluti!