Meaning 'Fat Volume' in English, decadent Warsaw restaurant Opasly Tom serves contemporary Polish cuisine in a beauty of a space that connects a series of rooms—including a bar with reading room, wine cellar and a semi-open fine dining kitchen—that vary in size, height and aesthetic presence.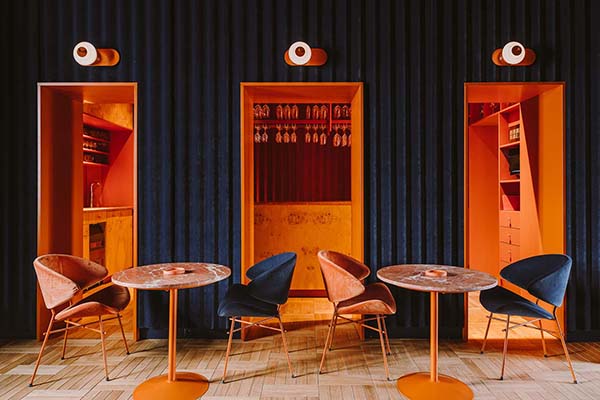 Embracing the slow food movement, chef Flavia Borawsk and team put local Polish produce with a strict focus on seasonality to work in the creation of an inviting and inventive menu that includes catfish, lashings of pumpkin pasta, and the more traditional quash blossom salad. And it is not just the cuisine at Opasly Tom that sings of innovation and good taste.
Multidisciplinary design studio BUCK.STUDIO—who created candy-coloured interiors for Wrocław patisserie, Nanan—were tasked with creating a 'consistent but expressive aesthetic background for the creative menu', which has resulted in a rich colour palette of coral, sage, honey and ink blue. Telling us how the "greatest design challenge was the non-standard split level functional layout," the studio connected the spaces by choosing refined finishes and textures (alongside that distinctive colour palette) to bring together an exceptional setting worthy of the dining experience Borawsk bestows upon Opasly Tom's guests.
Whether you're tucking into a tasting menu, bar menu, or choose individual plates from the à la carte offerings, local style and local flavour is in abundance at this city centre culinary utopia.