'God's own country' is famous for many things, most deservedly so for the humbling countryside from which it derives that nickname. The Yorkshire Dales, which can't be said without hearing that most joyful of British accents; the bracing North York Moors; its unsung coastline. Yorkshire is crunching into the dense batter of deep-fried fish (try Mother Hubbards in Scarborough); its iconic pudding, first cooked up in 1737; and the monumental York Minster, northern Europe's largest gothic cathedral, which—at 252 years to build—makes the construction job at Barcelona's Sagrada Família look positively speedy.
From epic country pubs to snug seaside villages, though, Yorkshire has an altogether more surprising side; one defined by Hull having been—somewhat surprisingly—designated UK City of Culture in 2017, a declaration that remains active until the end of next year. Hull, Scarborough, Bradford, Huddersfield … they're not the sort of names quickly associated with contemporary culture, yet Britain's largest county (2.9 million acres, no less) is rich in surprises; the latter is home to Magic Rock Brewing, lauded in the craft beer world and recently bought out by multi-billion dollar Australian conglomerate, Lion.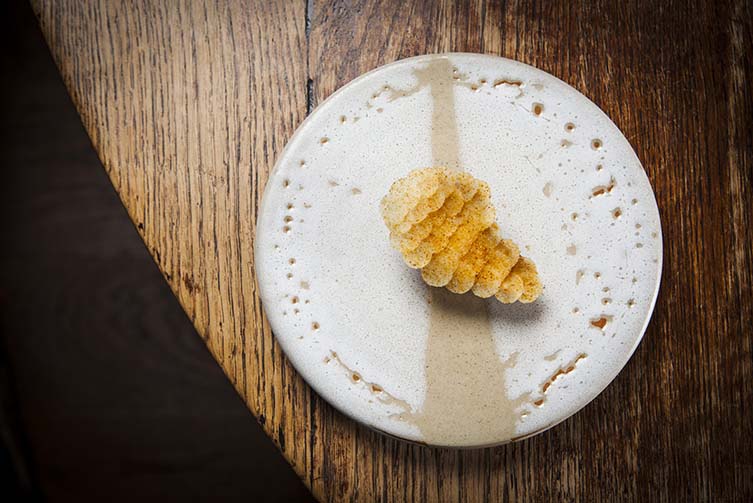 With a long-standing history in the world of beer, Yorkshire is a natural home to the craft beer boom, and Leeds' Northern Monk is an internationally revered name that remains independent; its annual Hop City and Dark City festivals attract the world's most famous breweries, whilst Leeds International Beer Festival is an event capable of rivalling any in the country.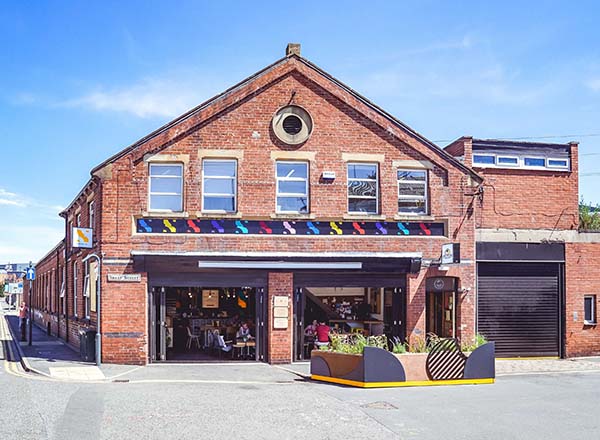 And it's not just beer that has had a contemporary makeover here. The city is also home to the brilliant Bundobust, the hipster pioneers of punchy vegetarian Indian cuisine, whilst out in Oldstead, North Yorkshire, The Black Swan has been rated the world's best restaurant; its creative force, chef Tommy Banks—who became the youngest chef to hold a Michelin Star at 24—a regular on BBC Two's Great British Menu.
However, Yorkshire's real cultural allure lies in its abundance of contemporary art. Londoners may scoff at the county's rurality, those from somewhere like New York or Paris probably couldn't even place it on a map, but this region has an embarrassment of riches. David Hockney was born in Bradford, Damien Hirst grew up in Leeds, and much of the former's work can be found at Saltaire's Salts Mills, a culture and retail complex that was once the largest industrial building in the world. Hirst's former stomping ground, on the other hand, is a buoyant city rife with arty independent shops like Colours May Vary and Village, and multipurpose creative spaces like Duke Studios and The Tetley, which occupies the majestic art deco headquarters of the former Tetley Brewery.
Two art icons of another era—Barbara Hepworth and Henry Moore—were born within nine miles of one another in West Yorkshire, and The Hepworth Wakefield is a stunning contemporary art gallery designed by David Chipperfield that wouldn't be out of place in any major international cultural hub. A brutalist beauty in the otherwise unassuming hometown of the famous sculptor from which it takes its name, it stands as a testament to the surprises that Yorkshire consistently turns up.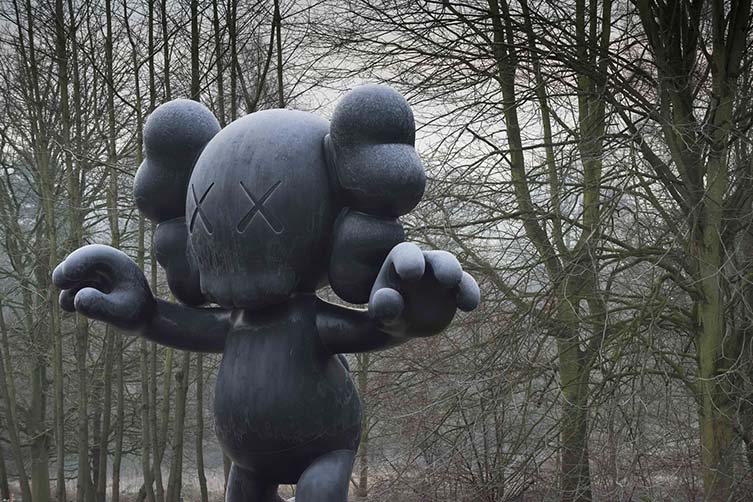 That other noted British sculptor is celebrated, too, in nearby Leeds—The Henry Moore Institute one of Europe's largest galleries dedicated to his discipline—whilst the Yorkshire Sculpture Park regularly hosts works from the world's contemporary art elite. Hidden among the county's breathtaking countryside, it is as inspirational a day out as one could have, and serves as a kind of metaphor for how one can be rewarded for a little searching in Yorkshire.
Spanning the width of most of Britain, Yorkshire is a county that deserves to be explored, and—staying with the surprises—Gorgeous Cottages is a brand that looks after a cornucopia of holiday homes that can frequently contradict your expectations of such properties. From unashamed luxury to contemporary cool, the platform—launched in 2012 from the market town of Stokesley—has a multitude of options from which to roam through the county's cultural assets, many belying the perceived twee of country cottages, all rich in charm and handpicked for their quality and attention to detail.
In collaboration with Yorkshire-obsessed Gorgeous Cottages, we've handpicked ten of our own. From the western edge of the Yorkshire Dales out to its beautiful North Sea coast, these are the perfect places to call home, to get out and explore, to uncover Yorkshire's surprises. Because not everything is always as it seems.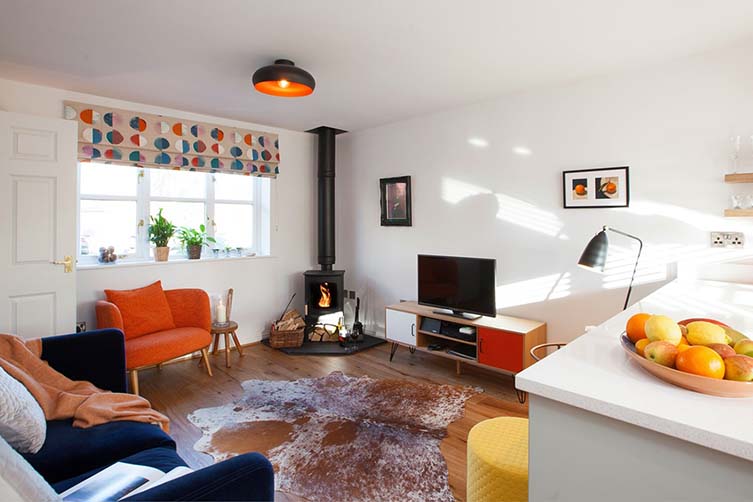 Coco, Helmsley, North Yorkshire
There are elements of Hockney's sun-dappled colours and Damien Hirst's addiction to spots here at Coco, a style conscious home for four, as bright oranges and blues accent crisp whites and an edge of Scandi minimalism. Located in Helmsley, a pretty market town that serves as a gateway to the North York Moors National Park, there are brilliant gastropubs, fine dining restaurants, and organic delis on the doorstep, but one might struggle to leave behind the cosy wood burner that serves as a focal point for this impeccably-designed property.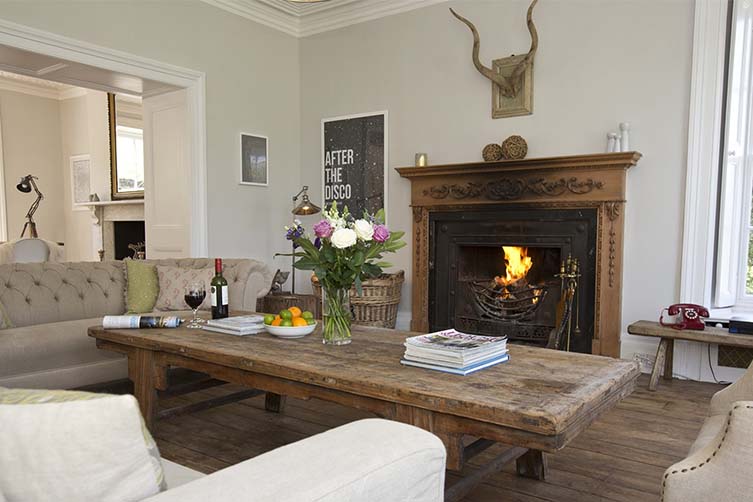 Lawn House, Low Row, Yorkshire Dales
Lord it up like your latest work has sold big at Sotheby's with this refined Grade II* listed Georgian manor on the sleepy banks of the river Swale. There's a decadent artiness to the luxury interiors here, with subtle design touches and artworks lending an edge of contemporary cool to its classical feel. Lawn House's grand staircase exudes elegance whilst a beautiful country kitchen with weighty butcher's block and wooden table reminds you of your surrounds.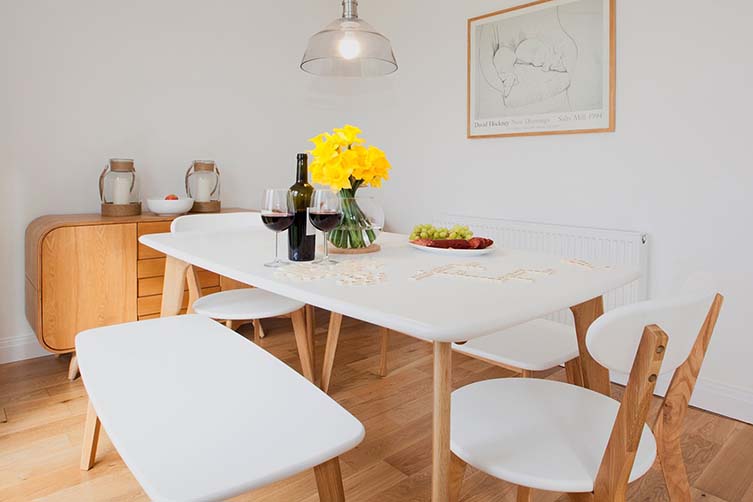 Rock Lobster, Flamborough, East Riding
There's a mid-century modern feel to the interiors at this beautiful home on Yorkshire's Heritage Coast. Contemporary elements countering the expected nautical vibes, Flamborough's Rock Lobster emanates the sort of surprising juxtapositions one will uncover in God's own country. Just 300 yards from the beach down a coastal cliff path, this two bedroom home is the perfect spot from which to enjoy one of the county's unsung gems; a garden with charcoal BBQ the perfect spot from which to cook up its fruits.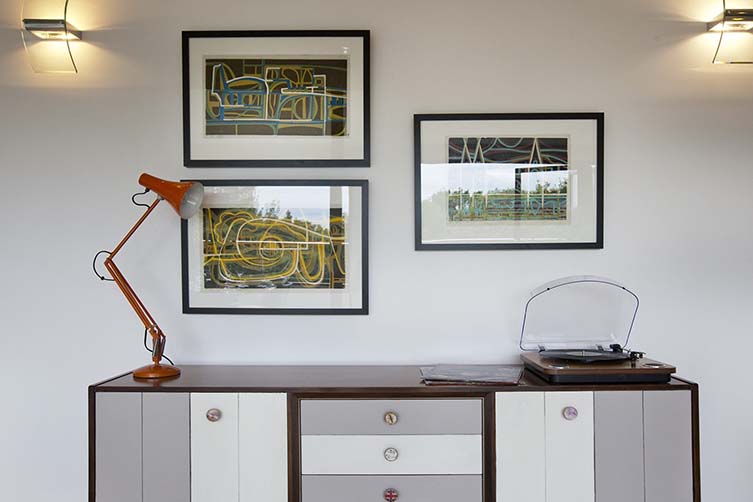 The Penthouse, Harrogate, North Yorkshire
Close to the centre of affluent Harrogate, this regal penthouse mirrors its upmarket surrounds, whilst touches of retro mid-century design echo the surprise-factor that's found throughout Yorkshire. Fusing the space-age glamour of The Jetsons with well-heeled elegance, this two bedroom pad sits atop a fancy Victorian home in the suburb of Duchy, its indoor-outdoor living style just the place for long summer nights after a long day of cultural exploration.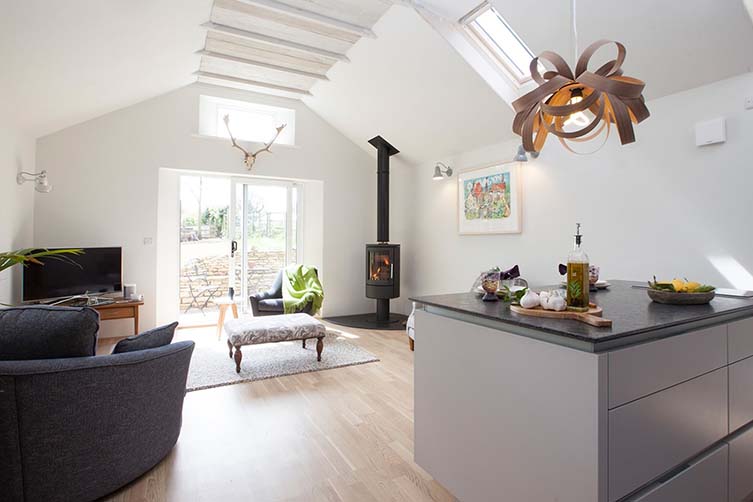 Little Wickets, Masham, North Yorkshire
Another beauty on the edge of the Yorkshire Dales National Park, Little Wickets is a one bedroom bolthole in the tiny village of Thorton Watlass (used as a backdrop for telly's All Creatures Great & Small, Heartbeat, and Wuthering Heights) that epitomises Yorkshire's quintessence of not-all-is-as-it-seems. Making your way through a rustic entrance with wooden veranda, one might never expect the contemporary Scandic-Inspired hygge that unfolds. Packed with all the mod cons—think Smart TV, Sonos speakers, and NEFF kitchen equipment—this surprising cabin is a snug spot for couples to bed into as they get to grips with the magic of Yorkshire.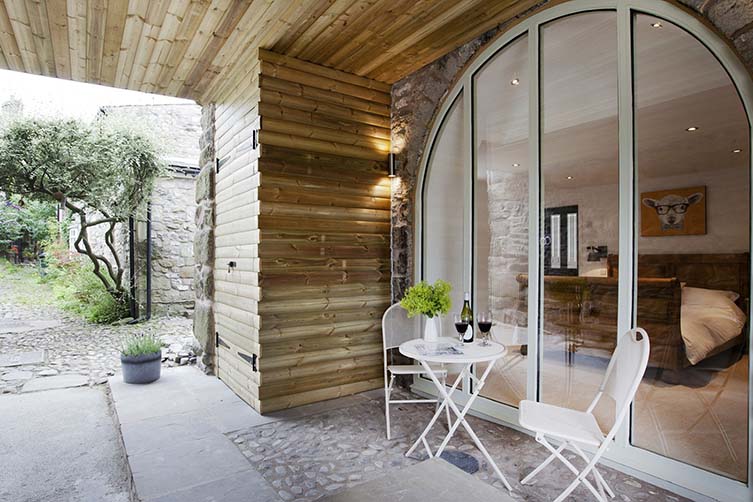 Dugdales Barn, Settle, Yorkshire Dales
You'll find two bedrooms inside this beautiful brick building that dates back to the 19th century, a stone's throw from the centre of the buzzy market town of Settle. With restaurants and brilliant British boozers within walking distance, you may be forgiven for not taking advantage of this barn conversion's spacious and well-equipped kitchen, but do make use of its breakfast bar which also doubles up as a nice spot for a pre-dinner glass of bubbles.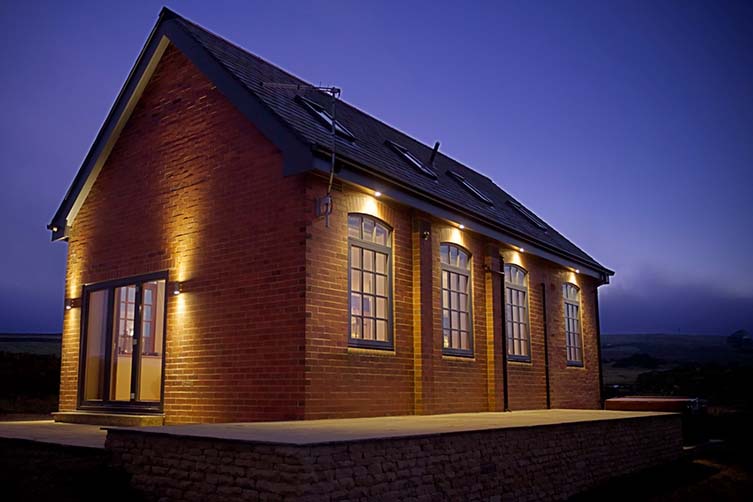 The Pump House, Ilkley, West Yorkshire
There's no guessing the former life of this converted building set amid 35 acres of moorland outside the spa town of Ilkley, but you might not expect the extravagant contemporary stylings inside. Handmade kitchen, external hot-tub and barbecue, freestanding bath, first-class amenities—including boiling water tap and a Sonos sound system—and bags of space, The Pump House is as luxe as holiday cottages get, and is well positioned to enjoy the plentiful culture of Leeds, Wakefield and beyond.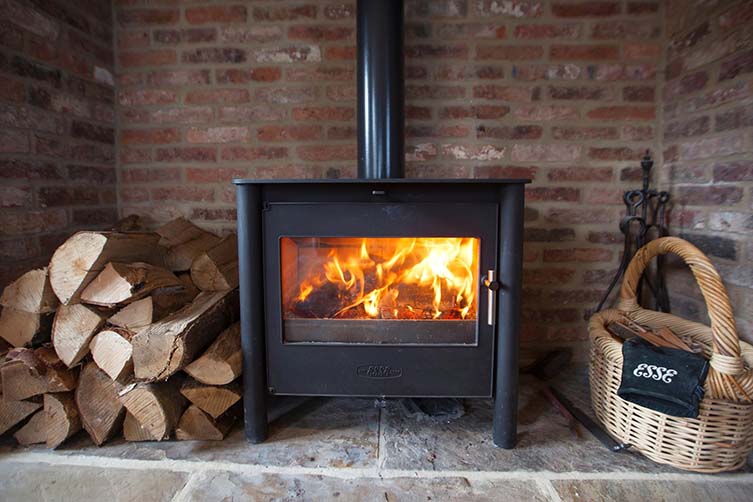 Emerald's Barn, York, North Yorkshire
York is another Yorkshire city enjoying a cultural renaissance, with craft beer from Brew York fuelling indie events, artists' studios cropping up, grassroots creative projects and the brilliant food and arts shipping container development Spark:York; which looks like it's come straight out of Brooklyn. Soak it all up and then retire to this two-bedroom barn conversion just north of the city outside the charming village of Stillington.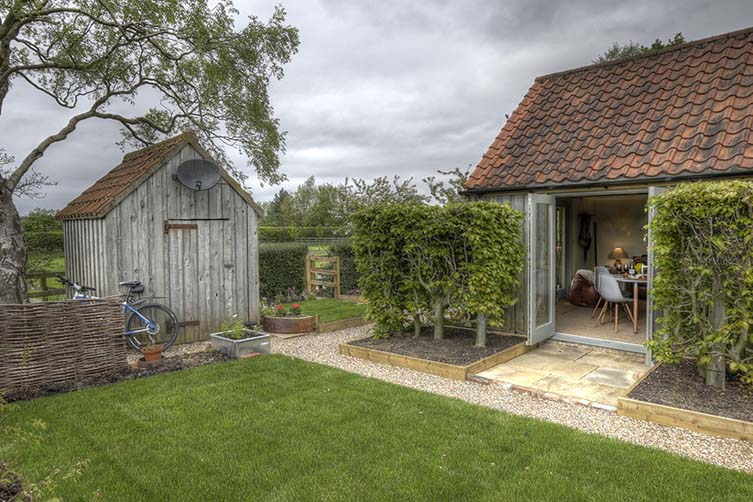 The Potting Shed, Goathland, North Yorkshire
If you think the impossibly cute village of Goathland looks like something out of the movies, that's because it is; its train station has posed as Hogsmeade in the Harry Potter series. On the edge of this pretty Yorkshire village is The Potting Shed, a snug one bedroom retreat with contemporary leanings and oodles of hygge that is as a miraculous discovery for anyone who finds it hidden at the bottom of some splendid grounds.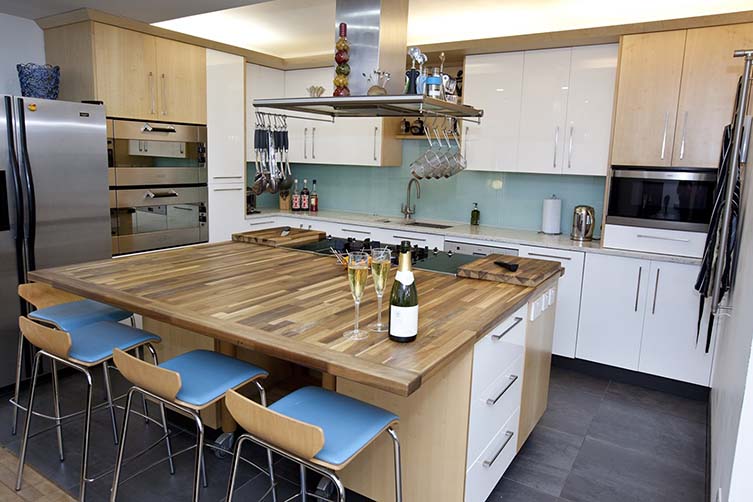 Albion Hall, Robin Hood's Bay, North Yorkshire
Once home to the busiest smuggling trade on the Yorkshire coast, Robin Hood's Bay is now more virtuous than villainous, but the cobbled streets, fisherman's cottages, and classic charm remain; as do the fruits of the sea, although locally-caught crab may be the most valuable treasure you'll seize. For large groups with a taste for the luxe in life, this four bedroom converted church hall will host up to ten, and is perfectly situated in the heart of this popular coastal location; with pubs, restaurants, cafés and independent shops all around.