Discovering the best places to visit in Devon: This county is many things, but one quality that is inescapable is its raw beauty. From the drama of towering cliffs crashing into the Atlantic to vast and rousing moorland, down to staggering beaches and Riviera glamour, the expansive county sees sceneries shift and cultures collide. It is a cornucopia of natural grace, and one of Britain's most magical destinations.
Thing is, with such diversity, its wealth of prepossessing villages, towns, and unforgettable experiences, the region serves up somewhat of a headache for indecisive travellers. What to see, where to go, which of its famous attractions to take in. Devon has an embarrassment of riches, and one needs a hand on their shoulder to guide them to the spots that are simply unmissable.
From cultural Ilfracombe, some hundred miles down to a sleepy fishing village on the English Channel, we've collaborated with Stay in Devon to deliver a definitive guide to the area. Its most evocative villages and stirring landscapes, culture and cuisine, together we've hand-picked an outstanding place to call home in each of our best places to visit in Devon.
'Little Switzerland' to England's answer to the Côte d'Azur, these are our eight absolutely-must-not-miss-ever Devonshire getaways.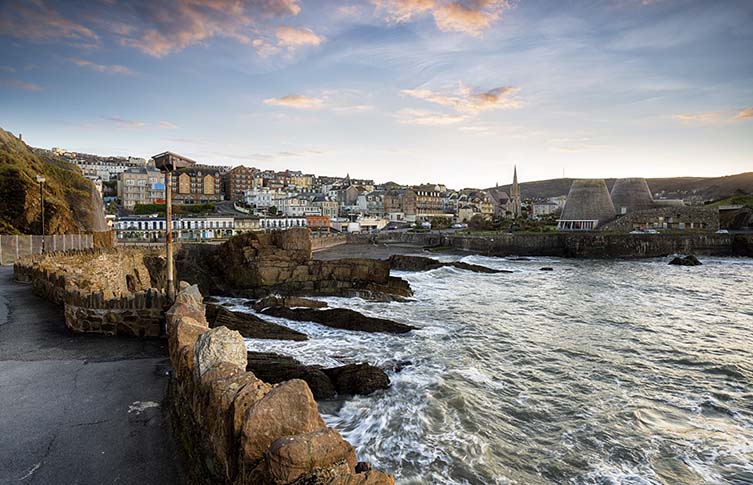 Ilfracombe
Damien Hirst's 65ft public sculpture, Verity, might divide opinion, but there's no arguing its draw for this north Devon seaside town. The artist's restaurant and gallery might have left Ilfracombe, but the impact his monumental stainless steel and bronze statue has had on the town remains. As a result, the boost in tourism it has delivered has brought with it a clutch of cool cafés and independent shops that cater to its culturally-conscious visitors.
But it's not just culture that brings folks here. With The Guardian having declared its 'cracking' harbour "every inch Padstow's equal," parallels between the famous Cornwall foodie haven continue abound at Thomas Carr at the Olive Room. Awarded a Michelin star in 2017, Carr trained under two-starred Nathan Outlaw, and his super fresh seafood and unfussy style are reminiscent of those who've given Padstow its gastronomic acclaim. All this before talking about Ilfracombe's natural beauty.
Its rugged cliffs and dramatic views over to Wales across the Bristol Channel, while unique Tunnels Beaches were hand-carved in the 1820s for Victorian holidaymakers, giving access to the beach and a tidal bathing pool. Lastly, just two miles west you'll find the untouched rocky cove of Lee Bay, a memorable slice of scenery considered one of north Devon's most evocative.
Stay: Millbrook at Bicclescombe. A short walk from the town centre and with views over the pretty Bicclescombe Park—sliding doors opening the living area out onto a small terrace—this compact contemporary apartment is a treat for the style-conscious seeking out the very best this area has to offer.
***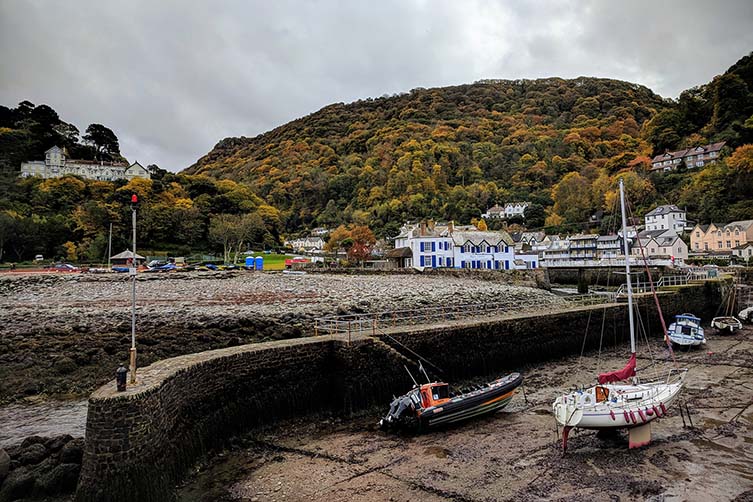 Lynton and Lynmouth
The twin towns of Lynton and Lynmouth have been known as 'little Switzerland' since the Romantic poet Robert Southey likened them to a Swiss village in 1799. It is a reputation that would be substantiated in the following years. Therefore, during the Napoleonic Wars, those unable to make their Grand Tour of Europe could evoke their trips through the Alps in this handsome corner of north Devon. These towns have been one of the best places to visit in Devon for hundreds of years.
Connected by a funicular, with steep hills and woodland surrounding them, the two towns are littered with traditional pubs, fish and chip shops, and modern restaurants. Just along the South West Coast Path you'll find the magical Valley of the Rocks—a dry valley created during the Ice Age with dramatic rock formations and wild goats scrambling among them. "The very bones and skeletons of the earth," Southey wrote of this stirring natural sight, "rock reeling upon rock, stone piled upon stone, a huge terrific mass."
Stay: The Hoe Cottage. Enjoy views out over Lynmouth Bay in decadent style. This two-bedroom stone cottage is set into the cliffs of Lynton, just a short stroll from the centre of the village. With a sense of 'little Switzerland' about it, the property has a lodge feel and breakfasts can be taken on its terrace or inside with the bi-fold doors flung open wide to enjoy those panoramic sea views.
***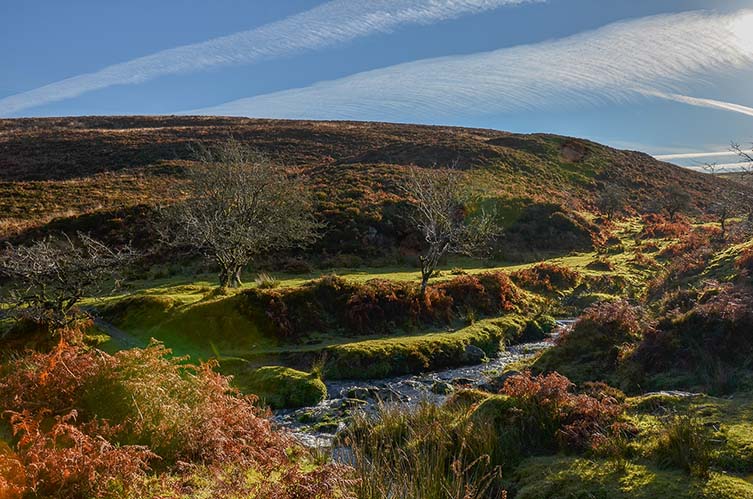 Exmoor
Its famous rare-breed ponies, red deers, buzzards, pheasants and peregrine falcons. The heathery moorland of Exmoor is home to plentiful wildlife, making it a back-to-nature paradise for those suffering from digital burnout. Endless walks and humbling scenery, its otherworldly landscape is intoxicating. 267 square miles of it, extending from Devon's border with Somerset.
With a coastline defined by rocky headlands and sheer cliff faces, Exmoor meets the sea with a drama and charge that belies its serene moorlands, Lynton and Lynmouth typifying its coast's brave beauty. Likewise, food and drink is equally contrasting here. Ranging from rustic pubs dishing up homemade grub and real ales to contemporary British cuisine on the edge of the national park at The Coach House, an acclaimed restaurant from Michael Caines, the former head chef of Devon's two Michelin-starred Gidleigh Park.
Stay: The Lazy Sheep Barn. Sleeping ten, this five-star barn conversion on the edge of Exmoor National Park has miles and miles of walks direct from its rural doorstep. Set within a 60 acre valley, its location is reassuringly rural yet it's style is anything but—contemporary aesthetics and state-of-the-art amenities wow indoors, whilst a hot tub and barbecue make an extensive patio quite the spot for whiling away summer's evenings.
***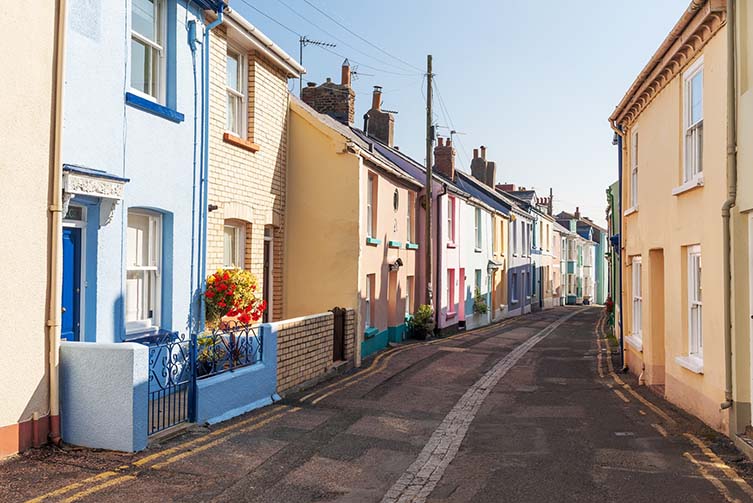 Appledore
Home to some of Devon's finest ice cream—Hocking's having more than 80 years of practice in dishing up delectable delights—there's plenty more to Appledore than frozen dairy, but all is similarly steeped in tradition. Traditional fishing vessels dot the waters and lobster baskets scattered through its cobbled streets, set into the hillside, this historic fishing village is lined with pastel-coloured cottages and terraces, lending it picture postcard appeal.
Local ales and ciders can be soaked up with traditional pub grub at many a handsome watering hole, whilst The Royal George serves up the latter with a smattering of contemporary edge; right on the edge of the water, its views across the quay are without parallel. A real slow-living return to life before the technological boom, Appledore offers a pace of life that holidays were made for.
Stay: Fisherman's View. Live the real charm of Appledore at this recently renovated Victorian cottage where rustic ramshackle style meets understated luxury. Occupying one of the rainbow-hued houses in the heart of this evocative fisherman's village, this cottage offers the perfect chance to get under the skin of one of Devon's most captivating corners.
***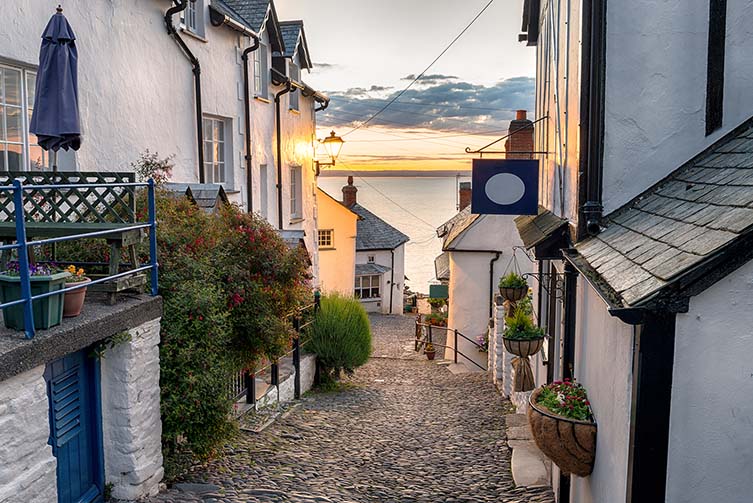 Clovelly
No guide to Devon is complete without a mention for one of the country's most enchanting destinations—Clovelly a paradisiacal return to times gone by that is such a draw there's a small fee to enter the village itself. Recovering from the shock of paying to enter an actual village won't take long, mind, for its steep cobbled streets leading down to the harbour will have you captivated in minutes; flowers busting from the hanging baskets of delightful white-washed cottages.
Privately owned, and having been associated with the same three families for almost 800 years, Clovelly is naturally steeped in history; J.M.W. Turner having painted it in the early 1800s, Charles Dickens name-checking the village later that century. Pubs and seafood restaurants hidden among its nooks and crannies, its memorable donkeys are perfect Instagram fodder, whilst a host of regular events like the Lobster and Crab Feast and Maritime Festival keep the harbourside rocking throughout the year.
Stay: Puffin's Nest. With humbling views of the Atlantic coast, this home on the Hartland peninsula is a secluded getaway with Clovelly just a short drive away (far enough to feel disconnected from the tourist trail); whilst nearby Hartland Quay—with its rocky cliffs plummeting into the ocean—offers rugged Devon scenery at its best.
***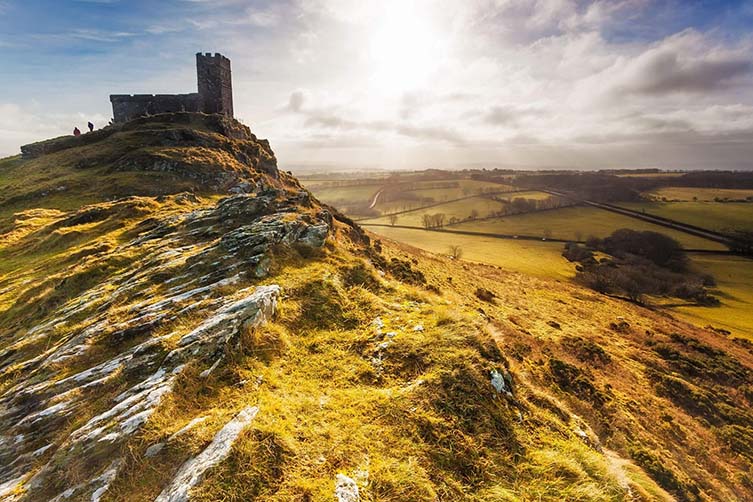 Dartmoor
With neolithic remains, stone circles, and ruined villages from the middle bronze age to medieval times scattered across its moors, civilisation has long flocked to the momentous landscape of Dartmoor; its 368 square miles of arresting scenery a mythical land of rolling valleys. With beautiful Dartmoor ponies and shaggy-coated Highland cows sharing space with those drawn to the bracing outdoors, its myriad of wildlife shows that it's not just humans who appreciate the vast moorlands.
With historical towns and villages like Bovey Tracey, Tavistock (a World Heritage Site and birthplace of Sir Francis Drake), and Lydford dotted around the park's edges, there's plenty of cultural heritage and memorable food and drink to be had in and around Dartmoor, too, Chagford's Gidleigh Park a longstanding star in the Michelin guide. Invigorating and emotive, Dartmoor's ancient appeal is easy to understand.
Stay: The Big Barn at Halshanger. With views across Dartmoor National Park and miles upon miles of breathtaking moorland right on its doorstep, this Grade II* listed barn conversion is a luxury bolthole for much-needed recharge time after days spent traversing dramatic Dartmoor. Games area, cinema, huge kitchen and communal dining areas … unplug yourself from modern life and dive headfirst into optimum disconnection.
***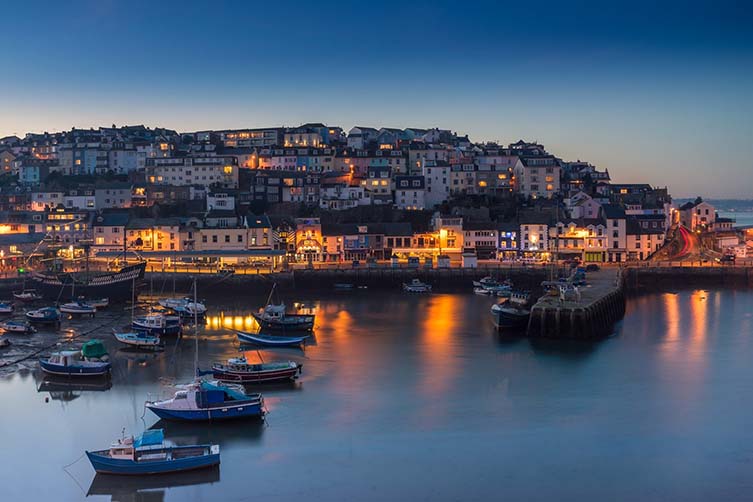 The English Riviera
The name this 22-mile stretch of south Devon coastline is known as kinda says all you need to know. The county's headline destination, there's so much more to the South West's very own Côte d'Azur than Torquay and Fawlty Towers, laidback fishing villages like Brixham, the candy-coloured guest houses of Paignton, and a series of Blue Flag beaches offer a glimpse into why the luxury yachts continue to descend on this stretch of the English Channel.
From Simon Hulstone's classic haute cuisine at Torquay's Michelin-starred The Elephant to a series of award-winning chippies, food and drink here runs the gamut from exclusive to simply irresistible. Classic boozers and craft beer bars cater to a range of good time seekers. Wherever you look, contemporary art, rich Victorian heritage, the spectre of Agatha Christie … culture has its place on the Riviera.
Meanwhile, Babbacombe's famous Model Village is an absolute must for those who can't get enough of eccentric English attractions. An idyllic getaway for befuddled city dwellers, the English Riviera has an allure that's impossible to ignore.
Stay: Giffin Cottage. Metres away from Brixham's beautiful harbour, this two-bedroom cottage is a quiet but connected spot from which to explore the English Riviera. The fishing town with its storied maritime heritage offers plenty of pubs and restaurants to keep you occupied by night.
Wake up to palm trees and views across quaint rooftops out to sea. All before tucking into a full English at the hand-built reclaimed wood breakfast bar under exposed beams. Contemporary stylings meet restored period features in this captivating little bolthole.
***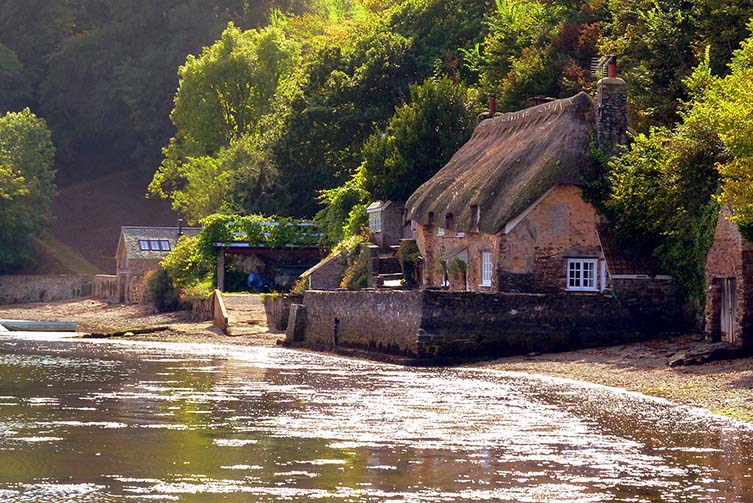 Dittisham
Regularly named one of Devon's most beautiful villages, Dittisham is small and unspoilt, while only two miles from bustling Dartmouth on the edge of the River Dart. A refined spot, it seems a million miles from nearby tourist traps. The village known locally as 'Ditsum' has an atmosphere and presence quite unlike any other. It's the ideal place to set yourself for exploring all this region has to offer.
Meanwhile, just across the river and accessible by a small ferry, is Greenway. The beloved holiday home of one Agatha Christie, the famous writer would decamp to this slice of paradise once each book was complete. (Known for her 66 detective novels, this was probably quite often.)
Looking back across the water to Dittisham, kayaks and sailing boats drift by. Colourful cottages and townhouses are backdropped by lush trees. It's as though time has stood still. A while passed here and it will do the same for you.
Stay: Beach End. On the edge of Dittisham, this five-bedroom property hangs over the edge of the River Dart. Its open plan kitchen-diner is flooded with light from its floor-to-ceiling windows, whilst sliding doors opening out onto a large terrace from which to soak up those enthralling views. In conclusion, absolutely every mod con you can care dream of and water sports from your front door. While a traditional pub and acclaimed seafood restaurant are within walking distance from this huge luxury home.