There was once a 'Keep Calm … ' sense of Middle England about the term 'holiday cottage'; all plus fours and Chelsea tractors, slamming down a five kilogram copy of the Sunday Times to spend the afternoon perusing with a steady flow of Pimm's. But as the shareconomy swept in by Airbnb has shifted notions of the travel experience, the self-catering holiday has enjoyed a sort of renaissance—rural retreats now seen as a digital detox or chance to reconnect with nature rather than a way for the Town & Country set to bypass the great unwashed flocking to the Costas.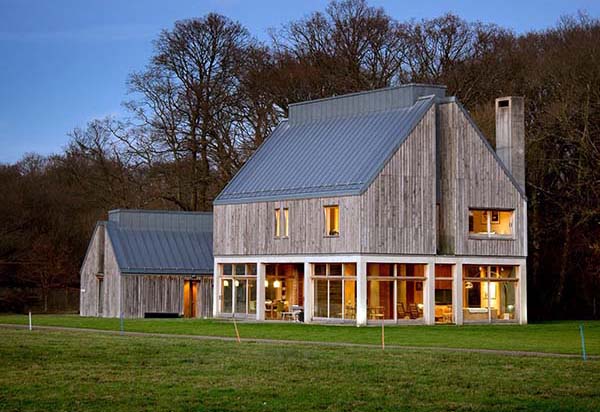 With more people living in cities than in rural locations for the first time in history, there's a growing need for disconnection from the scuttling dash of modern life—with self-catering accommodation reimagined as escapes and experiences, holiday cottages are enjoying their own rebranding. Luxury and high-design have crept into their world; offbeat properties provide savvy travellers with a refreshing experience beyond expectations.
Beginning in 1989 as 'Farm & Country Holidays' and letting just 100 properties throughout England's South West, holidaycottages.co.uk is one brand who've embraced these shifting notions of the travel experience. The core family values remain, but today they look after a nationwide collection of more than 4,000 properties. From luxury decadence to rural working farms, seaside beauties or remote mountain hideaways, the options for escapism are expansive—scouring their database for getaways that define this new face for the self-catering holiday, we've pulled out our picks for the holiday cottages of 2019 …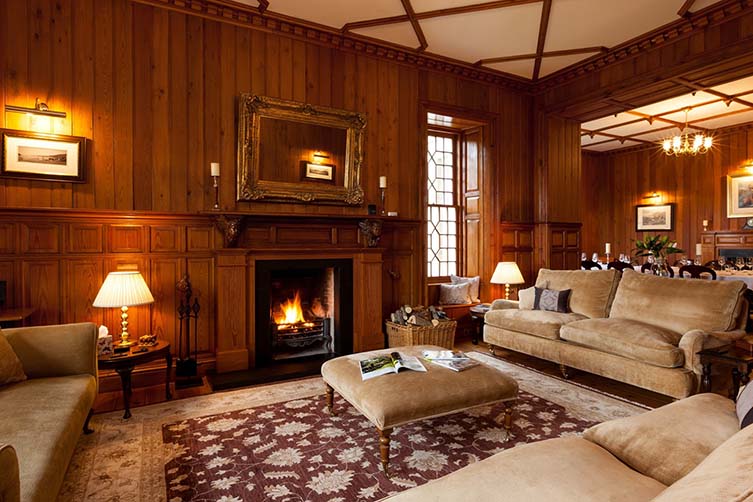 Highland Hall, Evanton, The Highlands
How better to redefine expectations of what a 'holiday cottage' holiday can be, than by way of a seven bedroom Georgian mansion set across six acres of gardens and woodland in the heart of the Scottish Highlands. Just 25 miles from Inverness Airport, Evanton's Highland Hall is as decadent a getaway as one could imagine—a weekend away with friends putting you into the shoes of a Royal.
Local tip: highly-regarded single malt whisky The Dalmore—whose 64 Trinitas once broke the record for the world's most expensive whisky at over £100,000 for a bottle—is produced just ten minutes down the road; a tour of The Dalmore Distillery is a real must for fans of the smooth Highland style.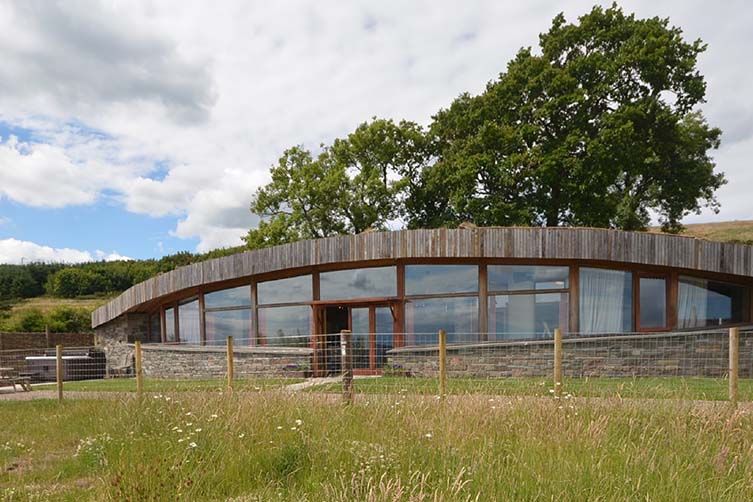 Earth Ship, Loch Leven
As far removed from the grandeur of Highland Hall as could be, but no less monumental in experience, Loch Leven's Earth Ship is an eco property located on a working beef and sheep farm; its hot tub allowing you to soak in those humbling views over the Loch. With a wood burner and offbeat design you might not want to leave the luxuries inside, but do so and you'll be rewarded with an al fresco dining area connecting you to the feel of farm life; you can even help pick the chickens' eggs or feed the lambs in spring. A short boat trip will take you to a tiny island on the Loch, home to historic Loch Leven Castle where Mary Queen of Scots was imprisoned in 1567.
Local tip: world-famous Gleneagles is just half an hour away—book into Andrew Fairlie for Scotland's only two Michelin-star experience; his smoked lobster with a five-hour infusion over whisky barrel chips worth the £155 for the eight course Dégustation tasting menu alone.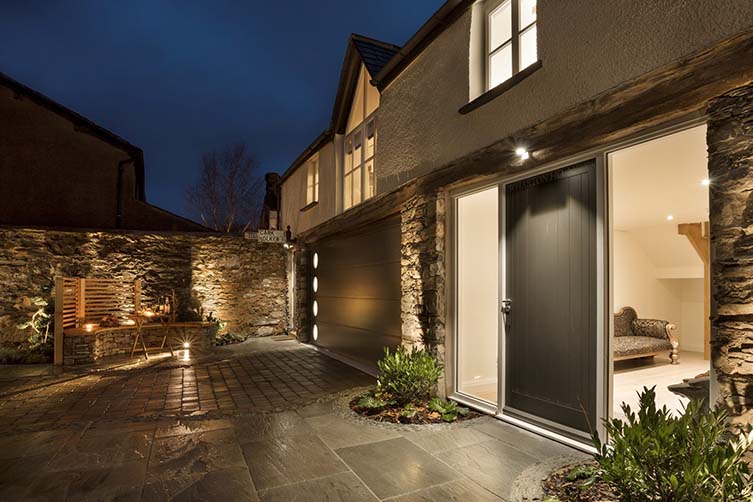 Wharton House Mews, Cartmel, Lake District
A barn loft conversion with a former village jail annexe, Wharton House Mews brings urban style to the beautiful Lake District village of Cartmel—with bars on the doors and windows, the old 'lock up' is a listed building that adds an air of architectural interest to a property that defines luxury. Smart TV, Sky Sports, and a Sonos sound system may not even be sufficient to keep you from the pubs and boutiques on your doorstep, whilst the village's famous racecourse is also a short stroll from the old jail doors.
Local tip: Cartmel is a foodie's paradise, with celebrated chef Simon Rogan bossing things around town—pay a visit to the chef's own farm which ensures a traceable dining experience; visit his shop in the heart of the Medieval village; or book into his Michelin-starred neighbourhood restaurant Rogan & Co, the iconic two-starred L'Enclume, or the experimental 'behind the scenes' experience of Aulis at L'Enclume.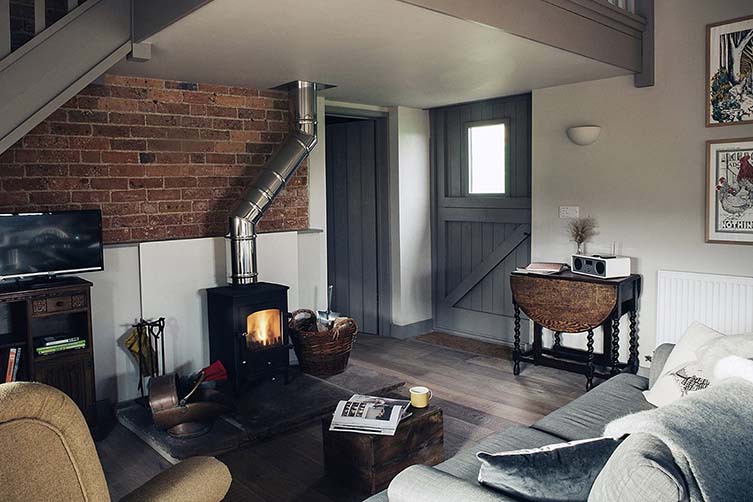 Tenbury Cottage, Ludlow, Shropshire
Close to the Medieval market town that is home to the UK's first food festival, Ludlow's gastronomic delights can be quickly accessed from this beautifully designed cottage; a semi-detached barn deep in the Shropshire countryside. Style-conscious and well-equipped (including a wood burner "as used by Nigella"), Tenbury Cottage is a classic holiday let with bags of modern appeal.
Local tip: the Ludlow Assembly Rooms is a cultural venue with a busy programme of events—boasting a cinema that shows classics to arthouse, it also serves as a local arts community centre and features its own visual arts gallery.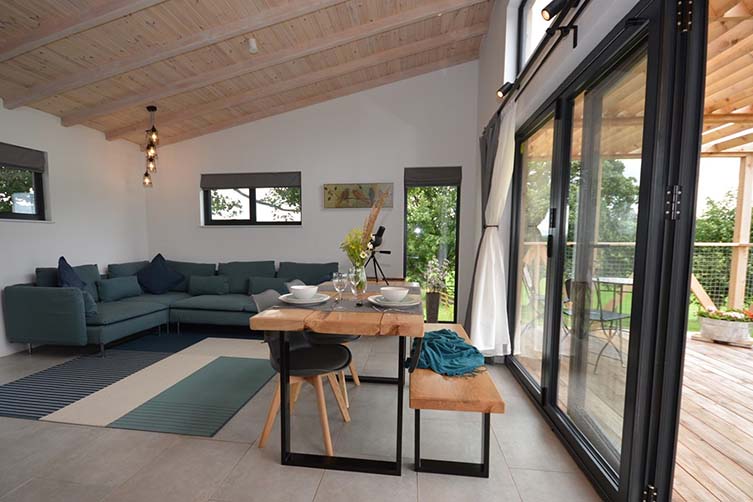 Skylark Lodge, Llandrindod Wells, Mid Wales
Skylark is a handsome luxury lodge clad in cedar and furnished with tables and beams made from locally-grown Douglas fir and ash; a lodge that brings new meaning to reconnecting with nature. Off the beaten track—but just one and a half miles from the Victorian spa town of Llandrindod Wells—the lodge enjoys beautiful rural views, design-led fittings, and all the amenities you'll need for escaping frenetic city living.
Local tip: the burgers are stacked precariously high at restaurant Worth Your Salt Barbecue Co., where city style has not been overlooked—southern fried chicken, mac n' cheese, Swiss cheese, and pulled chipotle chicken accompany those thick Welsh beef patties.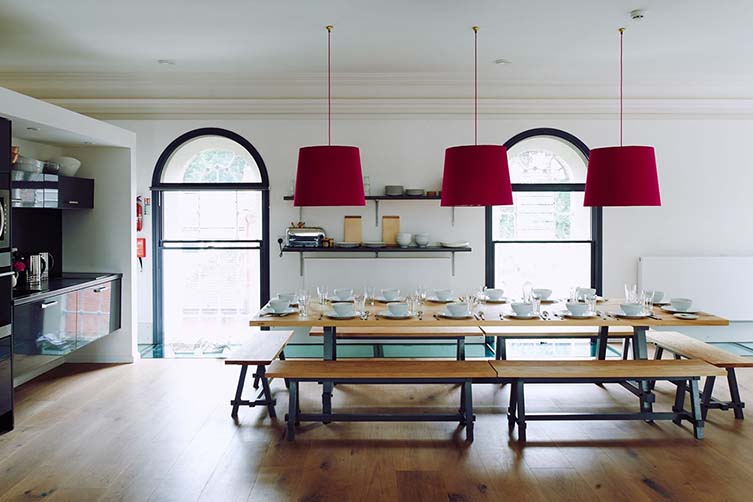 The Beautiful Bunkhouse, Hay-on-Wye
Your very own indoor slide for adults that's straight out of a Silicon Valley HQ is the perfect example of what separates this sort of travel experience from the traditional hotel. Located just outside the quaint Welsh market town of Hay-on-Wye, the design-minded Bunkhouse—so called because the one double bedroom is accompanied by a space with 12 single pod bunks—is ideal for young groups of adults escaping the city for walking or cycling around the Black Mountains and Brecon Beacons National Park. A traditional old boozer can be found within walking distance.
Local tip: billed as the 'world's largest philosophy and music festival', HowTheLightGetsIn is held annually in Hay on the banks of the River Wye. Taking place 24—27 May 2019, the festival has previously welcomed the likes of Noam Chomsky, Brian Eno, Owen Jones, Mike 'The Streets' Skinner, Gilles Peterson, and art gallery owner and former manager of Banksy, Steve Lazarides.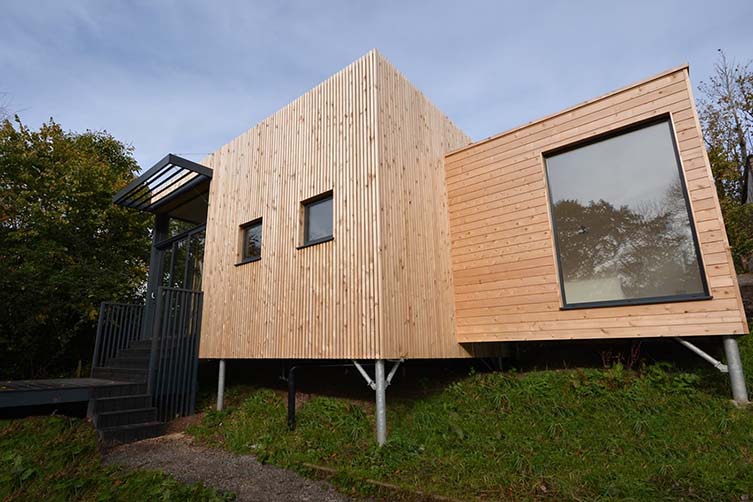 Pear Tree Lodge, Talgarth, Brecon Beacons
Just down the road in the Village of Talgarth is Pear Tree Lodge, an impressive eco-friendly lodge with designer fittings and a unique architectural presence—its own private hot tub ensures this digital detox pampers both body and mind.
Local tip: his much-lauded The Merchant House in Ludlow was key in transforming the Shropshire market town into a gastronomic destination, and was once hailed as the 14th best in the world—now plying his wares at The Walnut Tree in Llanddewi Skirrid, this Michelin-starred inn is a picturesque 40 minute drive through the Brecon Beacons National Park.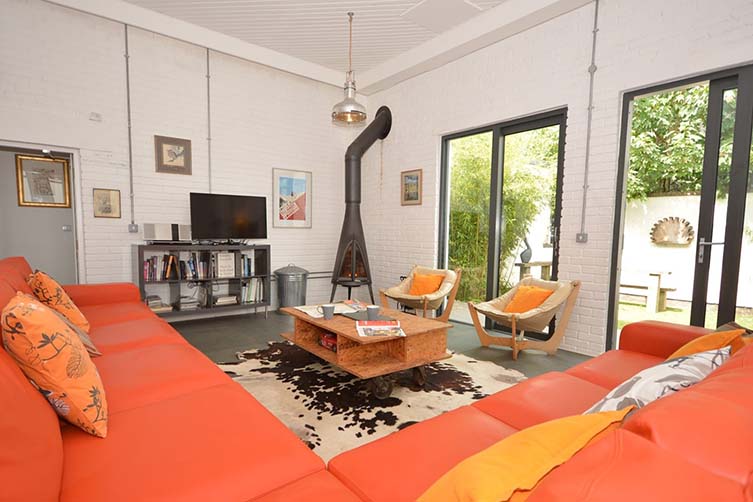 Depot Rd, Port Talbot, South Wales
A former Methodist church set on the edge of the village of Cwmafan—shops and pubs in walking distance—this expansive detached property is like having a design hotel all to yourself; a hip space with contemporary art interventions, fussball table, air hockey, and bags of space for up to 12. With the Afan Valley forest park and Kenfig Nature Reserve both nearby, it's just the place for design-savvy urbanites who want to dive into nature without leaving contemporary comforts behind.
Local tip: a short 20 minute drive into South Wales's second city, Swansea, sees artist-led, not-for-profit creative space elysiumgallery comprising of 83 studio spaces and a contemporary art gallery across three venues in the city. Bridging the gap between emerging and established artists, whilst promoting Wales's vibrant arts scene, it's a grass roots alternative to the more mainstream art venues of nearby Cardiff.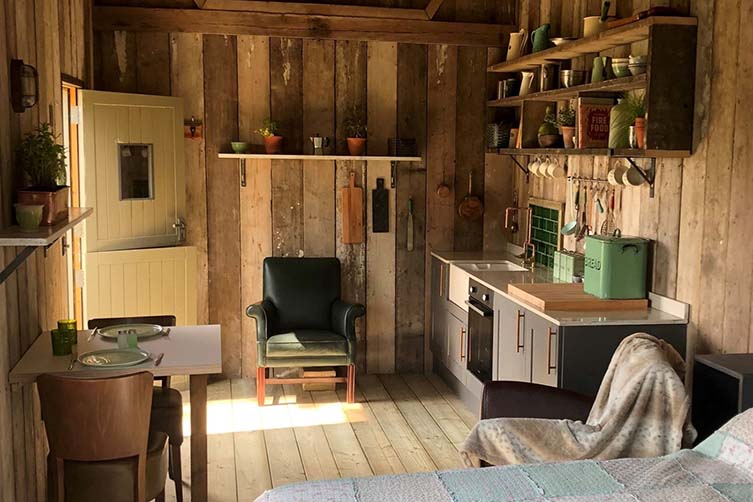 Lakeside Cabin, Cucklington, Somerset
Enjoy peak rustic living at this offbeat bolthole with views over a lake and Blackmoor Hills—a hygge-rich wooden cabin with design sensibilities and oodles of charm. Situated on its owner's farm just outside the village of Cucklington with an outdoor decked area and charcoal BBQ, guests can revel in the rustic disconnection, whilst a bounty of activities and attractions are within easy reach from this central location.
Local tip: this part of the countryside is surprisingly rich in culture and design, with nearby Bruton a sort of nucleus—handsome design store and café, Caro, an emporium of curated design delights, and gallery powerhouse Hauser & Wirth adding a spectacular farm regeneration project to their roster of contemporary art galleries in major cultural hubs including London, Los Angeles, New York, and Hong Kong.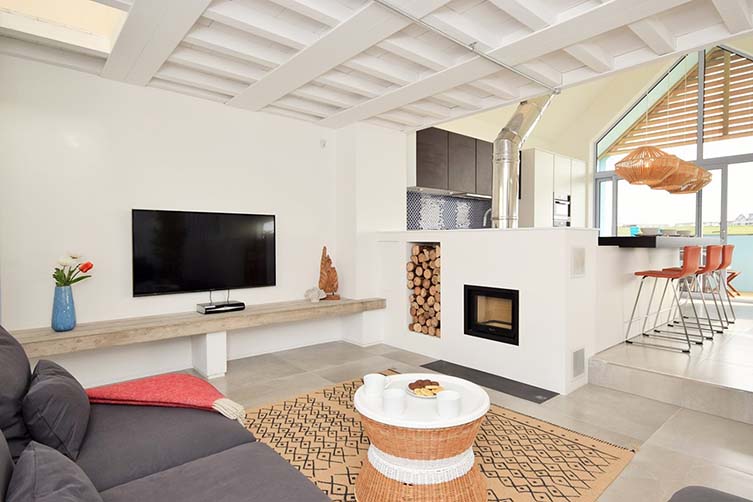 The Light House, Bude, Cornwall
Designed by a couple whose own home has been featured on Grand Designs, you can expect a high level of attention to design detail at Bude's fine-looking Light House—a spacious property with views out to the Atlantic and beach within walking distance. Spectacular scenery and a plentitude of activities are on your doorstep.
Local tip: the abundant seafood in this part of the country has made Padstow, just an hour south, world famous (particularly so for Rick Stein's iconic flagship and the much-lauded Michelin-starred Paul Ainsworth at No.6), whilst Nathan Outlaw's eponymous two-starred restaurant in nearby Port Isaac draws much deserved plaudits. You needn't leave Bude for style and substance, though, as hip restaurant and shop Temple is a casual ode to the creative lifestyle—a beautifully designed space that offers food throughout the day.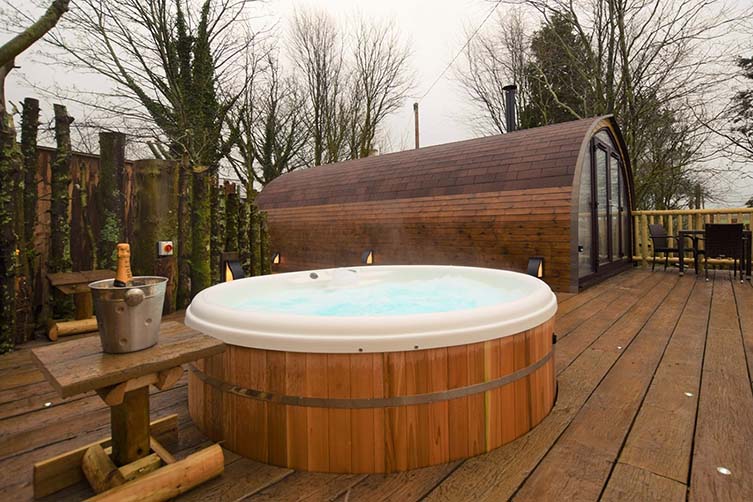 The Pod Overlooking Dartmoor, Totnes, Dartmoor
With spectacular views across Dartmoor from your private hot tub, this contemporary 'pod' is a country retreat with bags of differential. There's a wood burner inside and a charcoal BBQ out, meaning both winter snugness and long summer nights are catered for; the historic town of Totnes—dubbed 'the most eccentric town in Britain'—is on your doorstep, whilst a selection of the country's most famous coastal towns are within easy reach.
Local tip: KARST is a challenging independent contemporary art venue in Plymouth, just a 30 minute drive from Totnes. Occupying a cool space in an industrial area of the city, the gallery space and artists' studios is a testing ground for experimentation—a forthcoming exhibition will see an avant grade electronic musician collaborate with a conceptual artist noted for his work with ceramics in a live experiment of 'sound and substance'.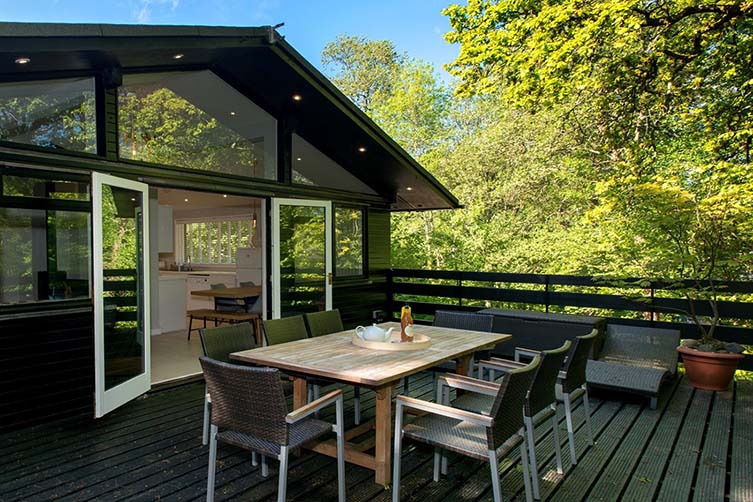 Treetops, Beaulieu, New Forest
One of a small selection of homes hidden deep in the Beaulieu Estate (the grounds surrounding an imposing 13th century stately house, and home to the National Motor Museum), this property has a large veranda which directly connects its guest to the woodland that surround it—inside you'll find plentiful luxury and an inviting wood burner for when British weather may put a premature end to your al fresco fun.
Local tip: just a 15 minute drive away, on the edge of the New Forest, you'll find modern craft brewer Vibrant Forest Brewery. With a taproom, shop, brewery tours, and a regular programme of events, it's the ideal spot to stock up on some quality craft beer to crack open on your own private terrace in the midst of the woods.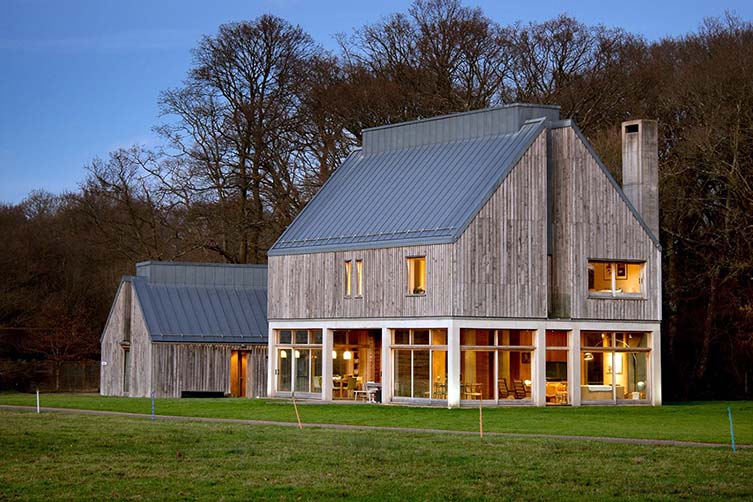 The Lodge at Whithurst Park, Petworth, Sussex
In a story about redefining the concept of the 'holiday cottage', the award-winning design at this Whithurst Park lodge deserves headliner billing. On the edge of a private estate, the architecture won its designer a prestigious RIBA award in 2002, but its incredible interiors—packed with contemporary art and design pieces—easily match up to the building itself. The staggering 17th century Petworth House is just a short drive away, but you won't want to leave your own monumental home.
Local tip: better known as the fashion model turned racing car driver, Jodie Kidd is now landlady, pulling pints at her very own gastropub just down the road from your architectural beauty. An authentic country pub with a focus on local produce, the kitchen at The Half Moon is led by Paul Welburn, an esteemed name in British cuisine with years of Michelin-star cooking behind him.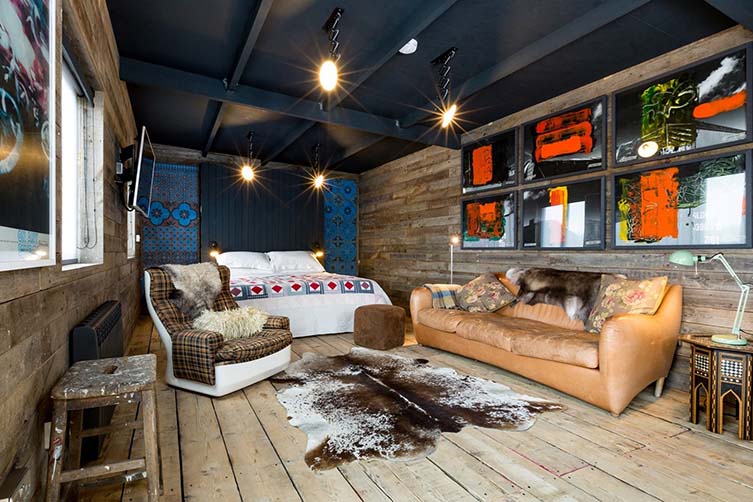 Cabin By The River, Rye, Sussex
Overlooking the Royal Military Canal; close to beautiful Rye with its cobbled lanes and Medieval, half-timbered houses; and near the iconic Camber Sands, this eclectic cabin—with its amalgam of contemporary and retro finishings—has beach house vibes with an expansive outdoor space. Pubs, shops, and restaurants are within walking distance.
Local tip: just half an hour away, Hastings has been dubbed 'the Shoreditch of Sussex', its cultural regeneration anchored by the impressive Jerwood Gallery—a fine-looking contemporary art space whose façade is clad in more than 8,000 black tiles glazed in Kent.