Lars Fisk is a fascinating character. Renowned for his public art, Fisk is also the 'art director' for prog-psych improv band Phish (they whose fans hold them in religious regard) and calls four shipping containers — currently occupying a lot in Red Hook, Brooklyn — home. Surrounded by upcycled odds and sods, and folk art, Lars is the archetypal outsider artist.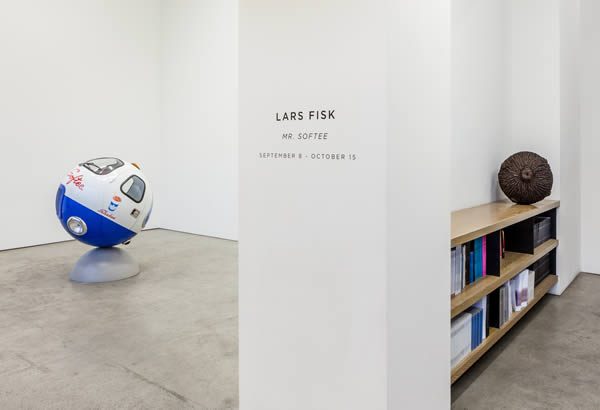 His work, though, is less bohemian; his subjects at least. Drawn to mundane objects that define daily life in a city, Lars Fisk transforms the pedestrian into the fanciful — spinning everything from a pencil to a parking lot into a perfect spherical sculpture.
A symbolic piece of Pop Art in itself, Fisk's transformation of the iconic Mister Softee ice cream truck is perhaps the most emblematic of the series of orbs he is showing in his first solo exhibition for Marlborough Chelsea; the summer staple perfectly rounded, existing as a symbol of the American Dream. Definitely, and defiantly, the most arresting work here is a staggering treatment of the Queens Costco parking lot that Fisk's containers once called home — the lines, arrows, and curbing of a prosaic sight now an exotic celebration of the artist's ability to reimagine almost anything.
Elsewhere cobbled streets, warehouse walls, and subway stations become spherical icons of themselves — the public artist never taking his eye off the ball when visualising his city in sculptural form.
Lars Fisk, Mr. Softee, continues at Marlborough Chelsea, New York, until 15 October.