Hernán Cortés was probably a fairly nasty chap, the Spanish conquistador marshalled an expedition that led to the demise of the Aztec Empire; bringing large sections of Mexico under Spanish rule unlikely took place without a few heads being rolled.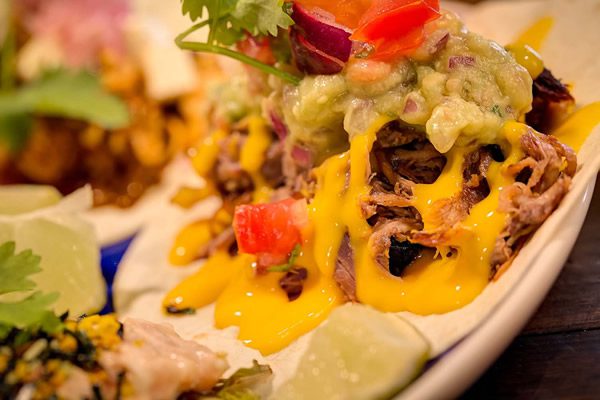 Slaying Aztecs aside, Cortés was a man of good taste — fellow conquistador Bernal Díaz del Castillo documenting him as dishing out the indigenous people's cuisine to his fellow Europeans. Yes, Hernán Cortés brought tacos to a new audience. Predating the Spaniards' arrival, there's no telling how long tacos have been around, suffice to say their popularity hasn't waned in half a century.
New York to Melbourne; Los Angeles to London, tacos are everywhere — including back in Cortés' home country, where the tortilla-shelled snack takes centre-stage at new Barcelona eatery, Pikio Taco. The new taquería, on the edge of Barcelona's Gracia barrio, is making a big impression with its tasty tacos, frozen margaritas and neighbourly atmosphere.
Hiding behind a façade that is typical of the city's traditional tapas bars, complete with original retro signage, Pikio Taco boasts a coalesce of industrial, urban decor with kitsch curiosities — including one of those pictures that your nan had on the wall when you were growing up. Small but with a nice mix of relaxed and bustle, high wooden tables and bar stools line an exposed brick wall transformed — with the help of local street artist Zosen — by giant, colourful murals.
A simple, but well-executed, menu can be thoroughly worked through at a very reasonable price: classic nachos with guacamole, cheese and salsa (as well as beef or chicken if you choose); tiradito (a Peruvian dish of raw fish in spicy sauce that is tangy and light), and the tacos (with seven different varieties promising to tantalise your taste buds, including pork; beef; chorizo and tartar de salmon) … all prepared in the open bar-cum-kitchen. And, on a hot sticky Barcelona night, you'd be daft not to wash them down with Mexican beer micheladas and potent frozen margaritas. Just think how different history could have mapped out had Cortés' men discovered those delicacies first.