Not content with stopping at the vaudeville staging of previous works Popcorn Venus and Guy Bourdin-esque glamour of Reconstituted Meat Slices, Juno Calypso has taken her penchant for creating elaborate sets to the next level with new series The Honeymoon Hotel. To produce this unsettling new photographic and video work Calypso and her alter ego Joyce embarked on a solo trip halfway across the world to a kitsch Pennsylvanian love hotel.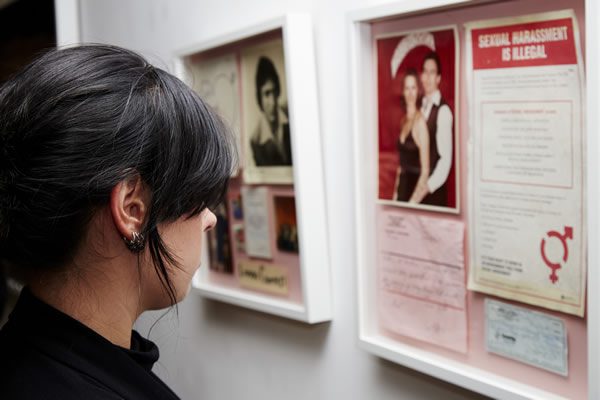 With exhibitions at The Tate Modern and Dalston's Flowers Gallery, London's had a summer of Calypso — and we've fallen hard for her brand of '80s pop culture photography. This weekend is a brief chance to see a small, but perfectly curated collection of her arresting work at independent gallery 71a London, ahead of the reGeneration International Tour in Mexico next year.
Matching pastel colours and a beauty pageant aesthetic, Calypso's prints are easy on the eye, but less easy on the mind. Heavy with cultural and artist references, they contend with multiple intersecting themes — beauty, femininity, gender as performance. Like the view from Rear Window, each frame unfolds its own static mini-drama. Each is thick with a languid talc-flavoured boredom, frustrated sexuality — but hijacked by something eerie and alien. Slendertone I and II particularly call to mind Silence of the Lambs by way of Tarkovsky's Solaris.
The centre piece is Seaweed Wrap, Joyce's green hand against a lurid pink bathtub. We see her rise in all her otherworldly glory in the video installation also on display, to the soundtrack of a coo-ing barbershop choir.
Caplyso's assembled an impressively authentic milieu of found objects too — pink telegraph slips and relics from the love hotel's organised fun are reminiscent of a small town talent show in Twin Peaks. Engagement announcements in newspaper cuttings sit alongside retro cheques, hotel matchbooks and a flyer on sexual harassment. There's a conspicuous lack of masculinity throughout the exhibition, but where it does appear, it's a curiously impotent form. A dreamily effeminate movie star, and a stiff newly-wed groom standing with his bride; both looking like rabbits caught in headlights. It's a vista into a bygone notion of marriage at once hopelessly naïve and sweetly outdated.
A strong exhibition evoking a sense of female longing, loneliness, disillusionment; but also suggesting women as agents in exploring and shaping their own identities.
The Juno Calypso Exhibition runs at 71a London, Shoreditch, until 4 October.