What began as a restaurant, beach house and surf school back in 2015 has become a place for surfers, travellers and lovers of design and nature the globe over to meet, mingle and celebrate the ocean—Noah Surf House Portugal expanding to encompass 21 rooms and bungalows that accommodate up to 96 guests at any given time.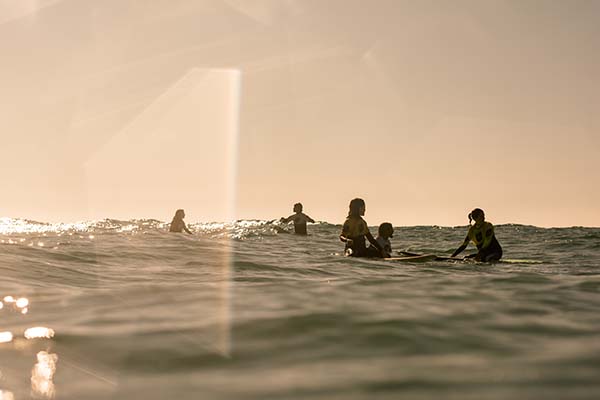 Designed by Portuguese architects Alexandra Paiva and Vasco Vieira, inspired by the original building features of the former beach colony by the cliff of Praia da Física in Santa Cruz, Noah was developed to harmonise with its surroundings; materials such as concrete, glass, cork and wood used as part of an ethos to follow principles of sustainable tourism to ensure an ecological and comforting stay.
Accompanying the accommodation—some that boast fireplaces, others views of the deep blue Atlantic—guests at Noah Surf House will find an outdoor swimming pool, organic vegetable garden, sports centre, gym, skate park, and snack bar with a rooftop that's home to a cocktail bar, outdoor jacuzzi and a large terrace from which to enjoy sunsets and long nights.
This is a place for friends and family to come together to laugh, smile, relax, enjoy delicious local food and good cocktails, and make the very most of nature and the sea. Favouring fresh air over air conditioning, rooms are heated with aerothermal energy; heated floors, via heat from fireplaces and solar panels; and of course in the summer when the heat ramps up a notch or twelve, large windows, electric fans, and the Atlantic breeze are called upon.
With an activities list that includes surfing, skating, trekking, yoga, food experiences, sunsets to the backdrop of DJs, movie nights, beach clean-ups, walks and mussel-catching, there's little reason to leaves Noah—especially with its surrounding unspoilt beauty and true home comforts. However, if you're one to explore the natural landscape, it's superbly connected to many Portuguese hotspots.
A place to create unforgettable moments, Noah Surf House Portugal will have you praying every day was a summer's day, walking barefoot across the sand free from cares, rich in time which seems to stretch as far as the horizon. Bliss.