Over the last decade, Bushwick-born Roberta's has become somewhat of a culinary institution adored by locals and travellers alike. Known for wood-fired pizzas and accompanying plates, the brand—created by Brandon Hoy and chef Carlo Mirarchi—has grown its own loyal following whilst contributing greatly to the growth of the borough's burgeoning food scene. It's a natural progression, then, to see Roberta's officially open their doors outside New York for the first time.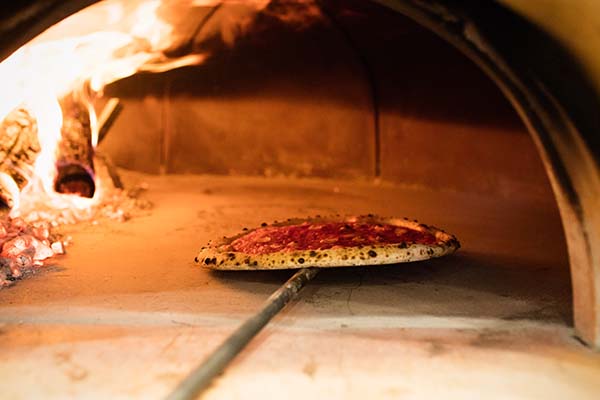 Serving the pizzas synonymous with the Brooklyn establishment, Roberta's Los Angeles also dishes up California-inspired plates and pies, and features a juice bar-centric cocktail program (think hand-pressed juices paired with small batch spirits) all from the epicentre of creativity and commerce that is Platform LA; a slice of New York style and substance arriving in increasingly-cool Culver City.
"We are lucky to have found awesome partners in the Platform team, and are excited to become a permanent part of the Los Angeles community," explains Brandon Hoy, Mirarchi adding: "we've been participating in, and cooking at events, in California for years, opening in Los Angeles felt like a natural next step. We've been overwhelmed by the incredibly warm welcome from the L.A. community; not to mention the amazing the quality and quantity of the ingredients here."
Architectural firm Studio Jesse James created the space based on the geometry of a pizza slice, with major design details—from the folding of the bar ceiling to the custom furniture and tile work and hanging stick lights—all paying homage to the trusted triangle. A neutral colour palette allows the colourful chairs and tabletops to take centre-stage, whilst murals painted by local artists Jason Woodside, Jillian Evelyn, and Yarik Slavovich bring effervescent creative spirit the space.
With the offbeat spirit of Bushwick transported to L.A., one needs little reminding of the star of the show here at Roberta's ; signature pies such as The Famous Original and The Bee Sting set to continue the gushing and acclaim that has surrounding the name since launching more than ten years ago.