The most ingenious ideas are always the simplest; the solutions to a problem that others simply don't see. For Pablo Pardo, an Argentinian living in Barcelona for the last two decades, seeing one of the city's traditional old 'quioscos' for sale would trigger one of these moments of simplistic clarity.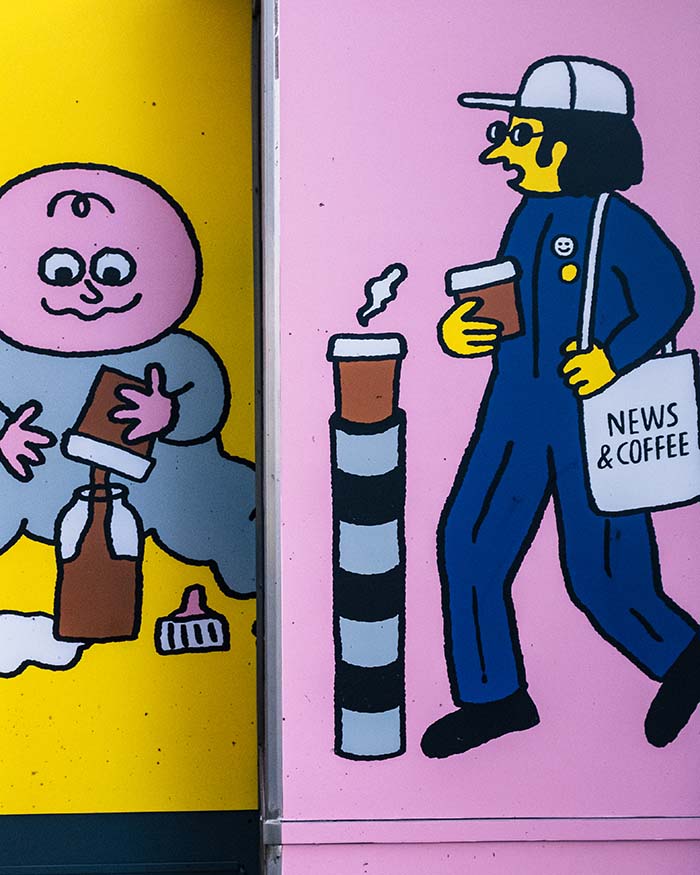 A familiar sight in the streets of Barcelona, these traditional newsstands have not stood the test of time. Newspaper sales have plummeted, and many have looked to tacky toys and frightful souvenirs to keep their businesses alive. For Pardo, these ailing businesses would represent an opportunity by means of a simple tweak rather than dramatic overhaul. The papers would remain, joined by a carefully curated selection of beautiful independent magazines; the souvenirs and old tat would be switched out for third wave coffee. Emerging artists called in to give the kiosks a creative once-over, the simple genius behind News & Coffee now sees three converted quioscos throughout Barcelona, with thoughts for other cities on the horizon.
Friends Gautier Robial——who has spent years in the fashion industry helping top brands develop their business strategies——and coffee expert, Davide Datti, joined Pablo in developing the concept, and the trio have enlisted the help of Belgian artist, Yaël Huppert, in overseeing the rapidly growing selection of inspired indie publications. Together they have taken News & Coffee from one hit kiosk on popular Passeig de Sant Joan to a second at busy business and retail hub, Plaça de Francesc Macià, and a third on a bustling square in village-like neighbourhood, Gràcia, in little over a year. All in the midst of a global pandemic.
With hipsters rubbing shoulders with old Catalans thankful to see their quioscos given a new lease of life, News & Coffee's three locations have each been a roaring success, and quickly established themselves as corners of the communities in which they reside. "We believe that News & Coffee is a concept for everyone," explains Pablo, and it's a sentiment that is all too easy to see in person. A moment of simple inspiration, a team with a passion for attention to detail, and a blueprint for the survival of the city's ailing kiosks, theirs is a story of getting things done; a story that should serve as inspiration for any creative mind looking to make a mark on this uncertain future.