Ask any star of popular culture who's endured their 'moment of shame': reputations are hard to shake. Cities, though, are usually many things to many people. A cornucopia of diversity from gritty emerging neighbourhoods with artist-led gentrification to glitzy districts renowned for haute couture or gastronomy. Barcelona may have a reputation for pickpocketing, but its embarrassment of cultural riches, its beaches and balmy weather, soon put petty criminals to the back of the mind.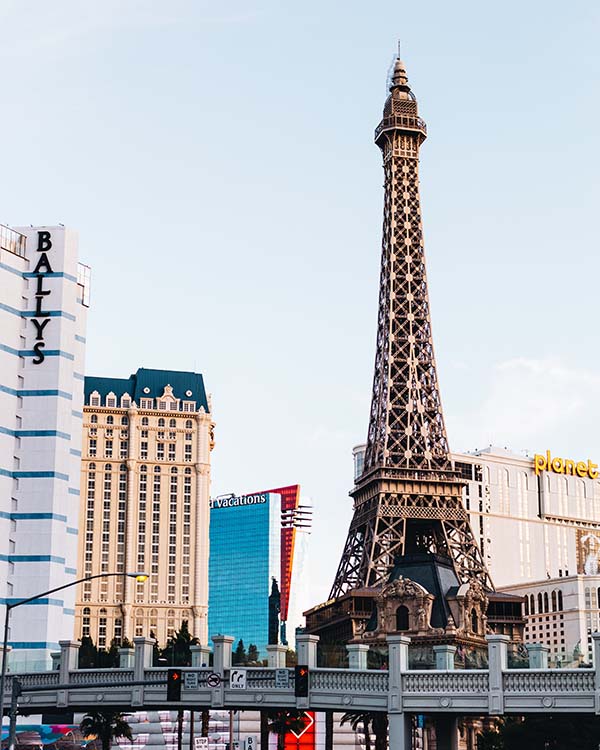 The 'entertainment capital of the world' is different. What happens in Vegas stays in Vegas. Its reputation stays longer. Stag parties to high rollers, eloping lovebirds to drunken partygoers, it's the city that feels like an eternal festival, and one easily pigeonholed by anyone the slightest familiar with Sin City. Slots, poker and debauchery; bright lights to scorching sun; sleepless nights; and fat Elvis.
If cities were people, Las Vegas would be the archetypical rock and roll bad boy. The tabloids and the tears. It is brilliant and beguiling, inimitable and irresistible, but it is a city of one dimension. One reputation. Isn't it?
In 1972, Yale architecture tutors Denise Scott Brown and Robert Venturi—alongside teaching assistant and co-author, Steven Izenour—would shake the architectural world to its foundations with their groundbreaking publication, Learning From Las Vegas: the Forgotten Symbolism of Architectural Form. Boldly bumping heads with modernism, it would serve as a sort of blueprint for the no-holds-barred style of postmodernist design that has enjoyed a renaissance of late. Whisking 13 Yale students out to the Mojave Desert for a 12-week excursion, the progressive thinkers would document the wild and wonderful kitsch that was the Strip at the time.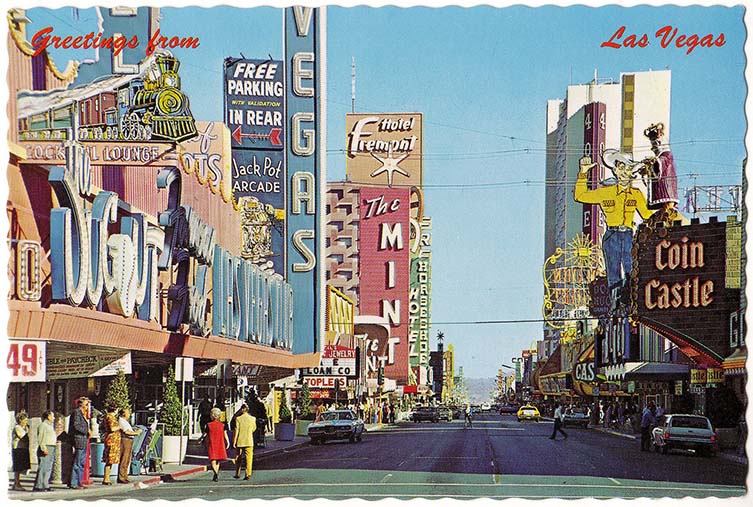 Often seen as the exact opposite of what studious architects would create, Vegas offered inspiration for a new generation tired of the constraints of modernist design. Much of what was documented in the book has since disappeared, but the essence they discovered endures. "What will happen to the Strip when the tastemakers take over," they wrote. Nearly 50 years later, it's clear they needn't have worried. 'Miami Moroccan', 'Bauhaus Hawaiian' and 'Hollywood Orgasmic' were some of the 'styles' they noted on their trip, and Las Vegas is as off the wall today as ever. Could they have imagined a vast replica of Venice, complete with canals and gondolas? A 541-foot recreation of Paris's Eiffel Tower?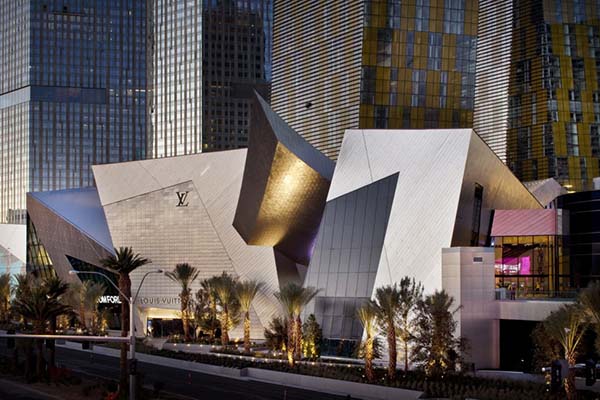 Whilst Las Vegas might serve as a filterless vision of childlike architecture, a 'what if we let teenagers loose on urban planning' for poker players and partygoers, the arrival in 2009 of MGM's CityCenter hinted at a distinct shift in long-standing traditions of bad taste. A vast $10 billion complex of almost 17 million square feet, shy it is not, but it harnesses what has become known as 'the Bilbao effect'; on account of Frank Gehry's monumental Guggenheim museum transforming the fortunes of the once-gritty Spanish city. Here in Nevada, the development called upon starchitects such as Daniel Libeskind and Norman Foster, its leisure and retail spaces bringing more to the city than more expansive nuos.
As well as big-hitting architecture, you'll also find public artworks from names like Jenny Holzer, Henry Moore, and Claes Oldenburg—the Aria Fine Art Collection a treasure trove of contemporary art spread across an outdoor campus. Having all but dropped the CityCenter branding in favour of Aria, the development's centrepiece property, the concept remains the same. Connecting adjacent MGM properties Park MGM and the Bellagio by the Aria Express tram system, the project gives the Strip the 'centre' it was always missing, bringing a kind of order to the urban planning chaos that Scott Brown and Venturi found.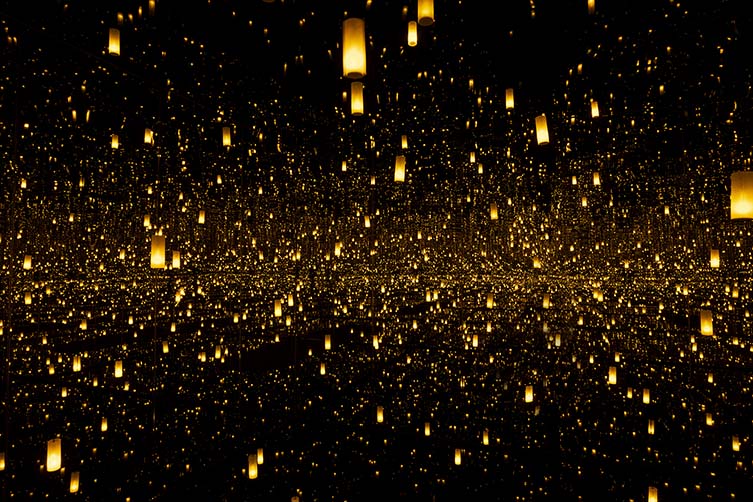 Over at the hotel known by its dancing fountains, you'll find more culture in the shape of the Bellagio Gallery of Fine Art, which is currently hosting Aftermath of Obliteration of Eternity, one of Yayoi Kusama's iconic Infinity Mirrored Rooms, alongside Narcissus Garden, an installation by the Japanese visionary that has been reinstalled in various settings since its conception more than 50 years ago.
On the other side of CityCenter, Park MGM offers another alternative vision of Sin City. A partnership between Sydell Group and MGM Resorts International, the resort—formerly the Monte Carlo Resort and Casino—is a social hub that brings the urbanity one might associate with New York or London to Vegas. The top floors deliver 'boutique' to the city, with the group's noted NoMad hotel arriving with subtle decadence. Informed by the grandeur of old-world European casinos, NoMad Casino is a refined space to play roulette, blackjack or poker underneath a Tiffany glass ceiling, craft cocktails heightening your confidence as the Rat Pack spirit returns and Vegas's glory days are recalled.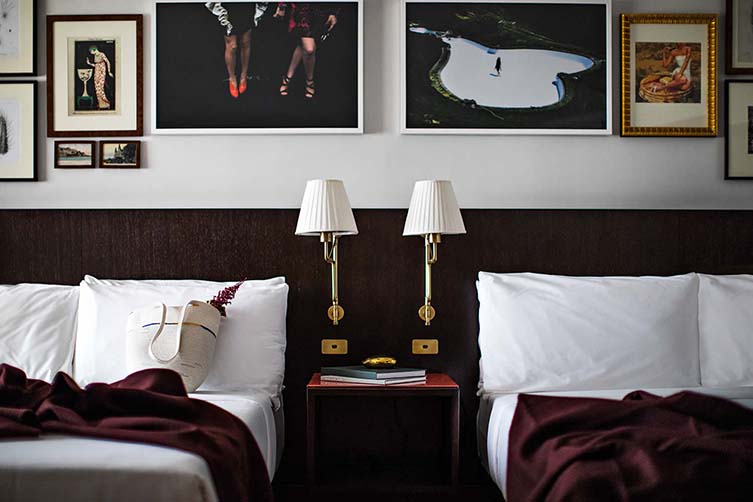 Chef Daniel Humm and restaurateur Will Guidara of New York's lauded three Michelin-starred Eleven Madison Park have created the restaurant and bar concept at NoMad; the Martin Brudnizki-designed Primrose takes its cues from 1950s South of France; and gourmet food truck pioneer Roy Choi brings mouthwatering casual dining to the resort in the shape of his Korean BBQ joint, Best Friend. It's not only about the style at Park MGM, there is plenty of substance to back it up.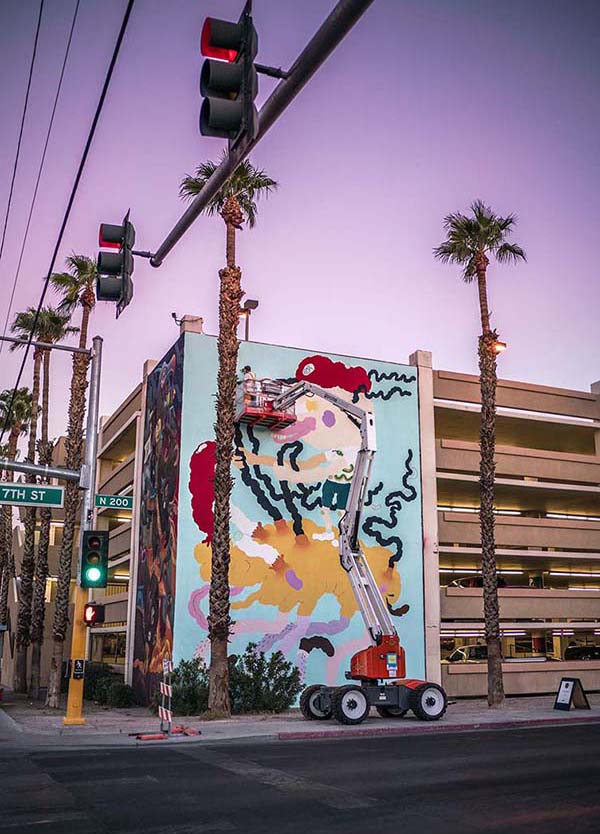 With art and culture, fine dining and European flair, changing perceptions of Las Vegas around the infamous Strip, changes are abound in downtown too. A resident of the city, serial internet entrepreneur Tony Hsieh has ploughed huge amounts of money into developing the part of the city often left behind by the frenetic growth of the mega-resorts; most notably into The Las Vegas Arts District, an emerging neighbourhood gentrified in a bid to encourage artists to flock to the city, and the fabrication of businesses owned by locals as opposed to large corporations. Those looking for a side of culture for their weekend of gambling and debauchery today have more than the four miles of Strip to look past.
The Arts District, or the 18b (on account of it occupying 18 blocks of Downtown Las Vegas), is growing in popularity for its monthly block party and art walk, 'First Friday', which has seen food trucks and live music serving as a backdrop for artists showing their works off at a variety of open air and indoor galleries including The Arts Factory and ArtSquare; a hip establishment that's home to design stores, designers studios, wellness spots, and food and drink outlets. Debuting in 2013, Life Is Beautiful is a music and arts festival that transforms 18b, leaving a lasting legacy in the form of murals from the international street art elite.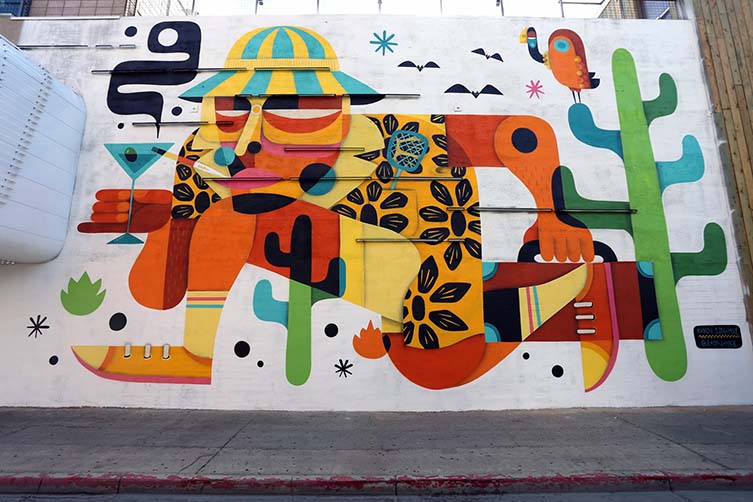 The festival's ongoing collaboration with arts house Justkids this year saw creatives including André Saraiva, RETNA, and Egle Zvirblyte beautifying the 18 blocks—with previous years hosting the likes of D*Face, Shepard Fairey, and Banksy. Acts such as Arcade Fire, Florence + The Machine, The xx, and Justice have kept the music flowing, whilst the culinary lineup sees more than 70 local and regional restaurants and bars, noted chefs and mixologists, food trucks and fine dining experiences. Comedians and talks from passionate internationally-renowned thought leaders complete the exhaustive Life Is Beautiful experience.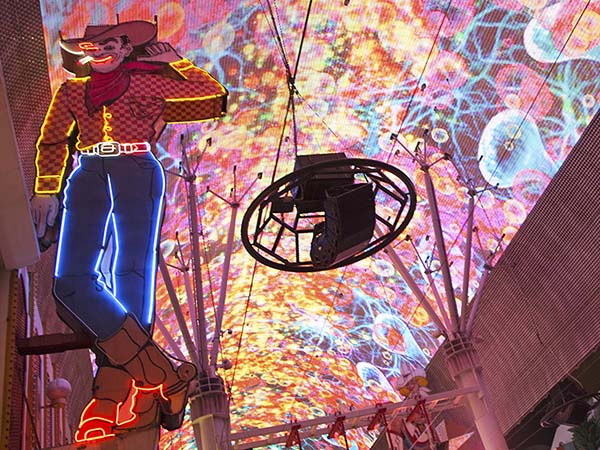 With its distinct bohemian vibe, downtown is also home to Freemont Street—the 'original' Vegas, home to classic and pleasingly worn casinos like the handsome Golden Nugget. A far cry from the mammoth gaming experiences that surround the Strip, but its old-fashioned charm has seen it become a firm favourite with players, and it hosts one of the best poker tournaments in Vegas—the gleefully garish bright-lights chaos of the Freemont Street Experience surrounding it, the Nugget and neighbouring casinos offer an unexpected slice of apple pie Americana.
With its kitsch neon, 1,500 ft canopy complete with 'Viva Vision' screen made up of 12.5 million LEDs, and slot-inspired zip line, there's much of the mania that ignited the fire inside the Yale architecture students here, but for the complete experience one must head a little less than a mile north, where one of the world's most unconventional museums awaits.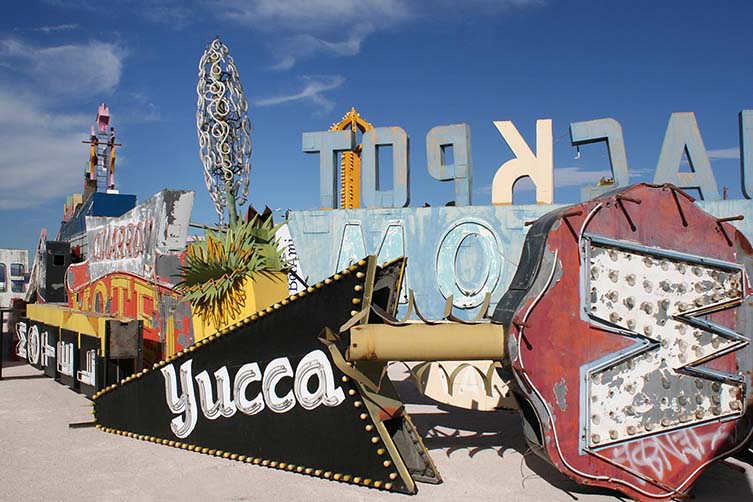 Worth suffering the stifling desert heat for, the one-of-a-kind Neon Museum is dedicated to saving and preserving vintage neon signs, the 1996-founded partnership between the Allied Arts Council of Southern Nevada and the City of Las Vegas today an independent non-profit organisation located on Las Vegas Boulevard and Bonanza, exhibiting iconic signs restored to glory as the flux of the Strip has cast them aside. An unconventional museum in two parts, the defunct and decommissioned signs of Las Vegas now make their way to the Neon Boneyard—looking more like a scrapyard for crapped-out motors minus the usual pair of mongrels on a chainlink leash keeping out the skiprats.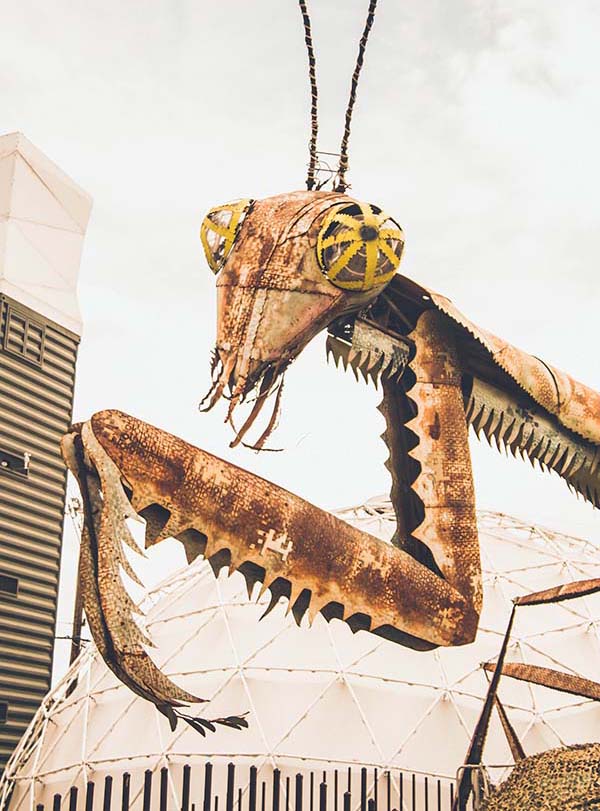 Take a walk through a dilapidated but fascinating collection of signs dating back to the 1930s, marvel at the former lobby of the La Concha Motel, designed in the early 1960s by Paul William Revere, restored and transplanted to the museum as its unorthodox visitors centre. It's a reminder of the speed at which the cultural landscape shifts here; while high-rollers may be concerned with how not to bankrupt in Las Vegas casinos, here you can witness a rare fragility of the casinos themselves. Nothing is sacred in Sin City. As is the case with everything here, the Neon Museum delivers big for those curious of counterculture, and affirms that the city's reputation is one shifting with time.
Overseen by a 40-foot-tall fire-breathing praying mantis—originally built for the Burning Man festival and capable of shooting flames six storeys high—the Downtown Container Park houses a selection off offbeat shops, restaurants, bars, and The Dome; an immersive 4K-visual entertainment experience that cocoons viewers with 14 million pixels in a series of ultra-HD, 360-degree imagery. Opening the same year Life Is Beautiful debuted, the open-air culture and retail centre is as close to intimate as you'll find in Las Vegas, and a project with community at its core. It is also a lasting example of the impact culture has had on this part of the city—how Tony Hsieh's art-led vision for a downtown revival may manifest itself over time.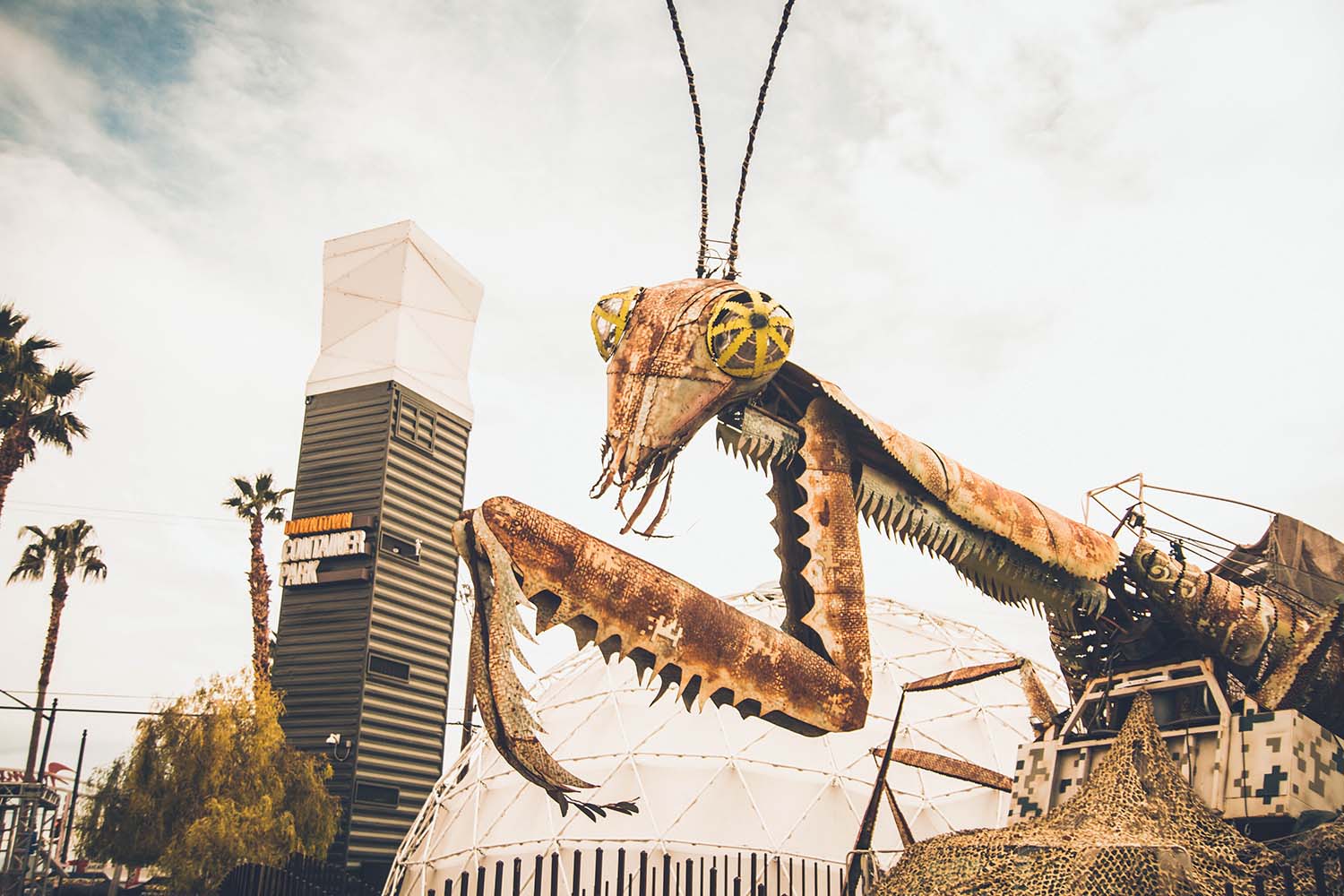 With grassroots art and culture shifting the landscape of Las Vegas's downtown, Park MGM reigniting the grandeur and glamour of old, and monumental architecture projects occupied by big-name contemporary art, changes are underfoot here in Sin City. Reviews of online casinos show that everything from security and trust to graphics and customer service are at an all-time high, it's natural that the world's most famous gambling capital needs shift its position.
The 'tastemakers' may not have taken over just yet, for it is still as bafflingly offbeat and idiosyncratic as ever, but the influence of hip neighbourhoods from London to Los Angeles has seeped in. Neon and kitsch remain in the 'entertainment capital of the world', poker and profligacy persist, but counterculture is guiding Las Vegas in a new and surprising direction. One dimensional? No chance.