Bringing avant garde design styling to the circular economy, Malmö Upcycling Service is a collective made up of eight (current) members based out of the Swedish coastal city who collaborate to create products—from furnishing and furniture to exhibition concepts—that use waste materials from local industries.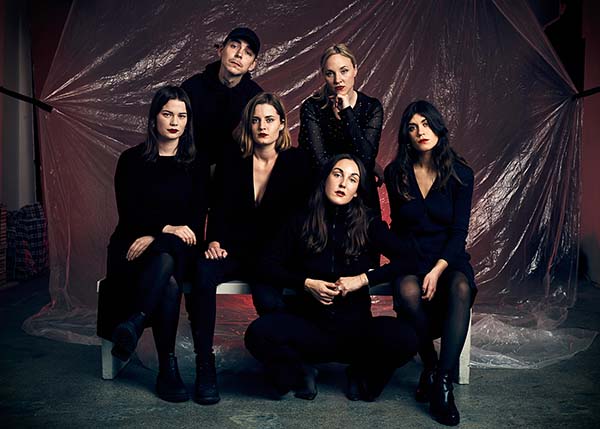 Catching the attention of visitors at this year's Stockholm Furniture Fair with a banner that declared You Can't Sit With Us! Unless…, the Malmö design collective set about challenging the industry to examine their own production from a sustainability perspective, by asking three simple questions that provoke responsible thinking. If they were able to answer all three with a yes, they were invited to 'have a seat'.
The collective also exhibited a new range of products, a characterful assemble of chairs and stools made from repurposed materials such as canvas, vinyl, wood, leather and foam, each individually designed by a different member of the group. Although unalike in form, each piece of work bore a red and white finish and the raw aesthetic lent by their choices of material.
Made up of Ellen Berglund, Linda Claesson, Anna Gudmundsdottir, Julia Knutas, Maja Lindh, Oskar Olsson, Sonja Signäs, and Matilda Ulvbielke, if you want to sit with Malmö Upcycling Service then you better had strive toward implementing a circular business model; aim to reduce, reuse, and recycle all left over material from your production; and one of your goals must be to take responsibility for your products after their use.
A brilliant project from a group looking to make the critical shifts we should all follow—by telling the story of their chosen materials (canvas and vinyl from boat covers; plywood from the construction trade; discarded shoe leather and sofa foam) and design process, M.U.S. offer us a shining example to follow.
@malmoupcyclingservice
@stockholmsmassan